Definitive guide
All you need to know about Paris
A thorough and complete guide on everything you must know before visiting Paris. The major attractions, the best time to go, budget suggestions, transport, and our personal tips.
Definitive guide
All you need to know about Paris
A thorough and complete guide on everything you must know before visiting Paris. The major attractions, the best time to go, budget suggestions, transport, and our personal tips.
This is everything we, from our personal experience, deem necessary for you to know before travelling to Paris. The city's pros and cons, all the best sights, museums, and neighbourhoods, our tips on how to choose when and what you're going to visit while here, as well as some help to figure out your budget.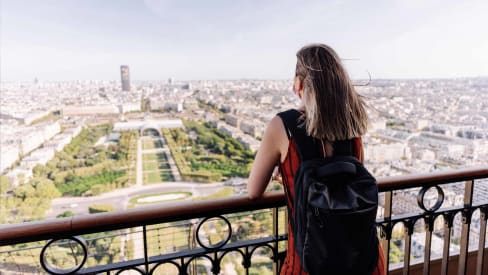 Essentials
Here are a few things it's better to take into consideration before you travel to Paris - a list of pros and cons if you will. Don't worry, nothing on this list is a deal breaker, it's just that it's best to be prepared.
Pro n.1: The Parisian atmosphere
The atmosphere in Paris is something else. And maybe it's a bit of that hyper-romanticised idea of the city, but we promise that you can actually feel it when you're here.
Maybe it's going to happen when you're strolling along the Seine and the sun is warm and a gentle breeze shakes the tree leaves. Or maybe you're going to feel it when you're walking on a little cobble-stoned alleyway and the walls of the street-side bistros are covered in ivy and the streetlights are softly glowing.
In any case, every city has its little magic, and Paris is certainly going to make you feel its own if you let it.
Pro n.2: The architecture
You probably already had an idea, but it's worth mentioning that Paris truly has some great architecture.
You can easily walk down the neighbourhood and pass by some ancient Roman remains, then an awe-inspiring Mediaeval church with its long, melancholic glass-stained windows, and then find yourself, just a few streets down, in front of massive glass-and-steel futuristic construction.
Pro n.3: The food culture
Not only does Paris have some excellent eateries, cafès, and wine shops, but there's a real care for cuisine and quality ingredients.
This means that you'll find dozens of fresh produce markets, quality coffee served at bakeries where perfectly crunchy bread is fresh out of the oven, and little shops selling hundreds of locally-produced cheese varieties.
And it's really not that hard to find good meals cooked with devotion, so get ready to try out quite a bit of local dishes in Paris.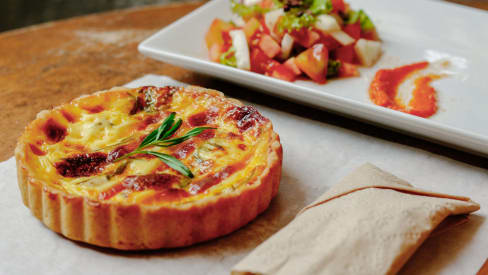 Pro n.4: The variety
Paris is a rather large city, so there is something for everyone's taste. Events, shows, and venues of all kinds, shops from the strangest to the most upscale, entertainment for every taste, from the youngest to the most sophisticated.
Pro n.5: Transport
This might not be very poetic, but it's efficient, and we all know how long a reliable and fast public transport network goes.
Now, the not-so-pleasant things about the city.
Con n.1: It's busy
This is probably the biggest drawback. Paris can get very crowded, especially during the high seasons (summer and Christmas time). There are long queues to get inside museums and attractions, accommodation becomes hard to find and the constant buzz can be a bit much.
If you can avoid peak season go for it, but if you can't we have two tips for you: book your accommodation early - you can find and get a place to stay here - and book your entry tickets online or get a Paris Museum Pass to avoid the queues. The Pass, which you can get here , is valid for 2, 4, or 6 days (your choice) and you can enter all of Paris' most important sights without having to wait in line.
Con n.2: It's almost too much
There is so much to see in Paris that it can feel a little overwhelming. Our personal advice is to figure out what your priorities are rather than trying to see everything. We go into a little more detail about what we mean by this in the next section of this article, so check that out.
Con. n.3: It's expensive
You already know, everybody knows. Accommodation especially can take a big part of your budget, while at the same time being hard to find, if you don't start looking early. So we suggest you do just that. The earlier the better for your peace of mind and your wallet. You can book your accommodation here directly.
For a little extra help, we also have an article on money-saving tips to make your stay in Paris a little less costly.
Con. n.4: Pickpocketing
As with any big European city, this is pretty common, so just keep an eye on your belongings.
If you have a backpack and you're in a crowded place (transport, a major sight), keep it in front of you. At a restaurant or at a cafè, don't hang your bag on the back of your chair, especially if you're eating outside.
Paris is generally a safe city, so there's no need to be overly worried, just be aware and you'll be fine. If you want a few tips on how to keep safe while in the city, we have an article dedicated to just that.
Figure out your type of holiday
We actually think this is really important, especially if you're not quite sure what you want to see yet. With museums, monuments, gardens, entertainment parks, and tours, Paris has so many things to offer that it is almost impossible to see and do everything.
Our advice here is to think about the kind of holiday you want to be on while here. You should choose your activities based on what you really feel like doing, and not just because they are the things you're supposed to do while in Paris.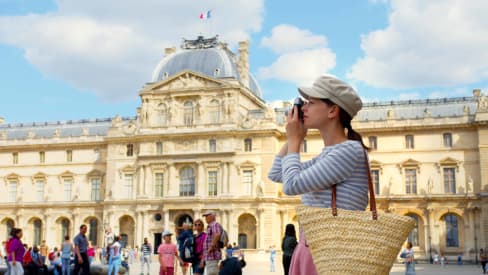 So if you'd rather go on a tour of Parisian speakeasies instead of visiting a museum full of Very Important Artworks, then so be it. Sorting your priorities out like this will make for a much happier stay.
Are you on a mission to see as many of the incredible (and sometimes weirdly specific) museums in Paris? Or are you coming to Paris for a romantic holiday with your partner? Or maybe you're less interested in daytime activities and prefer to take part in Parisian nightlife.
Or maybe it's none of those, and what you really want to do is get lost in the city, stroll around and stumble upon quiet little squares, and go on a relaxing river cruise on the Saint-Martin canal .
Best things to do
Paris has so much to offer. Museums, palaces, monuments, historical and futuristic neighbourhoods, panoramic viewpoints, gardens, river promenades, and entertainment parks.
So it might sound a little weird when we tell you that you absolutely should not try to see it all. But it's true, and it kind of feeds into our previous point about choosing your type of holiday.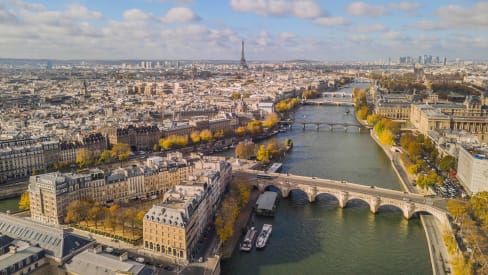 The thing is that unless you're staying in Paris for three weeks, you're not going to have time to see everything. If you try to do everything you're just going to end up tired and stressed.
Our suggestion here is to have a look at our list of major sights and areas in Paris (down below) and choose the ones you would be sad if you didn't get to see. Those are your top priorities.
Then throw in a couple of things you think are interesting, even if they're not considered majorly important. Those would be something like a visit to the Catacombs (for the all-things-spooky fans) or the Musée des Égouts (if you share the same enthusiasm for sewers as Victor Hugo).
After that, we suggest you add at least one activity that is by no means essential but is unquestionably fun to do (for you at least). That could be something like a baking class with a French pastry chef or a pub crawl with a local group .
Another tip, before we get into everything you can do and see, is to get a Paris Museum Pass . The Pass gives you free access to the most important monuments and museums (so you save money) and lets you skip the queues, meaning you don't have to waste any precious time in a line outside a ticket office.
Sightseeing and entertainment
We cannot possibly name all the sights in Paris, so we made you a list of the most famous and visited ones.
Eiffel Tower
The Eiffel Tower (Tour Eiffel) is France's most famous landmark, a 330 metre tall (almost 1,100 feet) wrought-iron construction. Located on the Champs de Mars, the Eiffel is meant to celebrate France's engineering prowess.
The tower has become a symbol for Paris, and a light show illuminates it in the evening, gifting the city with the most evocative and romantic of views. You can book your tickets to climb atop the Eiffel here . From up there you'll enjoy a fantastic view over the city of lights.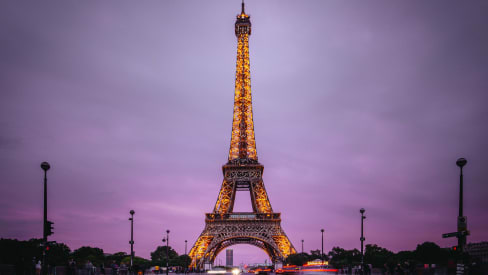 Notre-Dame
Notre Dame is possibly the most famous cathedral in France and one of the most well-known landmarks of Paris. The church, located on the Île de la Cité, is considered one of the finest examples of Gothic architecture to come out of France.
Notre-Dame de Paris is currently being renovated after the fire that ripped through it in 2019. You can still walk around the site and admire the impressive exterior of the cathedral, and you can even get an expert guide to teach you all about it and its long history .
Arc de Triomphe
The Arc de Triomphe de l'Étoile is another one of Paris' most famous landmarks. The Arc de Triomphe stands at the juncture of Paris' twelve avenues, and it was built in honour of those who fought for France during the Napoleonic Wars and the French Revolution.
It's possible to climb to the top of the Arc de Triomphe and get a view of the surrounding streets and Champs-Élysées. Since the monument gets pretty busy, we recommend you book your tickets to the Arc in advance here .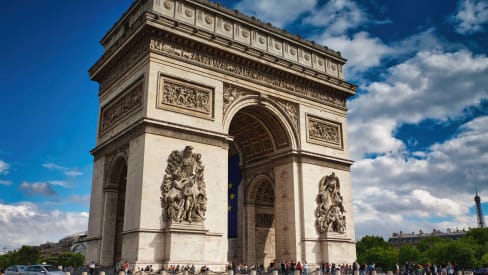 Panthéon
The Panthéon is an important historical monument in Paris' Latin Quarter. Although it was consecrated and secularised several times, the Panthéon is today a repository for illustrious French citizens. Among many others buried here, are Hugo, Curie, Voltaire, Rousseau, Zola, and Dumas.
Being such a renowned monument, the Pantheon gets pretty busy, so we recommend getting your entries online here before going .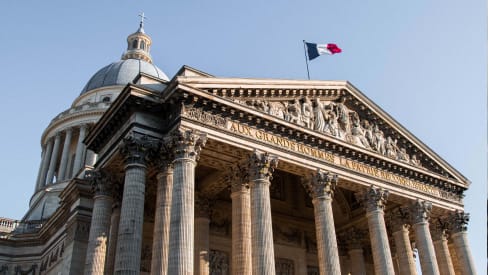 Champs-Élysées
The Champs-Élysées is an avenue and area in central Paris. The street is actually the most well-known in the city, partly because of its size - 1.9 km (1.2 miles) in length and 70 m (230 feet) wide - and partially because of its beauty.
Connecting Place de la Concorde with the Arc de Triomphe, the Champs-Élysées is lined with luxury shops, theatres, and cafès, along with beautiful decorative vegetation. To get a good look at the entire avenue, we recommend a bus tour with the most reliable companies, Tootbus and BigBus. You can get your tickets for BigBus tours here , or buy your ticket with Tootbus here .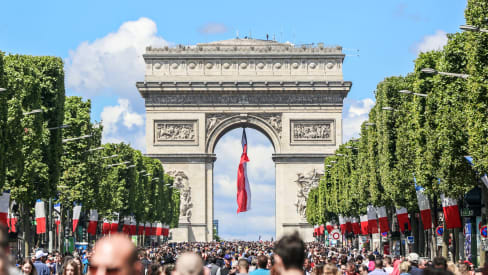 Palace of Versailles
The Palace of Versailles, or Château de Versailles, is a massive former royal residence just outside Paris. With collections gathering around 60,000 artworks, Versailles is a museum of French history.
The palace and its gardens are definitely worth a day trip, but you should book your entries in advance if you want to secure a spot. It's not uncommon to have long queues at the palace and even sold-out days.
Sainte-Chapelle
The Sainte-Chapelle, on Paris's Île de la Cité, is one of Europe's most beautiful Gothic churches. With an astounding total of fifteen stained-glass windows, the chapel is completely flooded with light and topped by a blue and gold high vault.
The construction of the Sainte-Chapelle was ordered by the King himself to house a collection of Christian relics. Today, even if most of the relics are not there anymore, the Sainte-Chapelle is an extremely popular site, so getting your tickets in advance is crucial .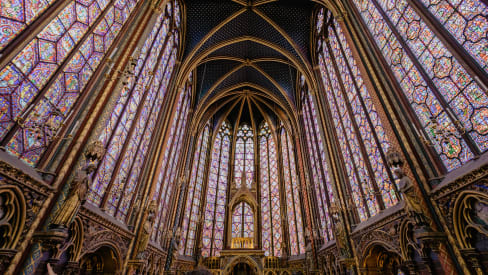 Sacré-Coeur Basilica
The Basilique du Sacré-Coeur (or Sacred Heart Basilica of Montmartre) is a church located at the top of Montmartre hill. Because of its position, the church offers a beautiful panoramic view over Paris.
Even if it couldn't flaunt such a fantastic view, the Basilique du Sacré-Coeur would still be worth visiting, with its unusual Roman-Byzantine style and all-white exterior.
Palais Garnier
The Palais Garnier, also known as Opéra Garnier is the most famous opera house in Paris. The Paris Opera Ballet routinely performs classic ballet here, but it's also possible to visit it without seeing a play. You can get your entries to visit the Opéra Garnier here.
The 19th-century building's fame is due to it being the setting for Gaston Leroux's novel The Phantom of the Opera. Palais Garnier's eclectic style, which draws from various artistic influences, achieves a grand and opulent atmosphere that never renounces elegance.
La Madeleine
The Église Sainte-Marie-Madeleine, also just known as La Madeleine, is a Catholic church in Paris. La Madeleine is famous for its appearance resembling that of an ancient Greek temple, in a very accomplished Neoclassical style.
Les Invalides
Les Invalides complex (also called Hôtel des Invalides) is a monumental ensemble of buildings that relate to the French military and its history. The construction of Les Invalides began in the 17th century in order to provide accommodation and hospital care for wounded soldiers.
Some of the most appreciated parts of the complex are the military museum, the museum of military models, and the tomb of Napoleon. You can get your tickets for the Hôtel des Invalides here .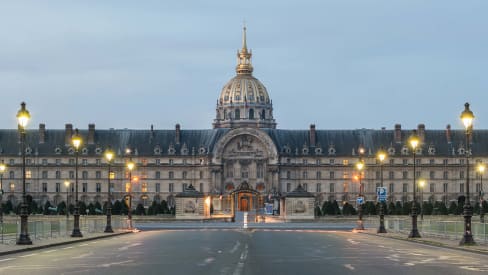 Cimetière du Père-Lachaise
The Cimetière du Père Lachaise is the largest cemetery in Paris, and the most visited in the world. Its fame is not only due to its beauty (hills, tree-lined cobblestone lanes, beautiful monumental graves and memorials) but also for being the resting place of many notable figures.
Among the most famous buried here are Oscar Wilde, Jim Morrison, Marcel Proust, Frédéric Chopin, and Édith Piaf. However, Père Lachaise is so large that it can take hours to go around it if you don't know where you're going, so we recommend getting a guided tour around the cemetery to see all the most important memorials and graves .
Disneyland Paris
Disneyland Paris is a massive entertainment park east of Paris. It is made up of two theme parks, Disneyland Park and the Walt Disney Studios.
Disneyland Park is a more classic children's park, with theme rides, costume parades, theatre shows, and choreographed light shows. The Walt Disney Studios Park is more centred around film production and other Disney franchises aside from their classics and cartoons, thus drawing older audiences.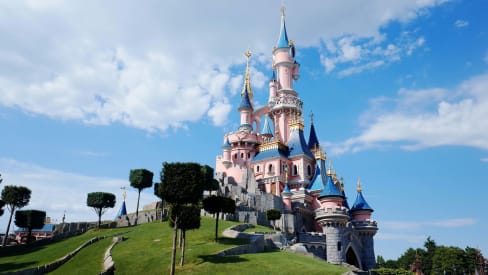 If you want to visit either (or both) of them, you will have to book in advance, so know that tickets are much cheaper when bought earlier on.
There are various ticket options available. You can get a one-day ticket - only one park or both parks - or a multiple-day ticket (valid for both parks) here . There's even an option that includes a shuttle service from Paris' centre .
If you want to secure your reservation but you don't know when you'll come, you can get the flexible option , where you don't have to choose the date of your visit quite yet.
Museums
Louvre Museum
The Musée du Louvre is the world's most-visited museum, home of some of the best-known works of art, including da Vinci's Mona Lisa and the Venus de Milo. The Louvre Museum draws lots of visitors every day, so it's best to get your ticket in advance instead of waiting to do it in person. You can book entries with an audio guide here or without audioguides here .
The Musée du Louvre's collection is so big that even displaying around 35,000 works of art at a time, it still holds ten times as much in sculptures, artefacts, paintings, drawings, and archaeological finds.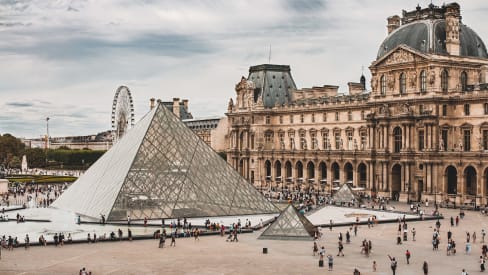 Musée d'Orsay
The Musée d'Orsay is another one of Paris' top museums. It is housed in a former Beaux-Arts railway station. The Orsay Museum is particularly appreciated for its large collection of Impressionist and Post-Impressionist masterpieces. Being the Orsay such a popular destination for visitors, we recommend getting your entries in advance, which you can do here .
When you go, you'll get to see such renowned painters as van Gogh, Monet, Manet, Degas, Renoir, Gauguin, Cézanne, Seurat, Sisley, and many others.
Centre Pompidou
The Centre Pompidou is a cultural complex that houses the Musée National d'Art Moderne, a public library, and a centre for music and acoustic research. The National Modern Art Museum in particular is the largest of its kind in Europe.Aside from its impressive permanent collections, the Pompidou Centre also hosts several temporary collections and shows.
Musée du Quai Branly
The Musée du Quai Branly – Jacques Chirac, or simply Quai Branly Museum holds indigenous art and ethnographic objects from various cultures of Africa, Asia, the Americas and Oceania.
As with all other museums, we recommend getting the tickets for the Quai Branly Museum in advance - which you can do here - to avoid long queues or even not finding available spots.
Musée Rodin
The Musée Rodin is a museum dedicated to French sculptor Auguste Rodin's work, as well as the works he personally bought from others, which make up quite the collection. Some of the artists featured, aside from Rodin himself, are van Gogh, Monet, Claudel, and Renoir.
You can get your tickets to the Musée Rodin here . Inside are more than 6,000 sculptures, 8,000 drawings, 8,000 photographs and 7,000 other artefacts.
Musée de Cluny
The Musée Cluny also known as Musée national du Moyen Âge is a museum dedicated to the Middle Ages and its artworks in Paris' Latin Quarter. The most famous piece held in the Cluny Museum is probably the tapestry collection of The Lady and the Unicorn, considered one of the greatest works of art of the European Middle Ages.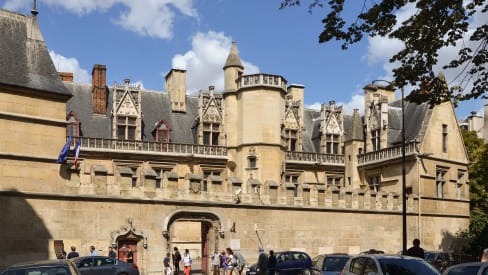 Musée de l'Orangerie
The Musée de l'Orangerie is an art gallery dedicated to Impressionist and Post-Impressionist paintings. The Museum houses hundreds of works from some of the most celebrated artists of the period.
Among the most famous you'll recognise are Monet, Utrillo, Cézanne, Matisse, Modigliani, Picasso, Renoir, Sisley, and Rousseau. You can reserve your entries to the Orangerie by clicking here .
Musée Picasso Paris
Just like Rodin's Museum, the Musée Picasso is dedicated to the works of Pablo Picasso as well as his personal collection.( Get your entries here )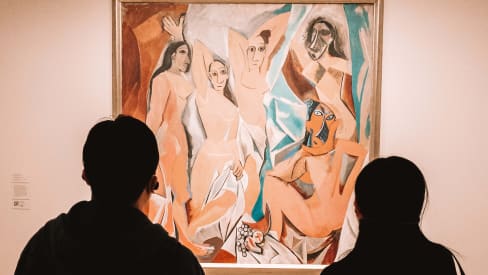 Musée des Arts Décoratifs
The Musée des Arts Décoratifs, Museum of Decorative Arts in English, is an institution dedicated to decorative arts and crafts. The largest of its kind in Europe, the Museum of Decorative Arts is located in a wing of the Louvre Palace.
Displayed inside you'll find anything spanning from everyday objects like furniture, glassware, toys, tableware, and carpets, to more sophisticated artefacts like altarpieces, religious paintings, tapestries, and ceramics.
Musée d'Art Moderne
The Musée d'Art Moderne de Paris, or MAM Paris, is a modern and contemporary art museum. The displayed collections mainly comprise 20th-century works, including names such as Picasso, Matisse, Modigliani, Delaunay, Duchamp, and de Chirico. The Musée d'Art Moderne de Paris is housed in a wing of the Palais de Tokyo.
Petit Palais
The Petit Palais, just across the street from the Grand Palais, is a fine art museum in central Paris. The Petit Palais prides itself on its collection of Mediaeval and Renaissance paintings, art objects, and drawings in particular. Other valued holdings of the Petit Palais include antiques, metalwork, jewellery, and an impressive 18th-century furniture collection.
Neighbourhoods
Montmartre
Montmartre is a large hill and neighbourhood just north of Paris' centre. Montmartre is known for being the most charming and bohemian area of the city. Expect to find a quirky village-like vibe, winding cobblestone streets, colourful nightlife (including many cabarets), and dozens of artists bringing their canvases to life in Place du Tertre.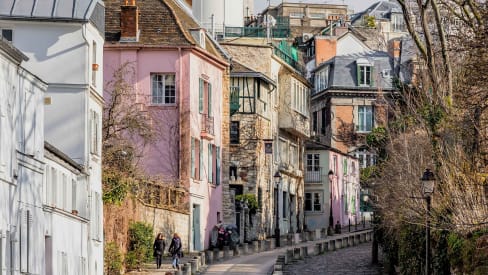 Latin Quarter
The Latin Quarter is one of the oldest and most central neighbourhoods in the city. The area is known for being home to some of the most prestigious higher education institutions, like the Sorbonne. Walking along the Latin Quarter's tiny streets you'll enjoy lots of Mediaeval architecture and historical buildings right alongside small cafes and restaurants.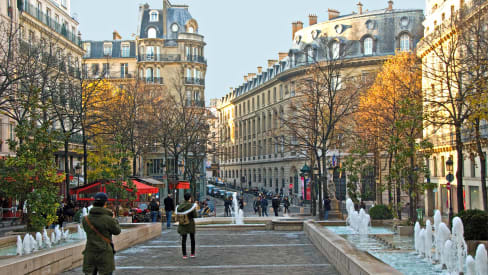 Le Marais
Le Marais is one of Paris' most fashionable areas. Located across the river Seine from Île Saint-Louis, Le Marais is the district of sophisticated boutiques, modern art galleries, and old aristocratic townhouses. But don't let all the upscale venues fool you: Le Marais is full of bars and restaurants, while also being one of the most LGBT+ friendly areas in the city.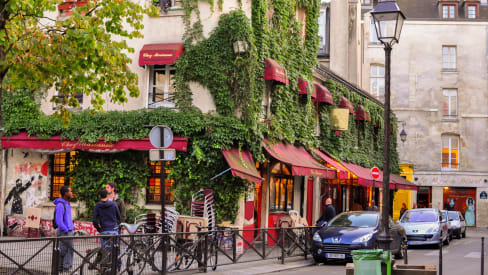 St-Germain-des-Prés
St-Germain-des-Prés' fame is that of being a particularly elegant and culturally active area. In fact, many famous writers, intellectuals, and artists were known to roam the streets of this neighbourhood, especially between the 19th and 20th centuries. Terraced cafès, brick churches, prestigious art institutions, and gourmet foods can all be easily found in the streets of St-Germain-des-Prés.
Bastille
The Bastille is the new trendiest neighbourhood in Paris. This is where you'll find the coolest farmer's markets and the most original restaurants. All without renouncing the authenticity of the neighbourhood, since the Bastille is not very touristy.
Les Halles
Châtelet - Les Halles is the shopping district par excellence. If you feel like going to a big chain store, Rue de Rivoli and the Westfield Forum des Halles shopping centre are where you need to go. Les Halles is also known for its many late-night eateries, so you can recharge there after a day of shopping.
La Défense
La Défense is Paris' business district, one of the largest in Europe. Not only is the neighbourhood where you'll find dozens of high-rise buildings and futuristic skyscrapers: La Défense is also home to an open-air museum, comprising 70 statues and pieces of modern art.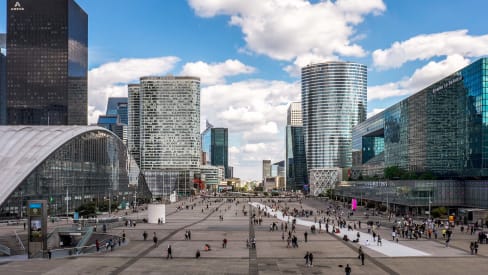 Parks and gardens
Jardin des Tuileries
Ever since its opening to the public in the 19th century, the Jardin des Tuileries has been a Parisian favourite as far as Sunday stroll destinations go. The park, organised neatly in French style, is actually the oldest in the city. In there, you'll find groups of allegorical statues, fountains, and well-curated geometrical hedges.
Jardin des Plantes
Jardin des Plantes was originally a royal herb and medicinal plants garden and is today the main botanical garden in France. The Jardin des Plantes is not only a beautiful sight thanks to its many flowering species and plant collections, but it is also home to important archives, libraries, greenhouses, the Natural History Museum, and a zoo.
Jardin du Luxembourg
The Jardin du Luxembourg is a large 17th-century park in central Paris. The Jardin du Sénat, as it is also known, is extremely popular among the locals as a picnic destination, and for a good reason. The park is beautifully curated, with grand fountains, tree-lined footpaths, delicate flowerbeds, and even a lake (the Grand Bassin) with its own palace (the Luxembourg Palace).
Bois de Boulogne
Bois de Boulogne, considered one of the two green lungs of Paris, is the city's second largest park (after the Bois de Vincennes). The Bois de Boulogne's size is due to its past as a royal hunting ground, but today the massive park is made up of many smaller sections. Among them are woodland areas, landscape and botanical gardens, lakes, greenhouses, horse racing tracks, a zoo, and even an amusement park.
Bois de Vincennes
Bois de Vincennes, created in the 19th century by Napoleon, is the city's largest park. It too, like the Bois de Boulogne contains several botanical and landscape gardens, lakes, a zoo, a horse-racing track, and even bicycle-racing tracks as well as a sports institute. Near this massive park, you'll also find a Mediaeval fortress, the Château de Vincennes.
Parc Monceau
Parc Monceau is an English-style park just north of Paris' city centre. It is smaller than many other gardens in the city, but Parc Monceau's melancholic and peaceful atmosphere is rivalled by none. As you explore the park you'll enjoy a small artificial pond lined with an elegant colonnade, the nearby weeping willows gently swaying in the breeze.
Panoramic viewpoints
Top of the Eiffel Tower
From the top of the Eiffel Tower (Tour Eiffel in French), at around 300 metres above the ground (around 1,000 feet) you'll get a breathtaking view over central Paris.
The queues at the Eiffel get rather long, so we highly recommend booking your tickets to climb atop the Eiffel here , before you actually get to the monument.
Top of the Arc de Triomphe
The Arc de Triomphe de l'Étoile is not just a famous landmark, but it is also home to a spectacular panoramic terrace. As the Arc de Triomphe stands at the juncture of Paris' twelve avenues (one of which is the famous Champs-Élysées), you can imagine how beautiful the view from the top can be. Since this monument gets pretty busy, we recommend you book your tickets to the Arc in advance here .
Garden under the Basilique du Sacré-Coeur
Locals often enjoy the sweeping view over Paris from atop the Montmartre hill. The perfect spot is just under the Sacré-Coeur Basilica, where a curated lawn offers the perfect location for a picnic.
Tour Montparnasse's terrace
Tour Maine-Montparnasse, or just Tour Montparnasse, is a 210-metre (about 690 feet) skyscraper. Visitors can take one of the fastest lifts in Europe to go up and visit the observation deck on the Montparnasse tower's 56th floor.
Up on the 59th floor, you'll also be able to enjoy a 360° view of the entire city from the panoramic terrace. You can get your ticket to the Montparnasse's panoramic terrace online , which is cheaper and faster than getting it on-site.
La Défense's Grande Arche
The Grande Arche de la Défense is a futuristic monumental arch in the hyper-modern business district of La Défense. At the top of the Arche de la Défense are an observation deck, a photojournalism exhibition area, and a restaurant. You can get your ticket to the panoramic terrace here .
When to visit
Let's start off by saying that there really isn't a wrong time to visit Paris. All seasons have their advantages and drawbacks.
In the summer the weather is fantastic (aside from a few exceptionally hot days) and the sun sets very late. During the winter holidays, the city is extremely romantic and colourful, and you can always warm your hands up with a cup of chocolat chaud (hot chocolate) or perhaps vin chaud (hot spiced wine).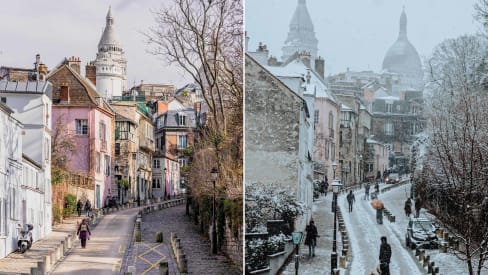 After Christmas time, for the remainder of the winter and the spring, you can enjoy the city without as many tourists and crowds, so it's a perfect time for visits, albeit a bit rainy, if you enjoy a more quiet time.
However, in our opinion, the early autumn months take the prize. September and October in particular are the best months to visit Paris. The weather is still warm but more breezy than in the summer. There aren't big crowds and prices tend to go down quite a bit, while the city is still very much alive with events, terraces, and outdoor cafés.
If you'd like to know more about the climate and temperatures in Paris year-round, you can read our dedicated article.
How long to visit
Paris is a rather vast city with loads of beautiful sights and interesting museums to visit, so coming over for just a couple of days is not really going to give you enough time.
At the very least we suggest three full days. And mind you, even then you'd be rushing and missing quite a few things. But if that's all you have time for, that's okay, you just need to figure out what you want to see the most.
In our opinion, the ideal stay in Paris is 6-7 days long. That would give you enough time to visit all the sights you want, lounge around or take a lazy stroll along the Seine when you feel like it. This way you'll also get to enjoy the city during the weekdays as well as the weekends.
Of course, if you have time for more days, go for it and don't be afraid, you won't really run out of activities and things to see in Paris. The city centre is rather large and there is so much to see, both in the historical districts and further out.
Transport
Paris' has an excellent public transport system that thoroughly connects all areas of the city and its suburbs. Paris' network consists of the Métro, the buses, the rapid transit trains known as RER, the Montmartre funicular, and the tramway.
The means of transport you're going to be using the most are the Métro, the buses, and the RER trains. These cover Paris' central area (Zone 1) and connect it with other places of interest further out, like the airports.
If you want to know more about how to get around in Paris, you can read our article on local transport.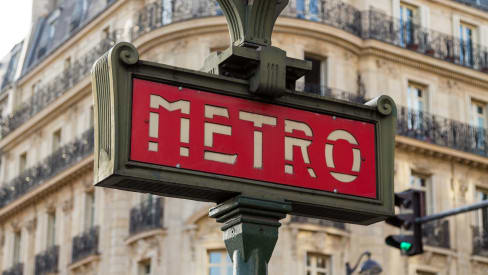 Using the transport is not expensive, especially if you get the right tickets. So here is a breakdown.
Something else you should consider is getting a ticket for one of those hop-on hop-off buses that go all around the city. It's a great way to get acquainted with Paris and the major sights, and you can just get on and off whenever you like for the day (or two, if you want).
The most well-known companies are the ones we recommend, Tootbus and BigBus. You can get your tickets for BigBus here , or buy your ticket with Tootbus here .
And if all else fails, you can still take a taxi. It won't be very cheap, but it's a good safety net to have in any case. Following are a few indicative prices.
Taxi within the city centre: €10.00 - €15.00
Taxi between CDG Airport and Paris centre €53.00 - €58.00
Taxi between Orly Airport and Paris centre €32.00 - €37.00
Foods and drinks to try
France in general and Paris more specifically are known for their food and quality ingredients, so you should definitely do yourself a favour and try as much of the local stuff in the city as you can.
Famously, the three essential ingredients in French cuisine are cheese, wine, and bread, but we can extend that last one to include anything that is pâtisserie-related. If you want a full list of traditional (and more elaborate) French dishes, go over to our article about food in Paris.
In terms of areas and places to eat, we can recommend the Montmartre and Le Marais for their chic and traditional restaurants and bistros.
In fact, a popular activity for foodies in Paris is going on food tours around these areas. There are all kinds of tours: traditional food tours , wine tastings , chocolate & French pâtisserie tours , and even cheese tours .
As a general rule, you want to stay away from the streets and squares that are too close to the biggest sights, as they tend to be more expensive and a little less authentic.
If you're looking to have a quick bite for lunch and don't want to spend too much, we recommend you find yourself a nice bakery that makes good baguettes: if you ask them, they'll make you a sandwich with fresh ingredients that you can eat on the go.
Budget
There's really no way around the fact that Paris is on the expensive end of the spectrum when it comes to European cities. There are plenty of ways to save money while visiting the city, but keep in mind that you don't want to ruin your holiday because you're trying not to spend anything.
For example, Paris is known for having some of the best museums in the world, so you definitely want to be ready to spend some money on those. You should budget at least €60.00 a day per person for sightseeing, museum visits, transport, and food.
In terms of accommodation, prices vary widely depending on how early on you book your stay. We strongly advise you to book now (even if your holiday is months ahead) to get the best prices. Prices for a double bedroom in a hotel or apartment go anywhere between €45.00 (in the outer districts) and €130.00 (three-star hotel in the centre).
If you want some more detailed information about prices in Paris, you should check out our article detailing the average everyday costs in the city for visitors.
More related activities...
You might also be interested in...