Definitive guide
Champ de Mars
A Parisian favourite for afternoon strolls and picnics, the Champ de Mars is the elegant park just behind the Tour Eiffel
Definitive guide
Champ de Mars
A Parisian favourite for afternoon strolls and picnics, the Champ de Mars is the elegant park just behind the Tour Eiffel
Paris' Champ de Mars is a large public greenspace in Paris, located right behind the Eiffel Tower. Because of its position and its curated and refined atmosphere, the garden is a picnic favourite for locals and tourists.
Before the mid-18th century, the area was known as the Grenelle, a space where the city's citizens would grow vegetables, fruits, and flowers to exchange at the local market. With the construction of the nearby École Militaire, the grounds were instead used for drilling and the marching of the troops.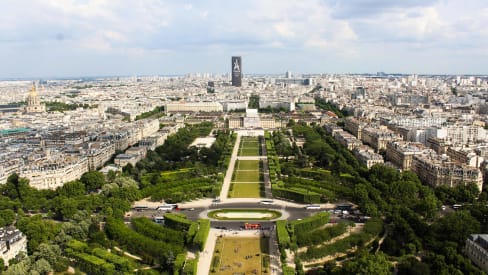 The current name, which means Field of Mars, references this military use. Champ de Mars is but the French translation for Campus Martius , a tribute to the Roman god of war, Mars.
If before or after your stroll in the Champ de Mars you want to visit the nearby Eiffel Tower we highly recommend getting your tickets in advance, as lines can get pretty long. You can get your tickets here directly .
Transport
BOOK GUIDED TOUR →
More related activities...
You might also be interested in...