Definitive guide
Eiffel Tower
The wrought iron tower of Paris, the Tour Eiffel is France's most recognisable symbol and landmark
Definitive guide
Eiffel Tower
The wrought iron tower of Paris, the Tour Eiffel is France's most recognisable symbol and landmark
Designed at the end of the 19th century by the engineer Gustave Eiffel on the occasion of the Exposition Universelle, this wrought iron tower is the global icon of France. Its construction took two years (from 1887 to 1889) and around 250 builders.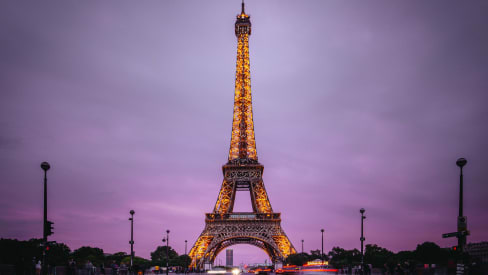 Like many other monuments that would later become internationally renowned, the Eiffel Tower was initially criticised, and several motions to demolish it were brought forward. Luckily, none of them was successful, and the tower is known today as La dame de fer (the lady of iron) and has been named a UNESCO World Heritage Site .
Even though the Tour Eiffel is a hugely popular attraction during the day, it is even more so at nightfall, when an incredible installation of 20,000 light bulbs illuminates the entire Tower. The light show at the Eiffel is lit up for 5 minutes every hour on the dot, providing the city with one of its most romantic and cherished displays.
The tower, 330 metres (1,083 feet) in height, is the tallest structure in Paris, with three levels accessible to visitors. The first two host restaurants, while the third one acts as a panoramic deck. Although the tower has 1,665 steps, don't worry, people go up to the top level by lift.
Our recommendations
If you want to go up the Tower and enjoy the best view in Paris, you should really get your tickets in advance. The queues get so long that many people waste hours in line to buy an entry.
It's always very windy at the top of the tower, no matter the season, so bring a jacket!
Location
Champ de Mars 5, 7th arrondissement
Tickets and price
The Eiffel Tower ticket's price depends on how far up you want to go (second or third floor), and whether you go by lift or stairs.
Type
Lift to 2nd floor
Lift to 3rd floor
Stairs to 2nd floor
Stairs to 3rd floor*
| Type | Regular | Young 12-24 | Child 4-11 | Disabilities |
| --- | --- | --- | --- | --- |
| Lift to 2nd floor | €17.10 | €8.60 | €4.30 | €4.30 |
| Lift to 3rd floor | €26.80 | €13.40 | €6.70 | €6.70 |
| Stairs to 2nd floor | €10.70 | €5.40 | €2.70 | €2.70 |
| Stairs to 3rd floor* | €20.40 | €10.20 | €5.10 | €5.10 |
You can get your entries directly at the Eiffel Tower ticket office but be prepared: there's always a very long queue. If instead, you want to save time and get direct access to the Tower's top floor, you can book your ticket here .
Schedule
| Opening time | Last admission | Closure |
| --- | --- | --- |
| 9:30 am | 10:45 pm | 11:45 pm |
Transport
BOOK VISIT →
More related activities...
You might also be interested in...