Definitive guide
Paris Travel Hacks
Tips, hacks, and mistakes to avoid during your visit to Paris. This is all you need to make your stay much easier, safer, and more pleasant.
Definitive guide
Paris Travel Hacks
Tips, hacks, and mistakes to avoid during your visit to Paris. This is all you need to make your stay much easier, safer, and more pleasant.
There are plenty of mistakes that you can make when travelling, plenty of things you didn't know that could have made your life that much easier had you known them. All the little tricks, hacks, and tips that you learn after your first visit.
Well, we've made all of those mistakes before and learnt all the little things on our visits to Paris. And now we want to share them with you so that they can make your holiday easier.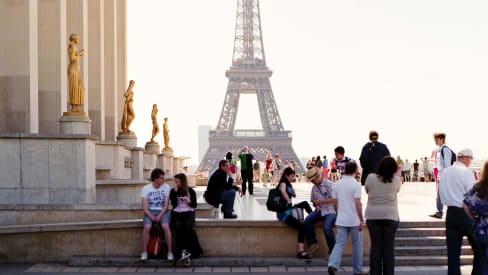 Plan your trip at the right time
The best time to visit is in late spring (May-June) or in early autumn (September-October). The weather is not cold but not particularly hot either and there aren't that many tourists compared to the summer or Christmas time.
It's not a tragedy if you don't end up visiting at this time, but try your best if you can. If you'd like to know more about the climate in Paris and what to pack for each season, you can read our dedicated article.
Avoid queues
There is a lot to see in Paris: world-renowned museums, interesting exhibitions, and magnificent monuments. So you don't want to waste time in long queues.
Book your tickets ahead of time whenever you can, the cost is usually the same or cheaper. This is especially true for the busiest attractions, like the Tour Eiffel (you can get your Eiffel Tower tickets here), the Louvre Museum, the Arc du Triomphe (get your entries for the Arc du Triomphe here), the Musée d'Orsay (reserve your Orsay Museum tickets here), and the Palais Garnier ( entries for the Palais Granier can be bought here ).
If you know that you want to visit more than a couple of sights - as we recommend you do - get a Paris Museum Pass instead of buying individual tickets. The Pass lets you enter all the important attractions and museums for free, without having to queue. You'll end up saving money and time, which is essential when lines are long and there is so much to see. You can get your Paris Museum Pass here .
A little French
Or just brush up on it a bit. You don't have to be fluent or even be able to have a conversation. It's just a matter of knowing a few kind words. Using a couple of key French phrases can go a long way. For example, always greet the shopkeepers as you step into an establishment.
That said, it's safe to assume the people you interact with know more English than you know French, so don't be afraid, the shopkeeper is indeed going to understand you.
If you want to know some useful phrases (with pronunciation), you can check out our dedicated article.
And if you want to go the extra mile, you can take a French class at one of the historical cafès in Saint-Germain .
Have some cash on you
Keep some cash on you for smaller purchases. While anything above €10.00 can normally be paid for by card (Visa or Mastercard are preferable), you should have some change on you for the little things, like a coffee or a croissant.
Avoid currency exchange bureaus
It's usually more convenient to withdraw money directly in euros from an ATM, rather than exchanging currency. If you have cash on you that you need to exchange, do it at a bank. They will use whatever the correct rate is at the moment, and that will be much cheaper than doing it at a currency exchange bureau.
French manners
The French care about manners, they have specific etiquette for their interactions. It includes being reserved (being overtly outgoing comes across as being invasive), respecting personal space, and being polite or even formal when needed.
However, if they feel that is not being respected, they will let you know with their attitude. This is generally where people get the feeling that French people are aloof and don't like anyone.
It's also important to know that there are a lot of tourists in Paris, so the tolerance might be a bit low for rude visitors. Do greet shopkeepers, waiters, and clerks, and try to use the right words when interacting with people - bonjour, bonsoir, merci, excuse-moi, all that.
Choose for yourself
Don't be pressured into thinking you have to see do everything. Unless you are staying for a few weeks, you won't get to see it all. Just choose the kind of things that interest you the most and go for those.
If you want to check all the most important attractions and neighbourhoods in Paris so that you can pick what you like best, check out our dedicated article.
Be aware of meal times
If you rely on restaurants for your meals, know that most of them have stricter timetables than you might be used to. They generally serve lunch between midday and 2:30 pm and dinner between 7:30 pm and 11:00 pm.
If you want to eat outside of those times, you should go to a supermarket, a small fast-food place, or a bakery where you can get a sandwich made with fresh bread.
Make reservations
If you want to go to a nice restaurant in a busy area, try to make a reservation. Some restaurants don't take any, but many others do and you'll avoid waiting. But please, do show up on time.
Reserve some time for doing nothing
Integrate some free time in your plans and avoid overpacking your schedule. It's easy to feel overwhelmed by everything there is to do in Paris. Unfortunately, if you try to tick every attraction off the list, you'll end up with tachycardia and more stress than you had before your holiday. So take some time to just wander about and relax.
Be aware of pickpockets
Paris is full of pickpockets, so don't make it easier for them. It's not like you're going to get robbed as soon as you step out of the airport, but it can happen. The best thing you can do to keep your things safe is to always have an eye on your stuff and be aware of your surroundings.
If you'd like to know more about how safe Paris is and how to make sure you avoid pickpocketing, you can check out our dedicated article.
The right shoes are key
When you're packing for your Paris trip, it might seem tempting to bring pretty shoes so that you look perfectly fashionable in all your pictures. A bit less tempting when your big toe is blistered and your right foot is achy from walking weirdly just to avoid stepping on the aforementioned blister.
Do your future self and their feet a favour and wear comfortable shoes, especially if you're going to stay out and walk around all day. Cobblestone streets and steep hills can be pretty cruel to your feet.
Free entries
Museums in Paris are free on the first Sunday of each month. This is of course a very busy time, so we wouldn't recommend cramming lots of visits on this day. You would end up exhausted and not having been able to see much.
Try to go early in the morning before a lot of people arrive, and pick one or two museums at most.
Don't dismiss the possibility of rain
Bring rain-friendly clothes. Even though it's not highly publicised, France - and Paris in particular - can be quite rainy. Chances are you are underestimating the likelihood of rain on your holiday.
Come with sensible clothes and you won't be caught unprepared. You'd be surprised by how all shops that sell umbrellas seem to vanish exactly when you most need them.
More related activities...
You might also be interested in...