Definitive guide
Paris Museum Pass
The Paris Museum Pass is your skip-the-line all-pass for Paris's museums and attractions
Definitive guide
Paris Museum Pass
The Paris Museum Pass is your skip-the-line all-pass for Paris's museums and attractions
The Paris Museum Pass, often referred to as PMP, is an all-included tourist card that gives you free access to more than 50 of Paris' most important monuments, sights, and museums. Once you get the Museum Pass you won't even have to queue to get in: you'll just present your pass at the entrance as you would a normal ticket.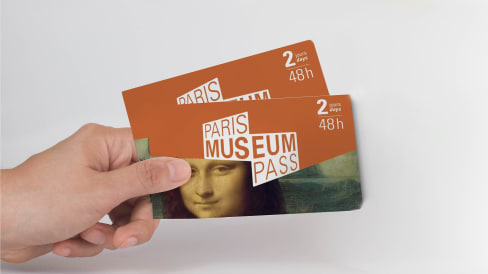 Here is the full list of attractions and museums included in the Paris Museum Pass. The majority of them are in the city centre.
*Crypte Archéologique de l'*Île de la Cité
Musée d'Art et d'Histoire du Judaisme
Musée de l'Institut du Monde Arabe
Musée de la Marine
Musée de l'Histoire de l'Immigration
Palais de la Découverte
Musée des Arts et Métiers
Cité de l'Architecture et du Patrimoine
Hotel de la Marine
Musée Gustave Moreau
Musée Jean-Jacques Henner
Musée Eugéne-Delacroix
Philharmonie de Paris
However, some of them are outside arrondissements 1 to 20. They are the following.
Basilique Cathédrale de Saint-Denis
Abbaye Royale de Chaalis
Château de Champs Sur-Marne
Château de Chantilly
Château de Pierrefonds
Château de Fontainebleau
Château de Rambouillet
Château de Maisons
Musée de la Renaissance
Musée d'archéologie Nationale de Saint-Germain-En-Laye
Musée de Port-Royal des Champs
Musée de L'air Et de L'espace
Musées et Domaine du Château de Compiègne
Musée du Château de Malmaison
Sèvres - Manufacture Et Musée
Musée Franco-Américain du Château de Blérancourt
Villa Savoye
Musée Rodin-Meudon
Getting the pass in person is possible but not recommended, since there often are lines at the selling points. Instead, we recommend you get it online here and save yourself the hassle of queueing at an office. The complete list of establishments included in the Paris Museum Pass is always on the PMP website.
Duration options
The pass comes in three duration options: 48 hours (2 days), 96 hours (4 days), and 144 hours (6 days). The pass is activated the first time you use it to access a site, and you'll be able to use it until the available hours run out.
Prices
Of course, the average price per day diminishes with longer durations, and you'll have more time to visit more attractions. For this reason, if you're staying in Paris for more days, we recommend you get the longer duration passes.
| Duration | 2 days | 4 days | 6 days |
| --- | --- | --- | --- |
| Price | €52.00 | €66.00 | €78.00 |
Where to get it
You can either get the Paris Museum Pass in person (printed on a ticket) or online, the cost is the same.
Our recommendations
Since the
Museum Pass
is not activated until you actually use it to access one of the sites, we recommend you
buy it online
. Buying in advance you'll avoid queues and save time on your trip.
You can buy your Paris Museum Pass online here (all duration options). Remember that some monuments are very busy and require reserving an entrance in advance, so get your pass and reserve your spot as early as you can!
If you prefer to buy it in person, there are several selling points, including:
Paris Convention and Visitors Bureau
Gare du Nord
Galeries Lafayette
Many of Paris' museums and monuments
However, remember that these are not 24/7 selling points, and they are often crowded.
Things to keep in mind
With the Paris Museum Pass you are guaranteed free access to the permanent collections. Some museums also give access to their temporary exhibitions, but that is up to the individual establishments.
Some attractions in Paris (for example the Louvre Museum or the Versailles Palace) get very busy and require a reservation (even if you're not paying because you have the Pass). To make sure you don't miss out on anything during your visit, we recommend getting the pass and reserving your entries as early as you can .
If you are under 26 with EU residency, you can have free access to national museums and permanent collections in Paris, therefore you might not need the Paris Museum Pass.
If you are under 18 (from any country), you have free access to national museums and permanent collections in Paris, therefore you might not need the Paris Museum Pass.
More related activities...
You might also be interested in...