Definitive guide
Arc de Triomphe
Representing numerous French victories under Napoleon's command, the Arc de Triomphe is one of Paris' most recognisable landmarks
Definitive guide
Arc de Triomphe
Representing numerous French victories under Napoleon's command, the Arc de Triomphe is one of Paris' most recognisable landmarks
Never leave accommodation to the last minute
Hotels and apartments in Paris all get booked pretty fast. If you wait too long you're gonna miss out on the good ones. Book now to save yourself money and stress.
The Arc de Triomphe de l'Étoile, meaning Triumphal Arch of the Star, is one of Paris' most visited monuments. The full name references its function - a celebratory, triumphal arch - and its position - the star, meaning the junction of Paris' twelve avenues.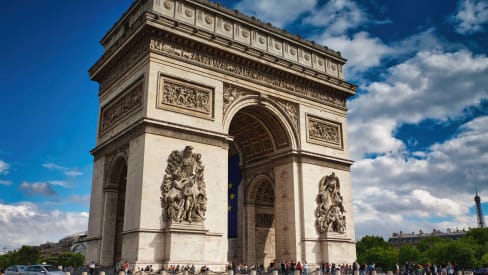 With 30 years spanning from the beginning of the project to its completion, the Arc de Triomphe is meant to honour French victories and the sacrifices of those who died for France at various points in history, in particular during the French Revolution and the Napoleonic Wars .
Decorated with allegorical reliefs, the monument is an example of Neoclassical architecture. In the middle, beneath its vault, is the Tomb of the Unknown Soldier, erected in 1921, meant to commemorate all the soldiers lost in World War I.
The Arc has been used - and continues to be to this day - as an important ceremonial venue for some of the country's most attended and choreographed formal events, such as victory parades, national holiday parades, and funerals of illustrious figures.
Although not the biggest in the world, the Arc is still impressive, with its 50 metres (164 feet) in height and 45 m (148 feet) in width. Inside the monument, you'll also find a museum detailing information about the Arc and its construction.
The view atop the Arc de Triomphe is rather remarkable, with the twelve avenues meeting at its feet. To get up there you have to climb 286 steps (or use the handy lift, don't worry, the French are not that cruel), but we assure you it's worth it. From high up, you'll see the streets and neighbourhoods fanning out around you, including the beautiful Champs-Élysées. You can get your tickets to the top here .
Location
Place Charles de Gaulle, 8th arrondissement.
Tickets and price
The Arc de Triomphe is a popular destination for many tourists, so lines for a visit can get pretty long. To avoid queueing, we strongly recommend getting your ticket in advance: you can do it here .
Another option is getting the Paris Museum Pass.
The pass gives you free access to all the most important sights in the city, and you won't have to queue when you get there. You can get your Paris Museum Pass here .
Type
Regular ticket
Guided tour
| Type | Adult | Under 18, or EEA citizens under 26 |
| --- | --- | --- |
| Regular ticket | €13.00 | free |
| Guided tour | €20.00 | €6.00 |
Schedule
Season
1st October - 31st March
1st April - 30th Sept
1/01, 1/05, 8/05, 14/07, 24/07, 11/11, 25/12
| Season | Opening time | Last admission | Closure |
| --- | --- | --- | --- |
| 1st October - 31st March | 10:00 am | 9:45 pm | 10:30 pm |
| 1st April - 30th Sept | 10:00 am | 10:15 pm | 11:00 pm |
| 1/01, 1/05, 8/05, 14/07, 24/07, 11/11, 25/12 | closed | closed | closed |
Transport
The Arc de Triomphe sits at an important junction point in Parisian transport, so it's not difficult to reach it. However, once you are approaching on foot, do not try to cross the roundabout that loops around the monument. There is an underpass at the end of the Champs-Élysées (not far from the Métro exit), use that.
---
You might also be interested in...