Definitive guide
Champs-Élysées
Lined theatres, cafés, luxury shops, and a neat border of trees, Champs-Élysées is Paris' most famous avenue
Definitive guide
Champs-Élysées
Lined theatres, cafés, luxury shops, and a neat border of trees, Champs-Élysées is Paris' most famous avenue
The Avenue des Champs-Élysées is one of Paris' main avenues, and certainly the most well-known. Its name is a reference to Greek mythology: it means Elysian Fields, the afterlife of heroes and the righteous.
This street, if we can be so reductive, runs between the Arc de Triomphe and Place de la Concorde for 1.9 kilometres (about 1.2 miles), with a width of 70 metres (230 feet). In its easternmost part, the Champs-Élysées runs through the greenery of the homonymous Jardin des Champs-Élysées.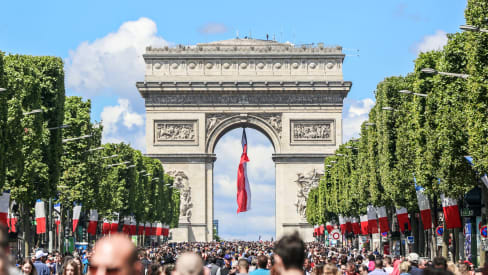 At this end are such buildings and institutions as Théâtre Marigny, Théâtre du Rond-Point, Petit Palais, Palais de la Découverte, and the Grand Palais. On the opposite end, towards the Arc, are the more open spaces that allow for large high-end stores, restaurants, cinemas, and cafés.
The Champs-Élysées only took this name in 1709, although it had originally been laid out sometime before, not quite in its modern configuration. It was then in 1724 that the avenue was extended to its current size, and later on the sidewalks were improved. Merchants have been joining committees to promote commerce along the avenue since 1860.
The avenue is also partially famous because of the many parades, sporting events (like the Tour de France), and ceremonies it routinely hosts. There are two ways to get the best view over the Champs-Élysées. One is to climb atop the Arc de Triomphe, from where you'll get a view over the entire avenue. The other one is to drive along it on an open-top bus .
Location
Between Arc de Triomphe and Place de la Concorde, 8th arrondissement.
Transport
In our opinion, the best way to see the entirety of the Champs-Élysées is with a Hop-on Hop-off Bus Tour. The open-top of the bus will give you the best view along the entire length of the avenue. You can get your tickets here .
If instead, you prefer to get there by public transport, here are your options.
Nearby sights
Either along the Champs-Élysées or within its neighbourhood, are all the following sights.
Palais de la Découverte
More related activities...
You might also be interested in...