Definitive guide
Tourist Bus Tours
Get on and off whenever you like, visiting the city's most important sights and areas with one of Paris' hop-on hop-off buses
Definitive guide
Tourist Bus Tours
Get on and off whenever you like, visiting the city's most important sights and areas with one of Paris' hop-on hop-off buses
There are several hop-on hop-off double-decker buses offering tours in Paris, but the most recommendable and popular are offered by Big Bus and Tootbus. Here you can compare your options and choose whichever one works best for you.
Tootbus
Tootbus offers a wide variety of tours and routes, depending on your needs. They can be either one of two types:
Non-stop sightseeing toursThese can be simple city tours or themed tours (for kids, fashion tours, Christmas tours, and nighttime tours).
Hop-on hop-off routesSome of these even combine a boat tour with the bus one. All hop-on hop-off routes can be purchased for 1, 2, or 3 days.
Our recommendations
We personally recommend hop-on hop-off tours rather than non-stop ones. You can stay on the bus for a full ride at the beginning, and then pick a stop once you've seen the entire city. After that, you can use the bus to move from one attraction to the other.
All Tootbus tours start running at 9:30 am and stop running at 6:30 pm, except the Night Tour, which runs at 6:00 pm, 8:00 pm, or 9:00 pm. Bus frequency is every 15-20 minutes for hop-on hop-off buses.
All tours offer pre-recorder guides in five languages (English, French, Spanish, German and Italian).
You can get a regular Tootbus hop-on hop-off bus tour here . And if you want to go all the way, you can also book your Tootbus hop-on hop-off bus tour + boat ride here .
Big Bus
Big bus offers a simpler selection, with either a 1-day or a 2-day duration ticket. They too have a tour option that combines the hop-on hop-off bus tour with a river cruise on the Seine .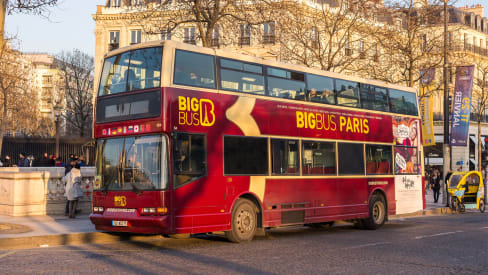 Big Bus tours run for a shorter period of the day (09:45 am to 5:45 pm), compared to the other bus tours. However, Big Bus runs a slightly longer course, including the Champ de Mars, the Ecole Militaire, and the Opéra Garnier in its itinerary. Otherwise, Big Bus covers the same sights as other tours:
The Louvre
The Institute de France
Place Vendôme
Assemblee Nationale and Palais Bourbon
Notre Dame
The Petit Palais
Arc de Triomphe
Tour Eiffel
The Palais de Chaillot and Trocadéro
The Grand Palais
The Hotel des Invalides
Place de la Concorde
The Palais Royal
Keep in mind that Big Bus offers a wider language selection for their pre-recorded guides, offering tours in 11 languages (English, French, German, Spanish, Italian, Russian, Japanese, Brazilian, Portuguese, Arabic, Mandarin Chinese, and Korean). You can book your 1-day or 2-day bus tour with Big Bus here .
More related activities...
You might also be interested in...