Definitive guide
Nissim de Camondo
An elegant 20th-century mansion built as a replica of an 18th-century aristocratic townhouse: this is the Musée Nissim de Camondo in Paris
Definitive guide
Nissim de Camondo
An elegant 20th-century mansion built as a replica of an 18th-century aristocratic townhouse: this is the Musée Nissim de Camondo in Paris
The Musée Nissim de Camondo is a house-museum dedicated to the French decorative arts of the second half of the 1700s. The museum is in fact a faithful reconstruction of an 18th-century aristocratic mansion. In it, you'll find a collection of the finest furniture, paintings, tapestries, porcelain, carpets, and goldsmithery of the period.
Entry to the Musée Nissim de Camondo is included in the Paris Museum Pass. The Pass lets you skip entrance queues and get into the city's most important museums for free, so we strongly recommend it. If you don't have one already, you can buy your Paris Museum Pass here .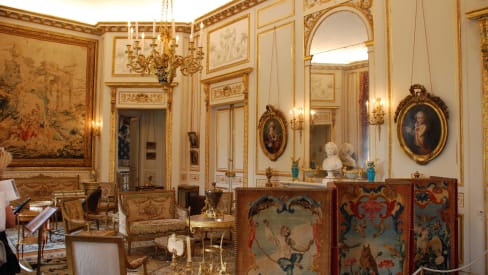 Even though the Nissim de Camondo appears to be an authentic 18th-century townhouse, the residence was actually built at the beginning of the 20th century by the banker Count Moïse de Camondo. If you pay attention to the details, you'll notice the house does indeed have all the modern comforts of a 20th-century building.
The reason for the decor is that Camondo was a passionate collector of 18th-century French furniture and art objects, so he had the house designed to welcome his impressive belongings. Today, the house is maintained in its original condition, and you can visit the three floors housing the private apartments, the formal rooms, and the kitchens, as well as the gardens.
On his death, Camondo donated the house, known as Hôtel Camondo, and everything within it to Les Arts Décoratifs (a museum organisation dedicated to the decorative arts). The Museum was thus named after the Count's son, Nissim de Camondo, killed in World War I.
Location
Rue de Monceau 63, 8th arrondissement.
Tickets and price
| Adult | Joint ticket* | Under 18 or EEA residents under 26 |
| --- | --- | --- |
| €12.00 | €20.00 | free |
Both the Musée Nissim de Camondo and the Museum of Decorative Arts are included in the Paris Museum Pass, which you can get here . The Pass gives you free access to all the most important sights in the city, and you don't have to queue at the entrance, so we highly recommend getting it.
Schedule
Day
Wed-Sun
Mon-Tue, 1.01, 1.05, 25.12
| Day | Opening time | Last admission | Closure |
| --- | --- | --- | --- |
| Wed-Sun | 10:00 am | 4:45 pm | 5:30 pm |
| Mon-Tue, 1.01, 1.05, 25.12 | Closed | | |
Our recommendations
Saturdays and Sundays between 3:00 pm and 4:30 pm are usually the busiest times. If you want to avoid big crowds, we suggest visiting in the morning on a weekday.
Transport
BUY MUSEUM PASS →
More related activities...
You might also be interested in...