Definitive guide
Passe Navigo
Your weekly and monthly passes to use unlimitedly on Paris' public transport network
Definitive guide
Passe Navigo
Your weekly and monthly passes to use unlimitedly on Paris' public transport network
The Navigo is a card that you can load with weekly or monthly passes to use on Paris' public transport.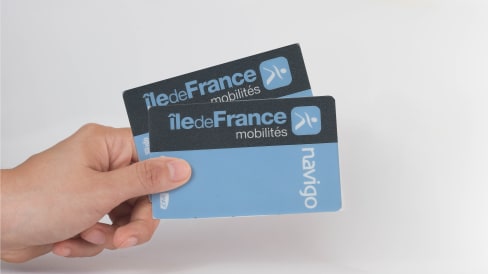 The Navigo can be used on the Métro, buses (including the Noctilien night time buses and the Montmartrobus), tramways, Montmartre funicular, and RER trains (always according to its zone validity).
Watch out for the type of card
There are different types of Navigo travel cards. If you're not a Paris resident, you should get the Navigo Découverte instead of the regular Navigo travel card. It will cost you €5.00 and you'll be able to reload it if needed.
You can get one at the RATP ticket offices and approved local shops.
Duration options
The Passe Navigo comes in two duration options: weekly or monthly.
Keep in mind that the weekly Navigo is strictly valid Monday to Sunday, regardless of when you purchased the pass. This means that if you buy the Navigo on Thursday, you'll only get four days of use out of it.
In fact, starting Friday, the Navigo passes for the current week are no longer sold, and you can only buy them for the following week.
Zones
The Passe Navigo comes in two zone options: all-zones or two-zone selections. However, none of the two-zone selections includes Zone 1 (Paris centre, where the Métro is), so you will have to buy the all-zones Navigo pass.
Prices
Once you have purchased the Navigo Découverte card (it will cost you €5.00, non-refundable), you will have to purchase your Navigo pass. Anyone aged 3 or under travels for free, but there are no additional discounts for children.
Type
All zones
Zones 2-3
Zones 3-4
Zones 4-5
| Type | Weekly | Monthly |
| --- | --- | --- |
| All zones | €22.80 | €75.20 |
| Zones 2-3 | €20.85 | €68.60 |
| Zones 3-4 | €20.20 | €66.80 |
| Zones 4-5 | €19.85 | €65.20 |
Where to buy them
Once you have your Navigo Découverte, you can top it up with a weekly or monthly Navigo pass at:
The website Navigo.fr
RATP ticket desks.
RATP automatic vending machines.
Authorised RATP retailers.
Selected ATMs in Paris.
More related activities...
You might also be interested in...