Definitive guide
Paris' Montmartre Funicular
The iconic Montmartre Funicular is the fastest and easiest way to get to one of the most scenic neighbourhoods in Paris
Definitive guide
Paris' Montmartre Funicular
The iconic Montmartre Funicular is the fastest and easiest way to get to one of the most scenic neighbourhoods in Paris
The Montmartre funicular is an automatic electric railway that connects the area at the foot of the Montmartre hill with the top. The system consists of two carriages, each able to take up to 60 passengers, that move like lifts up and down the side of the slope.
In just 90 seconds, the funicular covers a 108-metre-long climb (354 feet) with a height difference of 36 metres (118 feet). The line is used to quickly reach the top of the Montmartre, where two famous tourist hot spots are located, the Basilique du Sacré Coeur, the Place du Tertre, and the Montmartre Museum.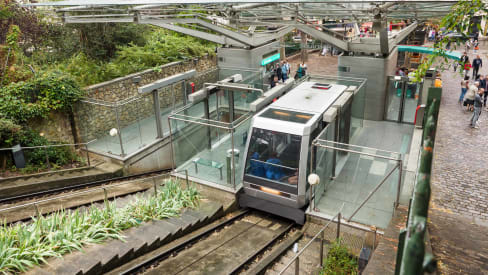 Mind you, this is one of Paris' most beautiful and visited areas, so it's always best to be prepared with tickets in hand - you don't want to be queueing in front of a museum once you get to the top. You can get your tickets to the Musée de Montmartre and Gardens here . And for the foodies out there, we recommend you make the most of the amazing delicacies you can find in the neighbourhood with an exquisite food tour .
Tickets & passes
The Montmartre Funicular is run by the RATP, the same entity that runs the Paris Métro, RER, buses, and tramways. As such, you'll be able to use all of the tickets that are also valid for these other means of transport.
Discounts for children
Children under the age of 3 ride for free, and children aged 4-9 often have discounts.
Ticket
Type
Zones
Valid for
| Ticket | T+ tickets | Carte Mobilis | Paris Visite | Navigo Découverte |
| --- | --- | --- | --- | --- |
| Type | Single ticket | One-day travel pass | Multi-day pass | Weekly or monthly pass |
| Zones | Zone 1 | All zones available | All zones available | All zones available |
| Valid for | Métro, RER, buses, tramways, and funicular | Métro, RER, buses, tramways, and funicular | Métro, RER, buses, tramways, and funicular | Métro, RER, buses, tramways, and funicular |
T+ tickets are your basic one-way single tickets. You can buy T+ tickets as singles (€1.90) or in a contactless packet (carnet) of 10 (€14.90). These packets need to be loaded on a Navigo Easy Pass, which you will need to get with a one-time purchase (€2.00). Children between 4 and 9 have reduced fares on the 10 T+ ticket packets (€7.45). If you have doubts about the T+ tickets, you can check out our dedicated article.
The Carte Mobilis is a single-day limitless pass. It comes in different zones availabilities, but unless you need to go somewhere outside of the city centre, you'll only need the Zone 1-2 (central area) Mobilis, which costs €7.50.
The Paris Visite is a multi-day pass, frequently used by tourists since they also offer discounts on museums and tours. These passes come in different duration options (1, 2, 3, or 5 days) and different zone validities.Unless you leave the city centre, you'll only need the 1-3 Central Paris zone option. Discounts apply for children aged 4-9. If you want to know more about the Paris Visite pass, you can read our dedicated article.
Finally, the Navigo Découverte is a weekly or monthly pass with no zone limitations. It requires separate purchase of the card (€5.00) and costs either €22.80 (weekly) or €75.20 (monthly). The weekly option is strictly valid Monday to Sunday, regardless of which day you purchased it. Every Friday, Navigo Découverte passes for the current week are no longer sold, and you can only buy them for the following week. If you want to learn more about the know more about the Navigo pass, you can read our dedicated article.
Watch out for the type of card
Navigo Découverte is ideal for visitors in the city, while the regular Navigo is reserved for locals only.
Schedule
As with any other network, the closing and opening times can vary slightly. Since the journey up only takes 90 seconds, there is no official timetable. The most you'll ever have to wait for the next carriage is a couple of minutes.
| Day | Opening time | Closing time |
| --- | --- | --- |
| Mon-Sun | 6:00 am | 12:45 am |
Things to keep in mind
If you don't want to take the funicular or if there's a long queue to get in one of the carriages, you can always climb the hill on foot (197 steps).
Another alternative to the funicular is the Montmartrobus. The bus runs every 12 minutes from morning to mid-evening.
Yet another option is the Montmartrain, a train that runs every 45 minutes.
If you want to take it a step further, there are private tours that will show you around the city, including up to Montmartre. For example, if Paris has you feeling romantic, you can book a private tour in a vintage car . You'll visit the iconic neighbourhood as well as other unmissable sights.
Helpful tools
The entity that operates the majority of public transport in Paris (including the funicular), the RATP has a route planner on its website. You can check there how to get to the foot of the Montmatre hill.
More related activities...
You might also be interested in...