Definitive guide
Weekend getaway trip to Paris
Friday evening to Sunday night, this is your perfect itinerary for a weekend trip to Paris
Definitive guide
Weekend getaway trip to Paris
Friday evening to Sunday night, this is your perfect itinerary for a weekend trip to Paris
Paris is one of the most popular destinations for travel in Europe and for good reasons. The city is filled with historical monuments, elegant architecture, elaborate churches, some of the world's largest museums, and a unique atmosphere all around.
The fact that Paris has three airports (Charles de Gaulle, Orly, and Beauvais) and is extremely easy to travel to makes it that much easier to pick it as a weekend trip idea. Although the city has a lot more to offer than a weekend trip could possibly cover, that doesn't mean you can't enjoy a lovely couple of days in the city of lights.
Our recommendations
Since your time in Paris is limited, we recommend you try to arrive at least on Friday evening so that you actually get two full days (Saturday and Sunday), as well as an extra night in the city (Friday).
If you have a chance to do a long weekend in Paris (three or four days), that's even better.
There obviously are countless attractions and sights to pick from during your stay, these ones we are suggesting here are simply the ones we would recommend for a first-time weekend visit to Paris. fma That said, nothing is set in stone, and you should adapt the itinerary to your liking. If you want more ideas for places to visit, you can find them in the Paris sights and neighbourhoods sections of our website.
Friday evening: day 1
The first thing we recommend you do is to get familiarised with the city and start getting an idea of the things you really don't want to miss. There are different ways to do this, but the most fun and effective, in our opinion, is to get on a hop-on hop-off bus. Tourist buses like these have routes that cover Paris' most significant sights and monuments while also giving you information about each one of them with their audio guides.
These buses are also a great transport solution, as all their stops correspond with an important sight that you'll probably visit during your weekend trip. You can take a full tour of the city and get an idea of where everything is, not to mention you'll be getting somewhat of a panoramic view, thanks to the double-decker.
The most recommendable tourist bus companies are Tootbus and Big Bus. You can get your tickets for a Tootbus hop-on hop-off bus here and tickets for a Big Bus tour here . However, if you arrive a bit later in the evening in Paris, you might not make it in time for the daytime tours. That won't be a problem, since there also are nighttime tours specifically designed for you to enjoy the spectacle offered by the city of lights .
Eiffel Tower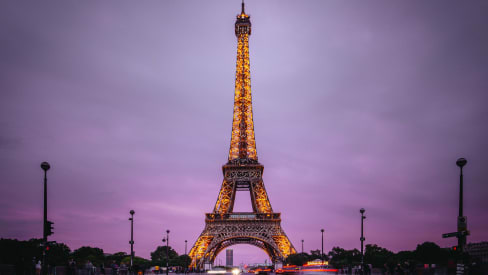 On the first night, you should also take the chance to start off with something impactful, like the Eiffel Tower by night. This way, you'll get to see one of the most romantic and breathtaking views in Paris. A light show, complete with 20,000 light bulbs, illuminates the entire Tower by night. The installation is lit up for 5 minutes every hour on the dot.
Remember that the Eiffel Tower is open until 11:45 pm every day, but the last admissions are at 10:45 pm. There always are extremely long queues to climb to the top of the tower, so make sure to book your tickets to the Eiffel's top online before you actually get there.
You can also get a view of the Eiffel from the nearby gardens, the Champ de Mars (just behind the Tour Eiffel) and the Jardins du Trocadéro - on the other side of the Seine, this is where you get the best view over the Eiffel Tower.
Eiffel Tower Practical Information
Location: Champ de Mars 5, 7th arrondissement
Opening times: Monday to Sunday, 9:30 am to 11:45 pm (last admissions at 10:45 pm).
Tickets: Between € 17.10 and € 26.80, depending on how high up you want to go. Discounts for children available.
Paris Museum Pass: not applicable.
Saturday: day 2
Considering the size of the city and the concentration of sights in the various neighbourhoods, you should try to focus on one area at a time. This way you can be more efficient and you'll manage to see a lot more. On your first full day - Saturday - you can spend most of your time in the arrondissements north of the Seine.
La Madeleine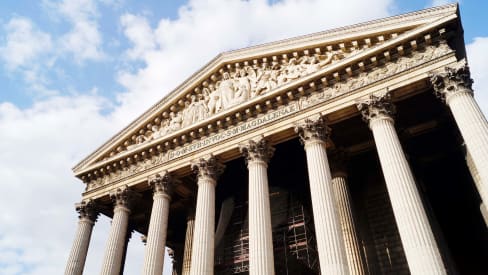 You can start first thing in the morning with the Église Sainte-Marie-Madeleine, also just called La Madeleine. This is a famous church, renowned for its richly decorated interiors and its pristine Neoclassical exteriors, which give the Madeleine the appearance of an ancient Greek temple. La Madeleine Practical Information
Palais Garnier
Just a few minutes away from the Madeleine you'll find the most well-known opera house in Paris, the Palais Garnier. Opéra Garnier - which, as you might know, is where the novel The Phantom of the Opera takes place - is built in a beautiful mix of different architectural influences: Baroque, Classical, and Renaissance. You can visit Palais Garnier as you would any other historical building, and to avoid queuing for a long time, you can get your entries to visit the Opéra Garnier online .
Palais Garnier Practical Information
Louvre Museum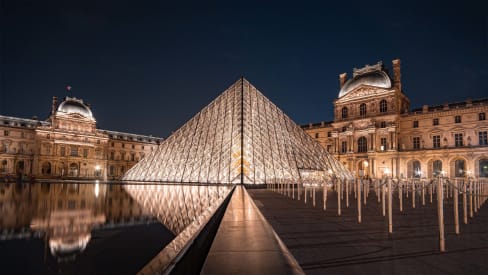 From Palais Garnier you can head to the Musée du Louvre. The Louvre's fame proceeds it, so you probably are already familiar with the museum's varied collections. Among them, you'll find thousands of European paintings (including da Vinci's Mona Lisa), Ancient Greek and Roman sculptures (like the Venus de Milo and the Winged Victory of Samothrace), Egyptian antiquities, and a fantastic collection of Islamic art.
Before you get lost in the countless halls of the Louvre, remember that the museum is bigger than you think. It would be impossible to see it all in one go, even if you spent the entire day inside it. It's best if you pick one or two sections and stick to those.
Once again, getting your tickets online is the best way to avoid long lines and save time. You can book your entries to the Louvre with an audio guide here or Louvre entries without audioguides here .
Louvre Museum Practical Information
Tuileries Gardens
Just west of the Louvre is the Jardin des Tuileries, a beautifully curated garden with ponds, statues, and tree-lined promenades. You can walk through it to reach the Musée de l'Orangerie, where you can find a collection of Impressionist and Post-impressionist paintings, including Monet's Water Lilies. As with all other museums, it's best to book your tickets before getting there. You can reserve your entries to the Orangerie here .
Orangerie Museum Practical Information
Champs-Elysees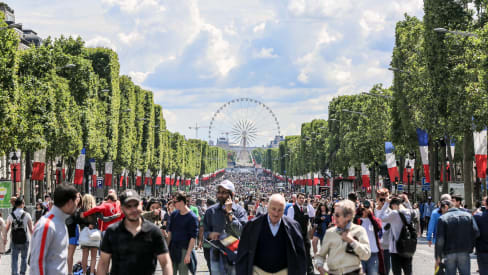 At the edge of the Tuileries Gardens is the historical Place de la Concorde. Behind that starts the most renowned street in Patis, the Champs-Élysées.
The Champs-Élysées is best enjoyed in its entirety - that way you get to see the curated trees and luxury shops that line it from Place de la Concorde down to the Arc de Triomphe. Open-top tourist buses are ideal to see it all, so we recommend booking a ticket for Tootbus hop-on hop-off buses here or a ticket for a Big Bus tour here - the two are the most trustworthy companies in Paris.
Arc de Triomphe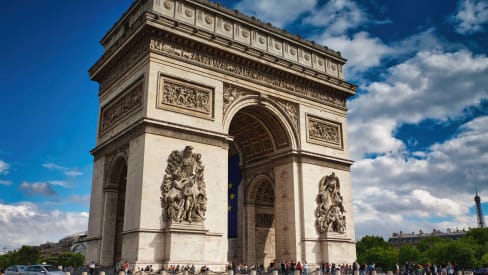 At the western end of the Champs-Élysées, where twelve of Paris' streets meet, is the Arc de Triomphe de l'Étoile. The Arc de Triomphe is a monument to French military victories and a panoramic viewpoint over the city.
You can buy your tickets to the top of the Arc de Triomphe in advance here .
Arc de Triomphe Practical Information
Montmartre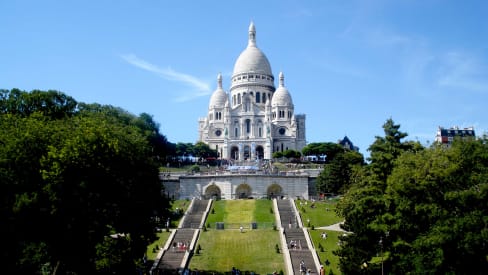 Montmartre is the perfect place to go to as Saturday evening approaches. Montmartre is a bit further out from the centre than what you'll have visited by now, so to get there, you can take the bus or the Métro and then the Montmartre Funicular.
At this point, you'll probably be quite tired of museums and being inside, so we suggest a relaxing walking tour of Montmartre. The guide will make sure you don't miss out on any of the neighbourhood's most iconic spots, like Place du Tertre, important landmarks - like the Neo-Byzantine Basilique du Sacré-Coeur, and beautiful streets.
Basilique du Sacré-Coeur Practical Information
Cabaret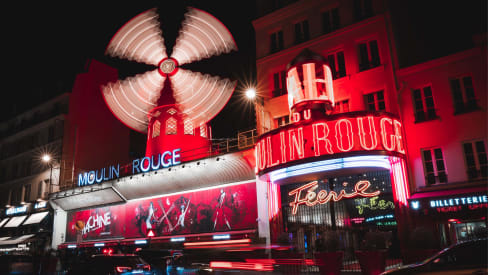 Nothing says Parisian night quite like cabaret. And nothing says cabaret quite like Moulin Rouge, one of the oldest and most famous cabaret clubs in Paris. Of course, being the Moulin Rouge an extremely well-known club, you don't want to risk getting there and not finding any availability, so we suggest you book ahead. You can reserve a show with champagne at the Moulin Rouge here or a dinner show here . You can expect a night of beautifully choreographed dances, music, and extravagant costumes.
Sunday: day 3
On Sunday, you can spend the majority of your day just south of the Seine.
Île de la Cité: Notre-Dame, Sainte-Chapelle & Conciergerie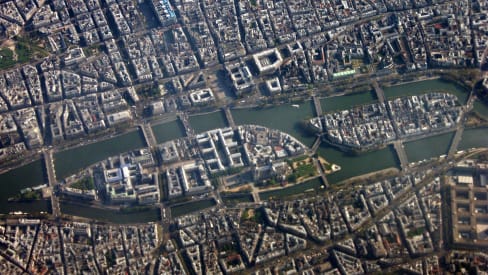 To start your day, we suggest the Île de la Cité, Paris' island. On the island, you'll find some of the city's most appreciated historical buildings and landmarks. The most important ones are the Notre-Dame Cathedral, the Sainte-Chapelle (a stunning Gothic church), and the Conciergerie, known as Paris' most infamous prison during the French Revolution.
As always, getting your tickets before means actually ensuring you'll be able to go in (not always granted) and not having to queue, which saves you lots of time. You can book your tickets for the Sainte-Chapelle here . Unfortunately, Notre-Dame de Paris is still under reconstruction after the 2019 fire. You won't be able to see the inside, but you can book an outdoors tour of the Notre-Dame Cathedral to learn all about its history and significance .
Sainte-Chapelle Practical Information
Location: Boulevard du Palais 10, Île de la Cité.
Opening times: 1st Apr - 30th Sept: 9:00 am to 7:00 pm (last admission at 6:20 pm). 1st Oct - 31st Mar: 9:00 am to 5:00 pm (last admission at 4:20 pm).
Tickets: € 11.50. Free for minors and EEA citizens under 26.
Paris Museum Pass: free admission.
Conciergerie Practical Information
Location: Bulevard du Palais 2, Île de la Cité.
Opening times: Every day, 9:30 am to 6:00 pm (last admission at 5:15 pm).
Tickets: € 11.50. Free for minors and EEA citizens under 26.
Paris Museum Pass: free admission.
Latin Quarter: Pantheon, Cluny Museum & Jardin des Plantes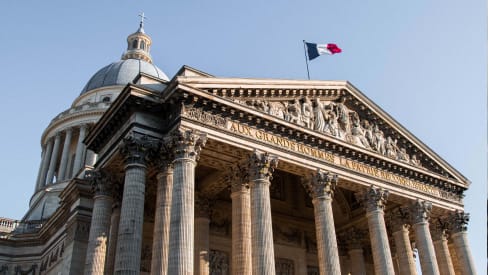 South of Île de la Cité is one of Paris' historical neighbourhoods, the Latin Quarter. The area, whose Mediaeval alleys are dotted with historical buildings, is home to several prestigious institutions.
The most important tourist sites you can find here are the Panthéon (a historical mausoleum), the Musée Cluny (the National Museum of the Middle Ages), and the Arab World Institute. Towards the southern edge of the Latin Quarter are two beautiful parks, the Jardin du Luxembourg and the Jardin des Plantes, a botanical garden containing various research facilities and museums. As usual, whatever you decide to visit, get your tickets ahead of time.
Cluny Museum Practical Information
Location: Rue du Sommerard 28, Latin Quarter, 5th arrondissement.
Opening times: Tuesday to Sunday, 9:30 am to 6:15 pm (last admission at 5:30 pm). Closed on Mondays.
Tickets: €12.00. Free for minors and EEA citizens under 26.
Paris Museum Pass: free admission.
Panthéon Practical Information
Location: Place du Panthéon, Latin Quarter, 5th arrondissement.
Opening times: 1st Apr - 15th June: 10:00 am to 6:30 pm (last admission at 5:45 pm).
15th Jun - 30th Sept: 10:45 am to 7:00 pm (last admission at 6:15 pm).
1st Oct - 31st Mar: 10:00 am to 6:00 pm (last admission at 5:15 pm).
Tickets: € 11.50. Free for minors and EEA citizens under 26.
Paris Museum Pass: free admission.
Musée d'Orsay
Before it's too late, you should head to the Musée d'Orsay, especially if you haven't visited the Orangerie on the previous day. The Orsay, housed in a Beaux-Arts building overlooking the Seine, is one of Paris' top museums. It is famous for its large Impressionist and Post-Impressionist collection.
Considering this museum is such a popular destination, we recommend getting your entries for the Orsay Museum in advance, which you can do here . Keep in mind that on Sunday, the Musée d'Orsay closes at 6:00 pm (last admissions at 5:00 pm), so if you want to visit, you have to make it before then.
Musée d'Orsay Practical Information
Location: Rue de la Légion d'Honneur 1, 7th arrondissement.
Opening times: Every day, 9:30 am to 6:00 pm (last admission at 5:00 pm). Late closure on Thursdays (9:45 pm with last admissions at 9:00 pm). Closed on Mondays.
Tickets: € 16.00. Free for minors and EEA citizens under 26.
Paris Museum Pass: free admission.
St-Germain-des-Prés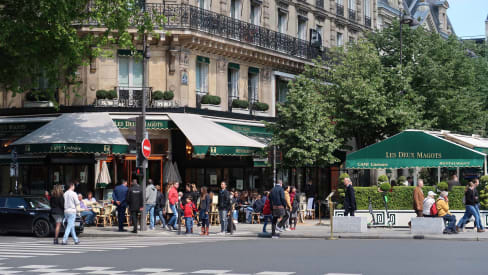 After the Orsay, you can head over to another much-appreciated area, St-Germain-des-Prés. The neighbourhood is known for its charming elegance, cultural history, and gourmet dining venues, which make it the perfect place to wind down after a full day of being a busy tourist.
Le Marais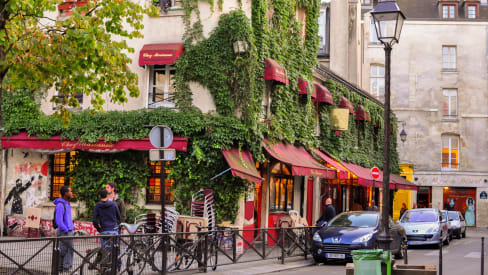 Another fantastic place to visit at dinnertime (or after) is Le Marais. The neighbourhood is known for being one of the most sophisticated areas of Paris, populated by old aristocratic townhouses - like the ones you'll see in Place des Vosges, chich bars, and international restaurants.
Transport: getting around in Paris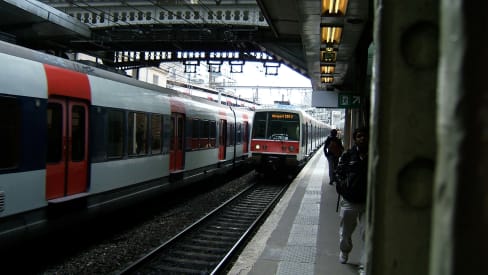 Paris has all-around excellent public transport and several private transport options, like taxis or bike and scooter rentals.
The public transport you'll use during your stay will probably include the Métro network, the urban buses, the Montmartre funicular, and perhaps the RER trains.
Our recommendations
Use the Métro, buses, or RER when you have to cover longer distances. Otherwise, try to explore the city on foot.
If you want to find out more about how to get around in Paris, you can read our article on local transport.
As for taxis, they are certainly efficient, although a bit pricey. In our opinion, they come in handy occasionally, for instance late at night or if you need to move between the airport and the city. A cab ride in the city centre should cost between €10.00 - €15.00.
Tickets and passes for public transport
When getting transport passes for your weekend in Paris, you'll have two main options. The first one is the T+ 10 carnet, a 10-journey transport pass ideal for those who plan on using transport only occasionally. The T+ 10 carnet costs €14.90 and it is valid throughout Paris' transport network (Métro, buses, RER, funicular, tramways) for 10 separate journeys.
If you rely on public transport more than walking, you'll be better off with a 3-day Paris Visite pass. It costs €26.65 and it can be used as much as you like throughout Paris' transport network (Métro, buses, RER, funicular, tramways) for three days.
Our recommendations
Since you are visiting over the weekend, don't try to get a
Passe Navigo
. The ones for the current week are only sold Monday to Thursday.
Airport-city transport in Paris
Paris' main airports are all well-connected. There are of course different solutions available depending on which airport you arrive at or depart from.
Charles De Gaulle Airport is the biggest airport. Located in Zone 5, you can reach it by bus (lines 350 and 351 or the Roissybus), RER (line B), or by cab.
If you prefer, you can also book a private transfer to or from CDG Airport here . For more info about the airport and how to reach the city from it, you should read our dedicated article.
Orly Airport, in transport Zone 4, is the second biggest airport in Paris. It can be reached using a combination of the airport's shuttle services and RER trains: OrlyVal or Orlybus in combination with RER line B or bus 183 in combination with RER line C.
Of course, the other option is a taxi. You can reserve your private transfer between the city and Orly Airport here . Read our dedicated article for more information about the airport and its transport.
And finally, the smallest airport is Beauvais Airport. It is not as well-connected as the others, so the two best options are to either take the shuttle bus to the city centre or arrange a private transfer between the city and BVA airport . You can find all the details in our article.
Where to stay in Paris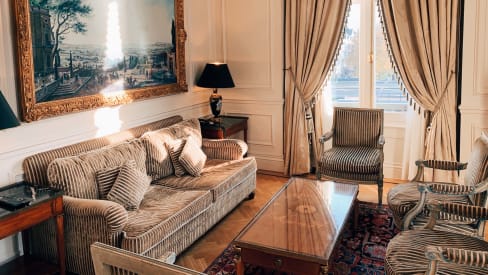 Since you are planning a short stay in Paris, we recommend you find something as close to the city centre as you can. It's not really worth it wasting the already-too-little time you have in the city on transport between the city and the suburbs if you can avoid it. Anything within arrondissements 1 to 9 or in Montmartre (18th arrondissement) can be considered central.
There's not much to worry about in terms of safety when you are staying in the city centre. You'll only need to take precautions if you plan on staying out late at night. In those cases, you might want to avoid staying too close to the major train stations (Gare du Nord, Stalingrad, Barbès-Rochechouart, and Jaures), which tend to be a bit dangerous late at night.
In any case, the most relevant piece of advice we can give regarding accommodation in Paris is to book early. As we have mentioned, the city is a beloved holiday destination by many, so hotels fill up quickly. The earlier you reserve, the better deals you'll find, so you should start looking and book your stay now - you can do so in the dedicated section.
When to visit and seasons in Paris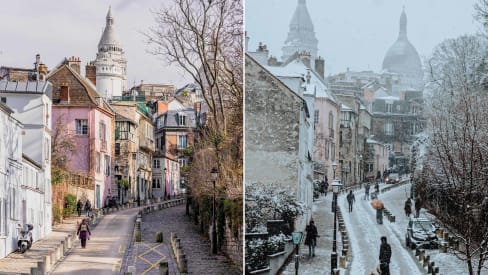 Going by our own experience, early autumn and late spring are the best times to visit Paris. In May and September-October the city enjoys warm but pleasantly breezy weather. There are plenty of events, but not nearly as many people as in July-August or Christmas-time, which also means cheaper prices and fewer queues.
Obviously, that doesn't mean you won't be able to enjoy yourself during other periods of the year. Summer in Paris is warm and sunny, with many hours of daylight to enjoy the monuments. Winter, although cold, is extremely romantic and welcoming, especially as Christmas time approaches when everything is colourful and cosy. If you'd like to know more about the climate and temperatures in Paris year-round, you can read our dedicated article.
General tips
Don't put accommodation off to the last minute. In Paris, hotels and apartments get booked up early and the remaining ones get more expensive as the booking date approaches. Find and book your accommodation immediately - you can do it in the dedicated section of our website.
Book all entries to museums and sights online. This will not only save you time (that you would otherwise have to spend queueing) but it will also ensure that you are able to get in. Sometimes venues are so busy that people in line outside can't even get tickets for the day.
If you want to enter museums and sights, get a Paris Museum Pass. This pass gives you free access to almost all monuments and attractions in the city, and you won't even have to queue to go in. You can get your Paris Museum Pass here .
Remember to drink water. Travelling can make it easy to forget you haven't had anything to drink for a while, especially if you are visiting a lot of sites on the same day. Stay hydrated and keep a refillable water bottle with you. In Paris, tap water is always drinkable unless it is specified on a sign by the tap.
Pickpocketing is the most common crime in Paris, so don't make it easy for anyone to steal your things. Be aware of your surroundings and of your belongings at all times. To be fully prepared, you can look up all of our safety tips for your stay in Paris.
More related activities...
You might also be interested in...