Definitive guide
Le Marais
Upscale restaurants, prestigious museums, and fashion houses populate Le Marais, one of Paris' most cosmopolitan areas.
Definitive guide
Le Marais
Upscale restaurants, prestigious museums, and fashion houses populate Le Marais, one of Paris' most cosmopolitan areas.
Le Marais, which actually means The Marsh, in reference to the area's past, is an upscale and fashionable neighbourhood in central Paris. The district is home to many historic buildings, museums, and curated squares.
The area is obviously best explored with a local guide, so we recommend a walking tour among Le Marais' cobbled streets and antique stores . If you have a taste for gourmet food, this area of Paris is also perfect for a foodie tour or - for those of you with a sweet tooth - a pastry and chocolate tour .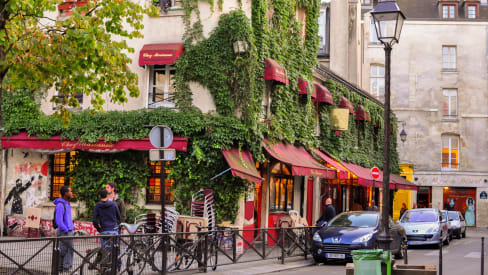 Between the 13th century and the 18th century, Le Marais was an aristocratic district. The French nobility took a liking to the area and had mansions and townhouses built here, along with the city's oldest planned square, Place Royale.
The square has received a new name - Place des Vosges - but it still looks pretty much the same as it did back then. Place des Vosges is lined with chic red brick house fronts, which still give the place its characteristic upscale residential atmosphere.
After the French Revolution , between the 19th century and the end of the 20th century, the nobility abandoned the district, which became instead a commercial area, hosting a large Jewish community and later on a lively Chinese community as well.
Le Marais, with its refined cafés, art galleries, and boutiques, is today considered one of Paris' most fashionable and commercially active areas.
Among the main attractions in Le Marais are Place des Vosges, the Musée Carnavalet, the Musée Cognacq-Jay, the Musée Picasso, the house-museum Musée Victor Hugo , Nicolas Flamel's house, and the Maison Européenne de la Photographie .
Location
Between the 3rd and 4th arrondissement, just above Île Saint-Louis.
Nearby sights
In the Marai neighbourhood you'll find several museums and landmarks, the most important of which are:
Place des Vosges
Maison de Victor Hugo
And just outside the neighbourhood's limits you'll find:
The entries to several of the sights in Le Marais are included in the Paris Museum Pass. The Pass gives you free access to all the most important sights in the city, so if you plan on visiting a decent amount of them, we highly recommend getting it. You can do so here .
More related activities...
You might also be interested in...