Definitive guide
Musée Carnavalet
A museum completely dedicated to Paris and its history, the Musée Carnavalet will have you trace the steps of the city from the time of its foundation until the present day
Definitive guide
Musée Carnavalet
A museum completely dedicated to Paris and its history, the Musée Carnavalet will have you trace the steps of the city from the time of its foundation until the present day
The Musée Carnavalet is a museum dedicated to the history of the city of Paris. The Carnavalet is both a museum and a historic monument, as it occupies two 17th-century mansions in Le Marais, the Hôtel Carnavalet and the Hôtel Le Peletier de Saint Fargeau.
Some of the rooms in the buildings are still furnished with artefacts and decorative pieces from different periods of French history. However, the focus of the museum remains to illustrate the city's history and developments. You'll find paintings, models, and photographs depicting various stages of Paris' history, as well as original furniture, sculptures, decorative items, antiques, and architectural objects of all kinds.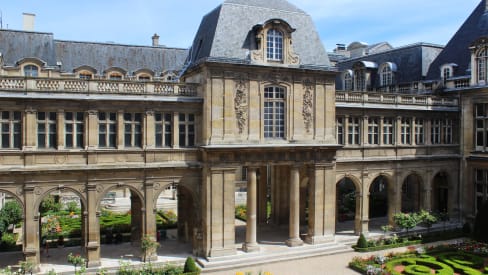 The Carnavalet Museum's areas are divided according to the era. Here are the sections you can find inside.
Prehistory, Antiquity, and Middle Ages.
Mesolithic and Neolithic eras (9000-4500 BC)Roman period (1st century BC - 4th century AD)Mediaeval to Renaissance period (5th-16th centuries)
Age of Enlightenment Paris.
16th century - late 18th century
French Revolution and Napoleon.
Last decade of the 18th century to early 19th century
Transformation of Paris and Belle Epoque to present day.
Second half of the 19th century to 21st century
Additionally, on the ground floor, you'll find the Sign Room, a lovely collection of 18th and 19th-century shop signs that used to hang in the streets of Paris, just outside of local businesses.
Location
Rue de Sévigné 23, Le Marais, 3rd arrondissement
Tickets and price
Entry to the Musée Carnavalet's permanent collections is free. However, tickets to the temporary collections are not free - prices vary from one exhibition to the other - and need to be booked ahead. You can do so on the Carnavalet's website .
Schedule
Day
Tue-Sun
Mondays, 1.01, 1.05, 25.12
| Day | Opening time | Last admission | Closure |
| --- | --- | --- | --- |
| Tue-Sun | 10:00 am | 5:15 pm | 6:00 pm |
| Mondays, 1.01, 1.05, 25.12 | Closed | | |
Transport
Nearby sights
The Carnavalet Museum is located in the Marais neighbourhood, so you'll find plenty of sights and landmarks in the area:
Musée Cognacq-Jay - 220 m (720 feet) west, 3-minute walk.

Place des Vosges - 300 m (almost 0.2 miles) east, 4-minute walk.

Musée Picasso - 350 m (0.2 miles) north, 5-minute walk.

Maison de Victor Hugo - 400 m (over 0.2 miles) southeast, 5-minute walk.

Île Saint-Louis - 850 m south (0.5 miles), 11-minute walk.

Centre Pompidou - 1 km (0.6 miles) west, 12-minute walk.

Île de la Cité - 1.2 km (over 0.7) southwest, 16-minute walk.
The entry tickets to many of these attractions are included with the Paris Museum Pass, which you can get here. The Pass grants you free access to almost all of Paris' sights, so we recommend getting it if you don't have one already.
BOOK GUIDED TOUR →
More related activities...
You might also be interested in...