Definitive guide
Taxis in Paris
Paris taxis will come to your rescue late at night when you're too tired to walk or wait for public transport
Definitive guide
Taxis in Paris
Paris taxis will come to your rescue late at night when you're too tired to walk or wait for public transport
Surely not the cheapest option, taxis are always a solution you can resort to if there are no other transport options available. This might be the case if you need to get somewhere quickly (don't worry about the traffic, they have special lanes in Paris) or if it's at a time when public transport is not available.
In Paris, you can also get a VTC (Voiture de Transport avec Chauffeur). That is a private hire car, like Uber. Unlike with a taxi, with a VTC, prices change depending on demand, but they are clarified before the beginning of your ride.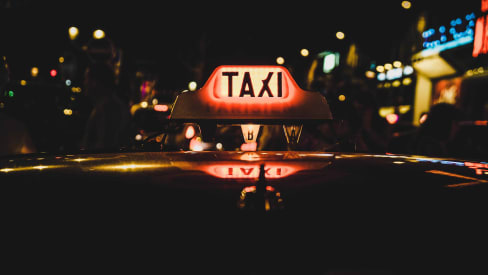 Of course, on occasions when you already know the time of your arrival, if you want maximum comfort, you might want to book a private vehicle in advance. For example, you can arrange a private vehicle to take you to or from Charles de Gaulle Airport .
How to get a taxi
Hailing a taxi in the street is possible, but not super easy. When you see a taxi with the Taxi Parisien sign on (white or green), approach the street and raise your hand.
It is much easier to get a cab at a taxi rank. You'll find them by the most important sights, train stations, and airports. In some cases, there might be a valet organising the queue.
You can contact a taxi company and reserve one of their cabs, either by phone call or app (if they have one).
If you want to get a VTC (Voiture de Transport avec Chauffeur), you will have to book one through an app.
Fares
Fares tend to change from year to year, but here you can find the latest official fares.
Airports have flat rates. Between € 53.00 and € 58.00 for CDG Airport (depending on which bank of the Seine river pick-up or drop-off is). Between € 32.00 and € 37.00 for Orly Airport (depending on which bank of the Seine river pick-up or drop-off is).
Booking charges also have flat rates. Immediate bookings have a fee of € 4.00, while advance bookings have a fee of € 7.00.
The initial pick-up fee (booking charge not included) is always € 2.60.
The minimum ride fare is € 7.30.
The taxi meter fare per kilometre is between € 1.13 and € 1.66, depending on the time and day. The cheapest time is Monday to Saturday from 10:00 am to 5:00 pm. The most expensive is on Sundays from midnight to 7:00 am.
Things to keep in mind
A licensed taxi in Paris will have a sign reading Taxi Parisien on the roof. They are also obliged to have a taxi fare meter inside and to display the driver's taxi license number.
Taxis might not take card, so make sure you ask before you get in. It's sufficient to ask "cartes bancaires?" and the driver will let you know. In any case, it's best you always have some cash with you.
Taxi drivers in Paris are not normally expected to have a conversation with their clients, so don't worry if they just put the radio on and don't talk to you.
If you are drunk, have a pet (except guide dogs), or you have luggage/clothing that might ruin the inside of the vehicle, you might be refused service.
If you are less than 50 metres (165 feet) away from a taxi rank, cabs will not pick you up.
For some destinations, like Disneyland Paris, it might even be cheaper (and surely easier) to hire a private transfer in advance, instead of trying to get a taxi on the spot. You can book your transfer from the airport to Disney here .
Helpful tools
In Paris, there is a single phone number you can call 24/7, valid for all taxi companies: +33 0145 303 030. If not, you can call a specific taxi company directly.
Working VTC apps in Paris include Uber, Heetch, FreeNow, and Bolt.
Popular cab apps in Paris are Taxi G7, Paris Taxis, Tako, Alpha Taxis, and FreeNow.
More related activities...
You might also be interested in...