Definitive guide
Île Saint-Louis
The smallest of the two islands on the Seine is Île Saint-Louis. It went from being a deserted islet to a quiet neighbourhood for the wealthiest Parisians in just a few years
Definitive guide
Île Saint-Louis
The smallest of the two islands on the Seine is Île Saint-Louis. It went from being a deserted islet to a quiet neighbourhood for the wealthiest Parisians in just a few years
Paris' Île Saint-Louis is the smaller one of the two natural islands on the river Seine. While Saint-Louis is not as rich in monuments and museums as the neighbouring Île de la Cité, it is known for its peaceful and quaint atmosphere, enhanced by its small size (11 hectares, or about 27 acres).
The island and its most elegant buildings can be appreciated from the river, especially if you're on a cruise boat and get to pass close by. You can book your Seine river tour here .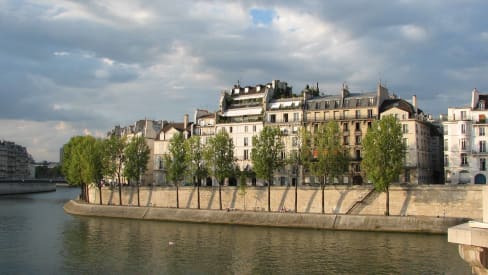 Before the 17th century, Île Saint-Louis was owned by the Notre-Dame administrative body and completely uninhabited. At this time, it was still called Île Notre-Dame, and it was mainly used for grazing cattle, fishing, drying laundry, and even duel fighting.
In the 1600s, the King decided to allocate it for real estate development. Thus, by 1666, Île Saint-Louis was entirely occupied, with the wealthiest citizens occupying the properties by the water and the interior being occupied by slightly less well-off merchants and artisans.
The island received its current name only in 1725, in honour of King Louis IX, who was made a saint in the 13th century.
Today, the floor plan and architecture of the island are pretty much unchanged, and you can still enjoy the narrow streets sided by the elegant façades belonging to small palaces and townhouses. Île Saint-Louis is more residential than other historical neighbourhoods in the centre, but you can still enjoy small shops and plenty of local restaurants and brasseries.
Location
The Île Saint-Louis is located along the Seine river, 4th arrondissements of Paris, just east of the Île de la Cité.
Transport
More related activities...
You might also be interested in...