Definitive guide
Disneyland Park
The most visited theme park in Europe, Paris' Disneyland Park, will have you feeling like you've just stepped into a fairytale.
Definitive guide
Disneyland Park
The most visited theme park in Europe, Paris' Disneyland Park, will have you feeling like you've just stepped into a fairytale.
Disneyland Park is the first one of the two theme parks in Disneyland Paris - the other one being Walt Disney Studios Park. Surely you're familiar with the iconic castle in Disneyland Park. The pink and blue keep is a replica of Disney's 1959 Sleeping Beauty fairytale castle.
Disneyland Park will make you feel all kinds of nostalgia, catapulting you into a world of magic, wonder, and enchantment. The various attractions at the park include rides, shows, parades, and themed restaurants.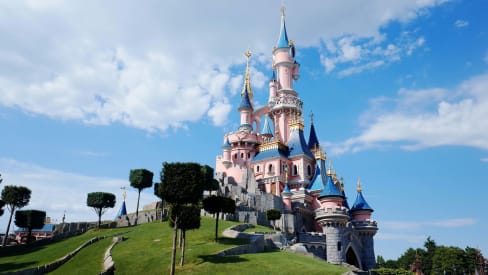 There are various tickets available for Disneyland Park: you can get a one-day ticket here , or multiple-day tickets here . There's even an option that includes a shuttle service from Paris' centre and a flexible option , where you don't have to choose the date of your visit quite yet.
Among the Park's most famous and appreciated rollercoasters are the Big Thunder Mountain rollercoaster and the Star Wars Hyperspace Mountain. The Pirates of the Caribbean ride is also a classic appreciated by many.
Other attractions include daily parades, theatre shows, meet & greets with Disney's most famous characters, and choreographed light shows.
Tickets
Tickets to the Disneyland Paris parks are not available on the spot, so you have to book your entries in advance. The prices of the tickets fluctuate a lot, depending on the season, duration, and number of parks you want to visit. Here we have gathered the options available.
You can get all multi-day Disneyland (both Disneyland Park and Walt Disney Studios) tickets here . For single-day tickets you can click here . On this latter kind of entry, you can choose different cancellation policies depending on your needs.
If instead, you're looking to get the ticket as a gift for someone and you're not sure when they'll be able to go, your best option is to get them a flexible ticket . That way they have a whole year to pick a date for their Disneyland Paris trip.
Schedule
Opening for Disney Hotel guests
08:30 am
| Opening for Disney Hotel guests | Opening | Closing |
| --- | --- | --- |
| 08:30 am | 9:30 am | 10:00 pm |
Transport
The easiest and most worry-free option you have is, of course, to get a Disneyland ticket with shuttle transport included . The Express Shuttle will take you back and forth between Paris' city centre and the Park.
Your other options are listed in the table below.
| Method | RER | Magical Shuttle Airport Transfer |
| --- | --- | --- |
| Lines | A | Paris-Orly, Paris-Charles de Gaulle Airports |
| Stops | Marne-la-Vallée/Chessy | - |
If you'd prefer a private transfer between the CDG Airport and Disneyland, you can get yours here .
BOOK TICKETS →
More related activities...
You might also be interested in...