Definitive guide
Cimetière du Père-Lachaise
In all its glorious 44 hectares (110 acres), the Cimetière du Père-Lachaise is the world's most visited cemetery, and certainly, one of the most beautiful
Definitive guide
Cimetière du Père-Lachaise
In all its glorious 44 hectares (110 acres), the Cimetière du Père-Lachaise is the world's most visited cemetery, and certainly, one of the most beautiful
The Cimetière du Père-Lachaise is the largest cemetery in Paris and the most visited worldwide. In it, along with the classic tombs and Gothic graves, you'll find green paths, stunning mausoleums, memorials, statues and chapels.
The reason for its fame is - aside from its monumental beauty and size - that many notable figures are buried here. Among them are Jim Morrison, Oscar Wilde, Frédéric Chopin, Edith Piaf, Marcel Proust, Georges Bizet, and Georges Méliès.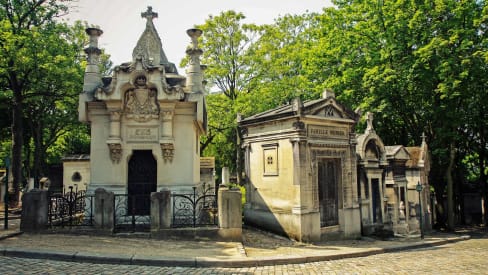 The Père-Lachaise Cemetery is really rather large, so we recommend getting a tour with a professional guide, otherwise, you might take hours to find your way around. The guide will show you around the most beautiful parts of the cemetery and will take you to the many notable tombs. You can book your guided tour in Père-Lachaise here .
Even though Père-Lachaise owes its name to King Louis XIV's confessor, Père de la Chaise, the cemetery is and has been non-denominational since its very first days. Shortly after being established by Napoleon in 1804, Père-Lachaise was not a popular choice for burials among Parisians.
The strategy adopted was one that would not only prove successful but would also make the cemetery's history. The administration started transferring the remains of famous figures, including renowned playwright Molière, to Père-Lachaise.
People soon started to be interested in being buried alongside celebrated citizens. In less than 50 years, the cemetery had to be expanded 5 times. Today, more than 1 million bodies and many other cremated remains are buried here.
Location
Rue du Repos 16, 20th arrondissement.
Entries
Entry to the Père-Lachaise Cemetery is free for everyone.
However, remember that entering with animals, bikes, or scooters is not allowed. Alcohol consumption, music, picnics, sports, and other organised activities are not permitted inside the cemetery either.
Our recommendations
The cemetery is rather large, so you'll be walking quite a bit. Our suggestion is to bring comfortable shoes and get a guide to show you around the most important graves and memorials, instead of wandering off alone.
Schedule
| Day | Opening time | Closure |
| --- | --- | --- |
| Mon - Fri | 8:00 am | 6:00 pm |
| Sat | 8:30 am | 6:00 pm |
| Sun | 9:00 am | 5:30 pm |
Transport
BOOK GUIDED TOUR →
More related activities...
You might also be interested in...