Definitive guide
Musée Cognacq-Jay
The Cognacq-Jay Museum, in Le Marais, is a gem for 18th-century French artwork lovers.
Definitive guide
Musée Cognacq-Jay
The Cognacq-Jay Museum, in Le Marais, is a gem for 18th-century French artwork lovers.
The Musée Cognacq-Jay is a private collection museum located in the Hôtel Donon, a 16th-century mansion. The museum was formed in the first quarter of the 1900s by Théodore-Ernest Cognacq and Marie-Louise Jaÿ. The couple later donated their entire collection to the City of Paris.
The Cognacq-Jay was initially housed in an inhabited home especially conceived for this purpose by the Cognacq-Jaÿ couple, who wanted to display the collection in the intimacy of a house. However, in the 1990s, the City of Paris decided to move the museum to Le Marais, which they deemed a more culturally inclined neighbourhood.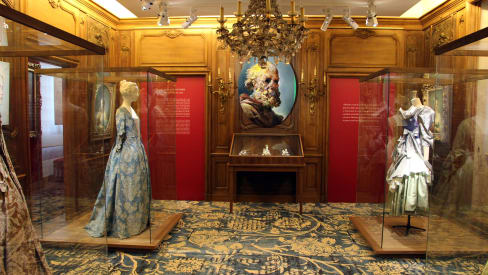 The museum is not massive but still houses a considerable collection of over 1,200 objects. The holdings consist of carefully selected arrays of fine art and decorative pieces. You'll mostly find 18th-century French items (paintings, ceramics, sculptures, jewels, and fine furniture). However, there also are Chinese ceramics, some 17th-century pieces and 19th-century paintings. In this last category, the most notable are the ones by artists Paul Cézanne, Edgar Degas, and Camille Corot.
The personal nature of the collection makes the Musée Cognacq-Jay a unique frame through which we can observe the spirit of 18th-century France as it was interpreted in the time of the Cognacq-Jaÿs.
Location
Rue Elzevir 8, Le Marais, 3rd arrondissement
Tickets and price
Entry to the Musée Cognacq-Jay's permanent collections is free.
Tickets to the temporary collections, on the other hand, are not free and need to be booked ahead. The cost of all temporary exhibitions is summarised below.
| Adults | Young visitors aged 18-26 | Young visitors under 18 |
| --- | --- | --- |
| €8.00 | €6.00 | free |
Schedule
Day
Tue-Sun
Mondays, 1.01, 1.05, 25.12
| Day | Opening time | Last admission | Closure |
| --- | --- | --- | --- |
| Tue-Sun | 10:00 am | 5:15 pm | 6:00 pm |
| Mondays, 1.01, 1.05, 25.12 | Closed | | |
Transport
Nearby sights
The Cognacq-Jay Museum is in Le Marais, so you'll find plenty of other sights and landmarks in the area. Entries to several of them are included with the Paris Museum Pass, so we recommend getting it if you want to visit them. If you don't have one already, you can buy your Paris Museum Pass here .
Musée Picasso - 180 m north (590 feet), 2-minute walk.

Musée Carnavalet - 220 m (720 feet) east, 3-minute walk.

Place des Vosges - 550 m (a little over 0.3 miles) southeast, 7-minute walk.

Maison de Victor Hugo - 600 m southeast (almost 0.4 miles), 8-minute walk.

Centre Pompidou - 900 m (over 0.5 miles) west, 12-minute walk.

Île Saint-Louis - 1 km (0.6 miles) south, 12-minute walk.

Île de la Cité - 1.3 km (0.8 miles) southwest, 16-minute walk.
BUY MUSEUM PASS →
More related activities...
You might also be interested in...