Definitive guide
Cabaret in Paris
Music, cancan dances, feathery costumes, singing, and burlesque performances. Cabaret is Paris' most famous nighttime entertainment.
Definitive guide
Cabaret in Paris
Music, cancan dances, feathery costumes, singing, and burlesque performances. Cabaret is Paris' most famous nighttime entertainment.
Cabaret is possibly the most famous form of adult entertainment you'll find in Paris. Sophisticated shows, French wines, soft lights among the tables, a stage packed with dancers, feathers, glitter, and enticing choreographies.
These cabaret shows are extremely popular, so we recommend you reserve your table in advance. You can book the show with champagne , the show with dinner , or even just the show on its own .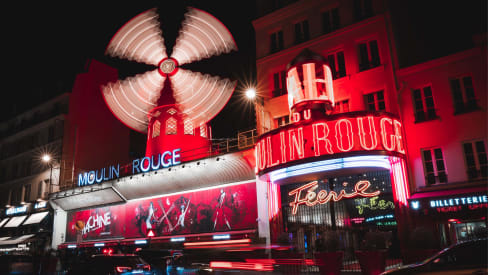 Initially, the term cabaret was used in France to indicate a tavern, a place to eat and drink that might also offer a music and dance show to its patrons. At the end of the 19th century, during the Belle Époque, is when cabarets started becoming more popular.
Cabarets quickly became places where people from all walks of life could enjoy entertainment, alcohol, and a meal at cheap prices. In these smokey and intimate venues, the patrons would watch performers dance the cancan and sing to the music.
As an interesting note, it's good to know that it was thanks to the Parisian cabarets and nightclubs that the art of graphic design took hold in France. Some of the regulars at these clubs were artists, who started designing posters for their beloved rendez-vous.
Some of the most famous cabaret clubs at this point were Le Chat Noir, Les Folies Bergère, the Lapin Agile, and the Moulin Rouge. These last two are still open and active today, so if you want to deep dive into some of Paris' oldest establishments, you can get your tickets for a dinner show here .
Nowadays, the word cabaret is often used to indicate a wide variety of shows, including burlesque shows, nude shows, drag shows, or even solo shows with music. However, there are still plenty of clubs in Paris offering authentic and even old-style cabaret shows.
In these places, the performances are normally elaborately choreographed, with lavish sets and costumes, and lots of performers. The audience, many of whom are dining and drinking champagne or wine, is sat at the tables arranged in front of the performance stage.
Where to see Parisian cabaret
Paris has no lack of famous cabaret clubs. These are the most well-known and appreciated establishments to offer various kinds of shows, including traditional cabaret, burlesque, and nude shows. Remember that cabaret is very popular, so it's best to book and secure your seats ahead of time.
Our recommendations
The dress code for the majority of these cabaret clubs is elegant-casual. Ties and long dresses are not necessary, but some degree of formality is required. That means no shorts, sportswear, t-shirts, sandals, or flip-flops.
Paradis Latin
The Paradis Latin is the oldest cabaret in Paris. Its quality dinner and show, coupled with affordable prices, make it a local favourite. You can reserve dinner with a show at the Paradis Latin here .
Le Crazy Horse Paris
Le Crazy Horse is where you go for the Art du Nude. This club is considered the best of its genre, where you can see the most erotic shows being performed. You can book your seat at a Le Crazy Horse show here .
Moulin Rouge Paris
The Moulin Rouge is a true institution, the most famous cabaret show in Paris. Expect burlesque shows, cancan dances, synchronised choreographies, and the most flamboyant and grand of costumes. You can book a show with champagne at the Moulin Rouge here or a dinner show here .
Au Lapin Agile
Au Lapin Agile is probably the most traditional of all clubs listed here. It is located in an old village house and offers shows exclusively in French, with no crazy lights or feathers.
Lido Paris
The Lido Paris offers elaborate, joyful shows, with dancing, singing, cancan girls, colourful costumes, and lots of feathers.
More related activities...
You might also be interested in...