Definitive guide
Is Paris safe? Travel Guide 2023
All about safety in Paris. With tips on how to be safe in the city, how to prevent pickpocketing, and what areas to avoid.
Definitive guide
Is Paris safe? Travel Guide 2023
All about safety in Paris. With tips on how to be safe in the city, how to prevent pickpocketing, and what areas to avoid.
As far as safety in European cities goes, Paris is within the norm. Take everything we are about to tell you not as a way to scare you off, but rather as a way to ensure you don't make mistakes that can be easily avoided.
First of all, it must be said that if by safety you mean violence, you don't have to worry much about Paris. If instead, by safety, you mean pickpocketing, that generally happens a lot. In fact, pickpocketing is the most common crime in Paris. But there are simple ways to make sure you're not an easy target.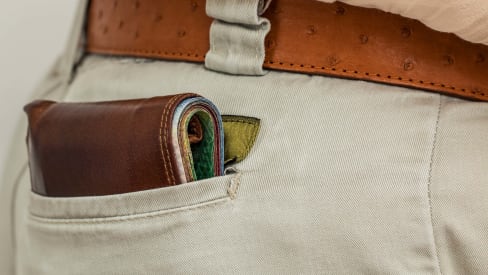 Travelling alone is also not a problem, as the French tend to be more reserved and are used to doing things alone around the city. Being on your own won't make you a target. The most important thing is to know how to move around Paris, regardless of the number of people that travel with you.
General safety tips for Paris
Always keep an eye on your belongings, and never leave your things unattended.
Always close your bag, preferably with a zipper.
If you have a backpack and the place is crowded, keep it in front of you.
While sitting down at a restaurant or bar, never hang your bag or backpack on the back of your chair, especially if you are sitting outside. Always keep your things where you can see them.
Be careful about traffic and crossing the street. Paris is a busy city and vehicles drive by fast.
Do not keep your wallet or phone in your back pocket.
If you are staying in an apartment with an access code, learn it. You don't want to have to take your phone out and look for it, especially if you're coming back late at night and maybe less than sober.
If you have to take money out at an ATM, always look around before taking your wallet and card out. If you don't feel safe, a good option is to go to a bank that has ATMs inside.
At the airport, do not get into private vehicles that you have not booked. If you want a private driver, reserve your ride beforehand or get a taxi. You can book your private transfer from Charles de Gaulle Airport here and a private transfer from Orly Airport here .
Be aware of scams. Anything that can get you distracted could be a potential ploy to steal your things. Common scams are magic tricks in the street or petition signing, so if someone approaches you or stops you to watch or sign something, just ignore them and continue your way.
If you carry valuables (your phone, your wallet, etc.) inside your pockets, make sure they are closed and that access to them is not easy.
If you are worried about your valuables being stolen, you can put them in one of those small pouches that you can strap on under your clothes.
Try not to look too much like a tourist. In busy areas, you might attract the attention of someone looking for the perfect pickpocketing victim.
Buy your tickets before going to the attractions. That way you don't have to take your wallet out to buy a ticket every time. Attractions are crowded places and that is where pickpockets are. Or better, you can get a Paris Museum Pass that lets you enter for free in all the most important Museums, without queuing. You can buy your Paris Museum Pass here .
Keep a copy of your documents (either physical or digital) at hand. This can be useful if you lose them or simply don't want to carry them around the city.
Safety on public transport
Here are a few tips to make sure you keep safe and minimise the chance of pickpocketing or scamming while on public transport in Paris.
Keep in mind that these tips are just meant to help you, not scare you. As we have mentioned before, Paris is a relatively safe city, but - as it tends to be with any European city with a lot of tourism - petty theft happens.
Always keep an eye on your personal belongings, especially if the carriage or bus is crowded.
The most dangerous time in terms of pickpocketing is when you get off or on the train. This is the moment you'll be most distracted and pickpockets know that, so be extra careful when entering or leaving.
If you are wearing a backpack, hold it in front of you instead of the back.
Keep your ticket where you can easily reach for it. You don't want to open your bag and take your wallet out every time you need it.
Don't make yourself an easy target. That means, don't fall asleep in a crowded Métro, don't wear flashy jewellery or bags, and be vigilant.
There is no point in trying to know which lines are most at risk of pickpocketing, as they change over time, and it could really happen anywhere. Instead, you should just be the most alert at rush hour, when the Métro, train, or bus you're on is busy.
Some of the stations, especially some of the big ones with lots of corridors, are best avoided at night. This includes Gare du Nord, Châtelet-Les Halles, Châtelet, Stalingrad, Barbès-Rochechouart, and Jaures.
Although not common, you might encounter more elaborate forms of pickpocketing. This usually involves an organised group of people working together. They might stage distractions (fake fights, someone asking you for help) while someone else steals from you while you're not paying attention.
Along a similar line, if you hear someone shout "voleurs" (meaning "thieves"), don't immediately reach for your wallet and phone. This is a technique used by some to tell where people keep their valuables. Again, this is not terribly common, but it's best to be aware.
Always get your tickets from the desks, automated machines, or on the official apps. Never buy them from peddlers.
If you are carrying luggage or strollers, enter from the larger gates in the Métro. If you try to fit in the normal ones you could get stuck on one side with your belongings on the other.
If you see an abandoned object, report it immediately. Don't try to locate the owner yourself.
If you'd like to know more about public transport in Paris, you can check out our dedicated article.
Is Paris safe to travel alone or with family?
Travelling alone in Paris is not a problem, as the French tend to be more reserved and are used to doing things alone around the city. Being on your own won't make you a target for pickpocketing or any other crime.The most important thing is to know how to move around Paris, regardless of the number of people that travel with you.
So take all the precautions you normally would when travelling and you will be safe. A good idea is to have useful emergency contacts saved on your phone, so that they are readily available in case you need them. You can find all emergency contacts in the last section of this article.
Paris is also perfectly safe to travel with family. In fact, Paris is one of the top destinations for families with young children, especially thanks to the numerous amusement parks and children-friendly activities in the city (think Disneyland Park, the Walt Disney Studios Park and the Wax Museum).
Obviously, whenever travelling with children you'll need to be extra cautious, but that's nothing out of the ordinary. In Paris, you'll need to be particularly careful about crossing the street, so always take your children by the hand, wait for the green light, and look both ways before crossing. Cars and small vehicles drive by very fast in the city, and they might appear out of nowhere.
You should also be on the lookout for possible scams, especially the ones to which children are most susceptible. The most common scams targeting children are street vendors trying to give children bracelets (that the parents have to pay for) or magic tricks, so always be aware of those.
Is Paris safe to travel as a woman?
Paris is no more dangerous for female travellers than any other major city in Europe. You'll see a lot of people spending time alone: at restaurants, in the park, at the cinema. It's not like you need to be in a big group to feel safe.
In short, there are no special dangers here, but you still need to be careful in specific situations. Here are a few tips that might be useful, especially if you're travelling alone.
Avoid isolated and badly-lit streets or alleyways.
Drink less than you ordinarily would. You are in an unfamiliar place with (maybe) a language you don't speak. You will be less safe if you are visually intoxicated.
Remember you are under no obligation to be nice or stay in the presence of anyone that is making you uncomfortable. You can definitely run the risk of coming across as rude to ensure your safety.
Trust your gut. The earlier you leave a situation that feels unsafe, the better. You don't have to come up with a credible excuse or wait for the right moment to leave. Just go immediately, if you feel that you need to.
LGBTQIA+ Travellers
Paris and pretty much the rest of France are known for being tolerant and gay-friendly. The city gets often recognised as one of the more accepting destinations in Europe, together with Scandinavian and other North-European countries.
The vast majority of travellers will have no problem being visibly queer, whether it be in a relationship or alone. The neighbourhoods of Le Marais and Pigalle are considered the centres of LGBT+ life, with lots of bars, cafés, bookstores, and establishments openly targeted to an LGBT+ audience.
However, no city is safe from hate crimes or harassment. As usual, you are the best judge of whether you are in safe company. If you feel you might be in an unsafe situation or someone is pushing you to go somewhere or do something you are not comfortable with, it's best to be firm and get out of there.
Safety in Paris' different areas and neighbourhoods
As with any city, there are areas in Paris that are considered more dangerous than others. This doesn't mean there are violent crimes happening, just that there might be higher chances of pickpocketing or finding yourself in uncomfortable situations.
As a general rule, during the day, when you are in the central areas of Paris (1st-8th arrondissements), especially near the important sights where the big crowds are, you should be aware of pickpockets. Just keep an eye out and you'll be fine.
Some areas, in particular around big stations like Châtelet Les Halles, are best avoided at night.
There are no specific arrondissements to avoid, even as you get farther away from the centre (10th arrondissement onwards). However, you might want to stay clear of Métro and train stations, especially at night and if you're alone.
10th arrondissement in Paris - safety
When staying in the 10th arrondissement of Paris, it's best to avoid the northern areas around the stations Gare du Nord and Gare de l'Est, especially at night. Otherwise, the district is generally safe, albeit not very interesting for tourists.
11th arrondissement in Paris - safety
The 11th arrondissement in Paris is rather close to the city centre but not overcrowded. It is considered a trendy and hip zone, and as such it is always quite lively and thoroughly policed. Pickpocketing is not as common here as it is in proximity of the most popular sights.
15th arrondissement in Paris - safety
Paris' 15th arrondissement is overall a very safe district. It is close enough to the city centre that you can easily get to the main sights with a short Métro ride, but it doesn't have any major attraction of its own (except for the Montparnasse Tower at its eastern edge), making it a quiet and residential neighbourhood.
16th arrondissement in Paris - safety
The 16th arrondissement of Paris is a residential area mostly populated by the upper-class. As such, it is much more quiet than the central districts and safer in terms of pickpocketing. The large Bois de Boulogne is known for being a popular site of prostitution at night, so it is best avoided after dark.
17th arrondissement in Paris - safety
Paris 17th arrondissement is a mostly upper-class residential area. The district doesn't have any well known sites (except for the Arc de Triomphe, at its southern edge), so it is rather tranquil and safe.
Because of how quiet it is, there might be no one around to help if you get in trouble late at night, so you might want to take a taxi directly to your accommodation, if you're staying there.
18th arrondissement in Paris - safety
The western part of the 18th arrondissement in Paris is rather touristy, thanks to the Montmartre neighbourhood. When walking around here you should be careful about pickpocketing and scams, much like in the city centre.
The eastern part of the district is best avoided at night. The neighbourhoods in this area are Barbès, Porte de la Chapelle, and Porte de Clignancourt.
19th arrondissement in Paris - safety
The southern part of Paris' 19th arrondissement, closest to the city centre, is the safest. As per usual, it's best to avoid the bigger stations like Stalingrad, Jaurés, and Danube.
The northern part of the district is best avoided at night, if you're not familiar with the area. Much like other parks in Paris, we suggest you avoid crossing the Buttes Chaumont Parc after dark.
20th arrondissement in Paris - safety
Paris' 20th arrondissement is generally a safe district, and being away from a lot of touristy areas, it sees considerably less pickpocketing than the city centre. Of course, there are places best avoided at night, like the area around Porte de Montreuil Métro station.
Emergency contacts in Paris
Here is a list of toll-free numbers that you might need in case of emergencies in Paris. Rember that the country code in France is +33. You might need to add it before making a phone call.
Medical Emergencies (SAMU): 15
Fire brigade: 18
Mental Health SOS services: 0146 21 46 46
Racial discrimination helpline: 114
Victims of violent crime hotline: 08 10 09 86 09
Rape hotline: 08 00 05 95 95
Drug/Alcohol Addiction SOS helpline: 113
Police: 17
On duty pharmacies finder: 3237
Medical advice line (SOS Médecins): 08 20 33 24 24
Anti-poison centre: 01 40 05 48 48
More related activities...
You might also be interested in...