Definitive guide
Saint-Germain-des-Prés
Historical cafès, cultural centres, ancient churches, elegant brasseries, and lavish shops: you can find all this in one of Paris' oldest neighbourhoods, Saint-Germain-des-Prés
Definitive guide
Saint-Germain-des-Prés
Historical cafès, cultural centres, ancient churches, elegant brasseries, and lavish shops: you can find all this in one of Paris' oldest neighbourhoods, Saint-Germain-des-Prés
Saint-Germain-des-Prés is a well-known neighbourhood south of the Seine in central Paris. Formerly a densely populated, working‑class neighbourhood, the area became a cultural and intellectual centre during the 19th and 20th centuries when it welcomed many celebrated writers, artists, and philosophers.
As we always say, the best way to discover a neighbourhood is by walking around with a local, and Saint-Germain-des-Prés is no exception. You can book a general tour of the area here or, if you feel like doing something a little different with your day, you can brush up on your French with a language lesson at one of the historical cafès in Saint-Germain .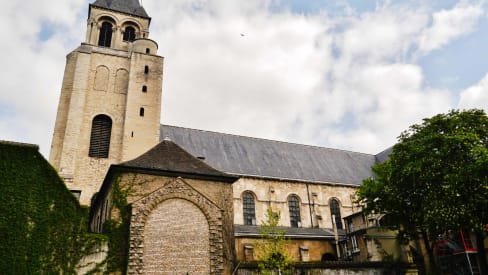 The quarter develops in the area surrounding the Abbey of Saint-Germain-des-Prés. The name Saint Germain, adopted by the church and consequently the neighbourhood, was in reference to a 6th-century Bishop of the city. The term prés refers to the open fields that occupied the area until the 17th century.
Between the 1800s and the 1900s, Saint-Germain-des-Prés became the centre of many intellectual and cultural movements. Among the most famous personalities that roamed this neighbourhood's streets, were philosophers like Sartre, de Beauvoir, and Camus, writers such as Hemingway, Fitzgerald, and Prévert, and even painters like Picasso and Dalì. Saint-Germain was also home to several small jazz clubs in the 20th century, with notable figures like Sidney Bechet and Boris Vian.
Today, the area's rich past is certainly part of the appeal: you can still sit at one of the cafés or jazz clubs where these celebrated artists dwelled not too long ago. The most famous establishments are the Cafe de Flore, Les Deux Magots, and the Brasserie Lipp.
In case all this talk about cafès made you a little hungry, you can try out a food tour in Saint-Germain-des-Prés or a pastry and chocolate one , if you're more of a sweet tooth kind of person.
Aside from these charming eateries, you'll also find plenty of historical monuments, art institutes, museums, antique stores, and elegant boutiques. In fact, if you like shopping you can perhaps indulge in a little treat at Le Bon Marché, an upscale department store (the first one in the world).
Location
6th arrondissement, just across the river from the Louvre Museum.
Transport
Nearby sights
These are the most well-known monuments and museums you'll find in Saint-Germain-des-Prés.
Église de Saint Germain des Prés
Musée National Eugène Delacroix
Palais des Expositions des Beaux-Arts
Hôtel de Chimay
Not far from the neighbourhood, you'll also find a lot other famous areas and sights.
More related activities...
You might also be interested in...