Definitive guide
Climate in Paris
Find out what the weather is like in Paris in every season and what's the best time to visit depending on what your plans are.
Definitive guide
Climate in Paris
Find out what the weather is like in Paris in every season and what's the best time to visit depending on what your plans are.
Spring
After winter, Paris starts warming up in the spring months, and with the days getting longer, the city gets more lively. Keep in mind that the weather in April and May can get pretty rainy, but sunny days have the advantage of being pleasantly warm instead of humid and oppressive as they can get in the summer.
The parks and the river are particularly lovely at this time, with the flowers blooming and the trees getting greener. Tourism is also not quite as heavy during the spring, so you get to enjoy the city without big crowds.
Between March and May temperatures in Paris average between 8° and 17° (46-63 F). Remember to pack something in case of rain if you decide to visit Paris in the springtime.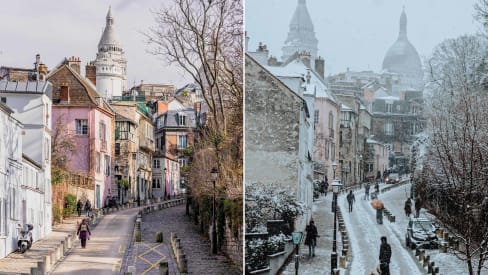 Summer
The summer is, of course, the most popular time to visit. Days are the longest around this time and the heat rarely gets bad, as Paris is quite far up north. This is the perfect climate to spend time outside and stroll around the neighbourhoods and parks.
Rain is minimal but it can sometimes get a bit humid. As this is considered high season, you can expect prices to be higher, and streets to be busy but also lively and eventful.
Between June and August temperatures average between 15° and 25° (59-77 F). Keep in mind, however, that a few particularly hot days are expected, especially around July. On those days, temperatures easily reach around 32° (90 F).
Autumn
Early autumn (September - first half of October) is probably the best time to come visit Paris, as temperatures are still comfortably warm and the rainy weather doesn't really start until November.
Around this time, the city is also not as busy as it normally is during the summer, but there are still plenty of events and lively cafès. When packing for the autumn in Paris, try to bring as many layers as possible.
Between September and November temperatures average between 10° and 17° (50-62 F). Keep in mind that the biggest drop in temperature is normally around November.
Winter
During the winter time Paris gets pretty cold, but almost never below freezing. The weather can be quite cloudy and rainy, but snow is not very common. You'll find that the coldest days are around early February.
If you decide to come here around this time, pack warm and comfortable clothes and be ready for the rain. Christmas time gets pretty busy and pricey, but outside the holiday season, you'll find that the city is not really crowded.
Average temperatures between December and February go between 3° and 8° (37-46 F).
More related activities...
You might also be interested in...