Definitive guide
Where to stay in Paris
Once you find out what areas and neighbourhoods in Paris are best for you, the hardest part is done and you can finally book your accommodation
Definitive guide
Where to stay in Paris
Once you find out what areas and neighbourhoods in Paris are best for you, the hardest part is done and you can finally book your accommodation
Paris is a rather large city, with attractions that are spread out in a vast area, so the ideal in finding accommodation is to go somewhere that is well connected to public transport. Fortunately, that is not difficult to find, if you book early.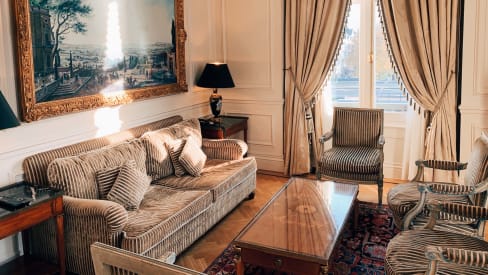 Keep in mind that there aren't that many hostels in Paris. Instead, hotels or apartments are much more common. In fact, Paris is said to be the city with the most hotels in Europe.
First things first then, is to understand what kind of neighbourhood you want to stay in. Every area in Paris has its charm, so here are your options.
Our recommendations
Whichever area you decide to go for, our best advice when looking for accommodation is always to
book as early as you can
. That way you'll find better options and prices.
Parisian chic
If you want to stay in the most quintessential and elegant areas of the city, you should find your accommodation in the 7th or 8th arrondissement. We particularly recommend staying close to the banks of the Seine river, by the Eiffel tower, Place de la Concorde or even by the Louvre Museum. A good alternative is the area by the Opéra Garnier.
Historical and student-filled
That would be Paris' Latin Quarter, just south of the Île de la Cité. This is the neighbourhood where the famous Sorbonne University is located, and around it are loads of student cafès, bars, and bookshops.
Cool and quirky
Filled with hip shops and food and drinking venues, the 2nd arrondissement will quickly become one of your favourite districts in Paris for its unique atmosphere.
Romantic
That's definitely Montmartre. A little away from the city's other areas (it's atop a hill), this neighbourhood is perfect if you love cobblestone streets and the charm of an old village.
Budget-friendly
The 9th arrondissement, although still quite central, tends to be more affordable, and still offers a great nightlife. If that's still a bit too much, you should go for the 12th arrondissement, which is a bit further out. However, if you stay in the western edge of the district, you'll still be pretty close to the centre.
In any case, if you're trying to stay on budget, the best advice we can give you is simply to book your hotel early, regardless of the area.
More related activities...
You might also be interested in...