Definitive guide
Paris Pass
Paris Pass is all-inclusive pass for museums, attractions, and dozens of city tours in Paris
Definitive guide
Paris Pass
Paris Pass is all-inclusive pass for museums, attractions, and dozens of city tours in Paris
The Paris Pass is an all-inclusive multi-day pass that gives you free access to some of Paris' main attractions as well as tours and activities around the city. In terms of monuments and museums included, that depends on the type (duration option) that you choose for your city pass.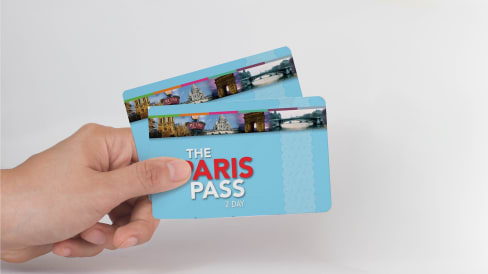 The 2-day and the 3-day Pass includes entries to some attractions, a free 1-day Big Bus hop-on hop-off Tour, and tickets for various other tours. The 4-day and the 6-day Passes include all the previously mentioned items, plus the Paris Museum Pass (with all its free entries).
Should I buy a Paris Pass?
The Paris Pass is a great purchase if you like going on walking tours, guided activities, and bus tours. Most of the guided activities normally cost between €20.00 and €40.00. That means that, even if you only go on four tours in two days, you'll already have made up for the cost of a 2-day Paris Pass.
However, considering that the 4-day and 6-day Paris Pass also incorporate all entries covered by the Paris Museum Pass, those two are the options we would recommend the most. This way, you can incorporate interesting tours and activities with the essential museum and monument visits. You can see a complete list of everything the various Paris Passes include down below.
Of course, when buying an all-inclusive pass like this, you have to consider the kind of traveller you are. These passes are better suited for visitors who do at least a little bit of planning ahead of time. If you like to do everything on the spur of the moment, a pass might not be the best, since you have to book most of the activities and tours in advance.
If you are only in Paris for a couple of days, the Paris Museum Pass would be a better option, since it includes the entries to a lot more of the essential sites in Paris.
Our recommendations
If you don't plan on going on many tours, the
Paris Museum Pass
is a more convenient option. If you like guided activities and visits, the
Paris Pass
will be perfect for you.
Duration options
The pass comes in four duration options: 2 days, 3 days, 4 days, and 6 days. The pass is activated on the day you first use it to access a site, bus tour, or other tours. There are some differences in what each duration option includes.
2-day Paris Pass:
3-day Paris Pass:
4-day Paris Pass:
6-day Paris Pass:
Prices
Of course, the average price per day diminishes with longer durations, and you'll have more time to visit the attractions.
Duration
18+ years old
2-18 years old
| Duration | 2 days | 3 days | 4 days | 6 days |
| --- | --- | --- | --- | --- |
| 18+ years old | €89.00 | €119.00 | €199.00 | €229.00 |
| 2-18 years old | €54.00 | €69.00 | €74.00 | €84.00 |
Our recommendations
People under 18 can already visit all national museums and permanent galleries in Paris for free. For this reason, we advise you to check if it's really convenient to get a Paris Pass for a minor, based on the activities you intend to do.
What attractions and activities are included in the Paris Pass?
As you have seen, the various duration options include different tickets. However, all of the Paris Pass options include the Digital All-Inclusive Pass. Following is a list of everything covered by this Digital Pass. You'll find there are entry tickets for some of the city's attractions, walking tours, food and drink tastings, workshops, events, and special transport tickets.
Eiffel Tower guided climb
Notre-Dame and the Archeological Crypt Experience
Aquarium de Paris
Gourmet Chocolate Museum
Parc Astérix
Stade de France
Montmartre and Basilique du Sacré-Coeur walking tour
Grand Rex Theatre tour
Père-Lachaise walking tour
Montparnasse neighbourhood walking tour
Latin Quarter tour
Galeries Lafayette guided tour
Seine walking tour
Le Marais walking tour
Parisian breakfast
Champagne sampling tour in Montmartre
Beer tasting
Cocktail and finger food in Saint-Germain-des-Prés
Perfume mini workshop
Fashion Show at the Galeries Lafayette
PanoraMagique at Disney Village
Bateaux Parisiens River Cruise
Virtual Reality Experience
Ballon de Paris Generali
Petit Train Montmartre
As for the 4-day and 6-day Paris Pass options, they also come with a Paris Museum Pass (4-day and 6-day respectively). Here is a list of entries covered by the Paris Museum Pass.
*Crypte Archéologique de l'*Île de la Cité

Musée d'Art et d'Histoire du Judaisme

Musée de l'Institut du Monde Arabe

Musée de la Marine

Musée de l'Histoire de l'Immigration

Palais de la Découverte

Musée des Arts et Métiers

Cité de l'Architecture et du Patrimoine

Hotel de la Marine

Musée Gustave Moreau

Musée Jean-Jacques Henner

Musée Eugéne-Delacroix

Philharmonie de Paris

Basilique Cathédrale De Saint-Denis

Abbaye Royale De Chaalis

Château de Champs Sur-Marne

Château de Chantilly

Château de Pierrefonds

Château de Fontainebleau

Château de Rambouillet

Château de Maisons

Musée de la Renaissance

Musée d'archéologie Nationale de Saint-Germain-En-Laye

Musée de Port-Royal Des Champs

Musée de L'air Et De L'espace

Musées et Domaine du Château de Compiègne

Musée du Château De Malmaison

Sèvres - Manufacture Et Musée

Musée Franco-Américain du Château de Blérancourt

Villa Savoye

Musée Rodin-Meudon
Things to keep in mind
Remember that all tours (including the Big Bus hop-on hop-off Tour) need to be reserved in advance. You can't just show up with your Paris Pass and get the tour.
The same goes for some of the monuments and museums (like the Louvre Museum and the Versailles Palace), which require prior reservation.
More related activities...
You might also be interested in...