Definitive guide
All you need to know about Valencia
A complete guide on everything you should know before visiting Valencia. All the major attractions, the best times to come by, budget suggestions, transport, and our tips.
Definitive guide
All you need to know about Valencia
A complete guide on everything you should know before visiting Valencia. All the major attractions, the best times to come by, budget suggestions, transport, and our tips.
From our personal experience living in Valencia, this is all you should consider and know before visiting the city: the pros and cons, the best monuments, museums, events, and neighbourhoods.
Included you'll also find our tips on how to choose when and what you're going to visit while here, as well as some help to sort out your budget.
Essentials
Here are a few things it's better to take into consideration before you travel to Valencia - our very own list of pros and cons.
Pro n.1: The lively and welcoming culture
People in Valencia are famously welcoming and gregarious. This makes the city lively not just in the warm months, but year-round. You'll find that people here like to go out and share meals, drink and chat, have picnics at the park, and go out dancing at night.
The local customs and folklore reflect this, with loud events, colourful parades, and rambunctious festivals - the most appreciated of which is Fallas.
Pro n.2: The architecture
Beautiful architecture is everywhere you go in Valencia. From gracious towers and slender halls in Gothic style to futuristic and avant-garde complexes, Valencia has it all. Including Renaissance monasteries, as well as Art-Nouveau structures in glass, ceramic, and iron in between.
You'll be captivated by the eclectic tendencies and aesthetics here, especially as they always manage to perfectly blend together and create uniquely charming scenarios and exquisite corners.
Pro n.3: The beaches
As if the city wasn't appealing enough as is, Valencia is also one of Spain's favoured coastal cities. The beaches, unlike other towns, are far enough from the centre to be spacious and peaceful. At the same time, reaching them from the city centre will only take about 20 minutes on public transport.
The city beaches are Platja del Cabanyal, Playa de la Malvarrosa, Playa de LasArenas, and Playa Patacona, and they're all pretty well-furnished with sports courts, bars, and restaurants. That said, if you want to go for more remote locations, there are plenty of quiet beaches just outside the city, all reachable by bus.
Pro n.4: The food
The food in Valencia is famously high-quality, especially thanks to the fertile farmlands all around the city - the Huerta - and the freshwater lagoon near the coast just south of Valencia. Among the most appreciated products, you can find excellent wines, fresh veggies and fruits, cured meats, and of course lots of seafood.
Many of the local dishes are based just on these products. But Valencians don't disdain a little dessert either. You can expect sweet drinks like fresh horchata (for the summer) and thick, creamy chocolate caliente (for the winter). The fried dough sweets (churros and buñuelos) are certainly not a light snack, but they're delicious nonetheless.
We go a little more in depth about the local dishes further down in the article, so keep reading if you're interested in Valencian cuisine.
Pro n.5: Transport
This might not be the first thing you take into consideration when choosing your holiday destination, but it definitely has an impact on the quality of your stay. Public transport in Valencia is truly excellent: efficient, integrated, and cheap.
You can reach anywhere in Valencia or around it with the metro, trams, buses, or trains. And if nothing else is available, taxis are still affordable. On top of that, the city and its surroundings are actually known for being cycling favourites.
Pro n.6: It's affordable
Compared to other European cities, Valencia is much cheaper. Food is reasonably priced and you can find accommodation for pretty much every wallet. Many of the attractions are registered as Municipal Museums, making the entries only €2.00. Plus, there are lots of free or low-cost activities you can do in Valencia.
Con n.1: Fallas is chaotic
Good news is, this one doesn't really apply year-round. The bad news is that when it does (1st of March through 19th of March), you can't really ignore it. Fallas is by far the busiest time of the year in Valencia. There are lots of people everywhere and it's basically impossible to find accommodation if you haven't booked early.
But don't think we are telling you not to visit the city at this time. In fact, we think Fallas is something you should absolutely try to see if you can. You just have to organise it ahead of time. That means booking early - especially your accommodation, which you can get here.
If you're interested in visiting the city around this time, you can head to our first-time Fallas guide. We explain everything you need to know about the festival, its events, the costs, and how to find the best accommodation.
Con n.2: Not a lot of flights
Valencia does have its own airport, but surprisingly, it's not the biggest in the region. The biggest airport is in fact the one in Alicante, a city not too far south of Valencia itself. Now, this is not to mean that Valencia Airport (also known as Manises Airport) doesn't get any traffic: there are quite a few flights coming from all over Europe.
However, Elche Miguel Hernández Airport (Alicante), which isn't very far from Valencia city, gets many more international flights. For this reason, you might find it easier to find flights to and from it.
Best things to do
Valencia has so many cool attractions. Museums, historical palaces and monuments, characteristic neighbourhoods, futuristic complexes, gardens, and beautiful natural parks.
We suggest you look up all the different things you could do, cause there is actually quite a lot and you don't want to miss out. Luckily, we're here to give you all the best sights and places.
Something that might come in handy if you're visiting a lot of attractions is the Valencia Tourist Card. It's an all-inclusive card that gives you free transport, free admission to municipal museums, and discounts of up to 50% on selected tourist attractions and services. The card comes in three duration options: 24, 48, and 72 hours.
Sightseeing
Here you can find a list of the most famous and visited sights in Valencia.
City of Arts and Sciences
Ciudad de las Artes y las Ciencias is an avant-garde complex dedicated to science, culture, and the arts, and one of the city's most recognisable landmarks. This hyper-futuristic compound will make you feel like you just walked into the future with its biomorphic architecture and pristine lines.
The City of Arts and Sciences is made up of six structures: the space-ship-like Palau de les Arts Reina Sofía, the planetarium-cum-IMAX cinema Hemisfèric, the urban garden Umbracle, the Àgora exhibition centre, and Europe's largest aquarium, the Oceanogràfic.
Quart and Serranos Towers
The Serranos and Quart Towers offer a look into Mediaeval Valencia, with their unique blend of military and ceremonial Gothic architecture. These sets of towers are the only two remaining out of the twelve entrance points that were once along the ancient defence wall.
The Torres de Serranos are the best-preserved gateway and climbing to its top, you'll have a beautiful panoramic view over the Turia Park and the city's Old Town, the Ciutat Vella.
Catedral de Valencia and Miguelete
The Cathedral of Valencia (also called la Seu) is Valencia's most important religious building and the place where you can find the Holy Grail, as recognised by the Roman Catholic Church. In typical Valencian fashion, the church presents various styles from all the remodelling projects it underwent.
You'll find Gothic, Baroque, Romanesque, and Neoclassical architecture all under the same roof. The Cathedral also has an incredible underground museum with magnificent and precious artefacts, as well as a panoramic bell tower, the Miguelete.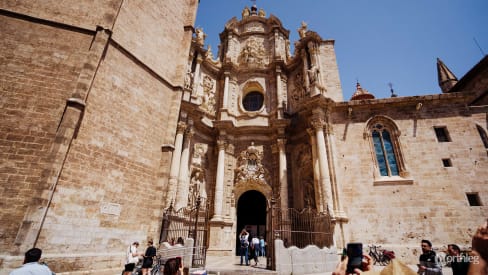 Lonja de la Seda
The Lonja de la Seda (Silk Exchange, in English), is perhaps the most important example of the civil Gothic style in Valencia. The building is proof of the power and wealth held by Valencia in the 15th century when it was one of the greatest mercantile cities in the Mediterranean.
The structure is a triumph of elongated lines and arches, intricate shapes and decorations, allegorical stone carvings and bas-reliefs. Some of the most astonishing halls inside are the Sala de Contratación, with its palm-tree-like columns, and the Golden Chamber, with its gilded coffered ceiling.
Mercado Central
Valencia, like the rest of Spain, is known for its many covered markets, and the Central Market is one of the most beautiful you'll find. It is not only Europe's biggest fresh produce market but also a key piece in Valencia's Modernist architecture.
The Central Market is a building that embodies Valencia's craftsmanship, agricultural heritage and artistic traditions. This is done through elegant glass domes and windows held together by iron framing and colourful tiles.
When lunchtime approaches, we recommend popping over to the market to try out local wines and feast on tapas, freshly-made Valencian dishes, fresh fruit, and vegetables.
Iglesia de San Nicolás
The Iglesia de San Nicolás de Bari y San Pedro Mártir, hidden in the heart of the city's Old Quarters, uniquely combines Gothic and Baroque styles, culminating in spectacular ceiling frescoes. Even the non-religious types can't help but be completely captured by this last feature, which has earned the church its nickname Sistine Chapel of Spain.
All over the walls of Saint Nicholas Church are references and anecdotes from the lives of the two saints that give their names to the church - Saint Nicholas and Saint Peter Martyr. Surprisingly, some of these stories are extremely gruesome and grotesque, definitely making up for an interesting visit.
Plaza del Ayuntamiento
Plaza del Ayuntamiento is the City Hall square in Valencia. It is one of the most important and central squares of the city, a meeting point for many Valencians of all ages and one of the most eventful spots.
The main decoration in Plaça de l'Ajuntament, as it is called in Valencian, comes from the surrounding architecture, the trees, and the round fountain. The most noticeable and beautiful constructions are the Town Hall building, the Correos building, and the Flower Market. Plaza del Ayuntamiento often hosts parades, concerts, Fallas events, and pop-up markets.
Plaza de la Virgen
Plaça de la Mare de Déu, also known as Plaza de la Virgen, is one of the most emblematic squares of the city. Located in the heart of the city's old quarters, it offers quite the view over surrounding monuments and buildings, mostly built in Mediaeval times.
The square is surrounded by some of Valencia's most important historical buildings, the Catedral de Valencia, the Palau de la Generalitat, and the Basílica de la Mare de Déu dels Desemparats.
Mercado de Colon
Mercat de Colon is another one of Valencia's famous Modernist structures. Built in brick, iron, and ceramic, this is the place to go for a chic night out. Expect gourmet food venues and elegant cocktail bars in one of Valencia's high-end neighbourhoods.
Iglesia de la Santa Cruz
The Iglesia de la Santa Cruz, popularly referred to as Iglesia del Carmen, is said to have given its name to the Carme neighbourhood, in Ciutat Vella. The Carmen Church integrates more than one style in its architecture. The façade is Mannerist, and inside are a Gothic cloister and a Renaissance one.
The square outside the monastery offers a quaint, typically Valencian picture: outdoor seating from the nearby bars and restaurants against the backdrop of sand-toned stone and palm trees.
Museums
Instituto Valenciano de Arte Moderno
The Instituto Valenciano de Arte Moderno (IVAM) is a modern and contemporary art museum containing ever-surprising temporary exhibitions and a permanent collection of about 12,000 works.
The IVAM's events and shows always present unexpected and challenging ideas in a fascinating yet approachable way. We strongly recommend a visit to it, even (especially so, perhaps) if you're not a fan of contemporary art. You might find that the IVAM can open your eyes to it through different art forms.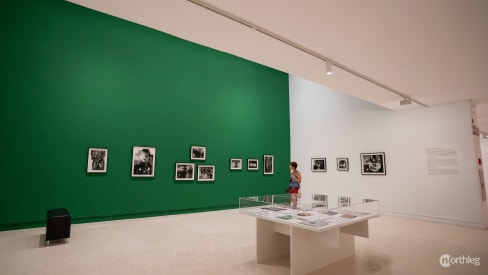 Museu de Belles Arts
The Museu de Belles Arts is Valencia's Museum of Fine Arts and it comprises works mainly from the 14th to the 17th century, including Valencian, Spanish and international artists.
Among the most well-known names are Vicente López, Juan de Joanes, Goya, Los Ribalta, Velázquez, Pinazo, Joaquín Sorolla, Murillo, Benlliure, El Greco, Van Dyck, Pinturicchio, Piranesi and del Sarto.
Museo de las Ciencias Príncipe Felipe
The Museo de las Ciencias Príncipe Felipe (Prince Philip Science Museum) is a dynamic science museum. It is dedicated to encouraging its visitors to interact with technology and the environment through hands-on exhibitions or cultural events.
The museum is part of the City of Arts and Sciences complex, so from its terraces, you can enjoy a breathtaking view of the entire city and the Turia park.
Silk Museum
While not the biggest, the Museo de la Seda is certainly representative of Valencia's history. In the Silk Museum, you can learn about how the art of silk making took hold in Valencia and became one of the city's major industries for centuries.
As you walk through exquisite ceramic tiled halls of what used to be the Silkmakers Guild (Colegio del Arte Mayor de la Seda), you will see recreations of a typical silk merchant's life, complete with original silk garments, looms, and a historical archive.
Centre del Carme Cultura Contemporània
The Centre del Carme (also known as CCCC) is a contemporary culture centre, an exhibition space hosting a variety of artistic practices that aim to represent current culture.
Among the forms you can find in the Centre del Carme Cultura Contemporània are the visual arts, experimental and performing arts, sound art and design, as well as other disciplines like sociology, architecture, urban planning, and even medicine.
Museu Faller
This is the museum to go to appreciate the long-standing Fallas tradition and culture. As you might know, the fallas (papier-mâché and wood sculptures) built for the festival are burned at the end of the celebrations, on the 19th of March, for the Cremà.
However, every year, selected figures (the ninots) are pardoned from the bonfire. It's in the Museu Faller that all these ninots are then kept. Here, you will find a huge collection of ninots dating as far back as 1934.
The museum is also the only one in the world where pieces are incorporated by popular vote. However, if you're lucky enough to be in Valencia between the end of February and the 14th of March, you can go see the Exposició del Ninot itself, which is how the ninots in the Museu Faller are selected. That way you'll get to vote for the pardoned ninots yourself!
Museo Valenciano de la Ilustración y de la Modernidad
The Valencian Museum of Enlightenment and Modernity, shortened to MuVIM, is an unusual museum. It is dedicated to ideas and their intangible heritage instead of physical artefacts.
The MuVIM's exhibition The Adventure of Thought is devoted to explaining the ideas that changed the socio-economic and political reality, beginning with the Age of Enlightenment.
The Museo de la Ilustración y de la Modernidad also provides temporary shows, lectures, seminars, performances, workshops, and more.
Ceramics Museum
Valencia's Ceramics Museum is an institution is dedicated to ceramics, porcelain, and other decorative arts. This includes furniture, clothing, and painting from the 18th century to the contemporary period.
The main focus is on Valencian artists, nonetheless, you will find pieces by internationally renowned artists such as Picasso. The palace in which the Ceramics Museum is located, the Marqués de Dos Aguas Palace, has one of the most striking façades in Valencia. It is an alabaster Rococo masterpiece representing the two largest rivers in the Valencian region, the Turia and Júcar.
Events
Fallas
Fallas is one of the most famous festivals in Spain, and a crucial part of Valencian tradition and identity. The festivity is held every year between the end of February and the 19th of March.
In order to celebrate it, the people of the city - gathered in numerous committees - plan, design, and fundraise for a year. Finally, as winter nears its end, the festival is brought to life.
During this time, Valencia is witness to an intense programme, filled with ceremonies, flower offerings, parades, firework displays, the construction of huge wooden sculptures, and a final, unforgettable bonfire.
The result is so grand and unique that Falles was recognised as Intangible Cultural Heritage by UNESCO .
If you'd like to know more about Fallas, you can check out our dedicated section.
Corridas
Bullfighting, in all its kinds, is a tradition practised in various Spanish cities, Valencia included. Just by the main train station is the Plaza de Toros, the local bullring. Here, on specific occasions, corridas de toros, novilladas, and becerradas are celebrated.
These are all bull-related events with a bullfighter that take place inside the arena. They are highly standardised events with distinct phases and roles. Fans look forward to these events, which they see as an elevated form of performative art. The periods of activity for these events are normally around the following times.
Around the Fallas festival (1st-19th March).
Around the Virgen de los Desamparados festivities (second Sunday in May).
Close to the Feria de Julio (in July).
Close to the Feria de Octubre (on 9th October).
But keep in mind that to those who are not familiar with bullfighting, it can appear to be a cruel and barbaric tradition, especially considering that the bull is (always) ostentatiously killed at the end.
Nevertheless, if you want to see one, you can get your tickets for a show in the Valencian Plaza de Toros (expect prices to be between €15.00 and €40.00). Otherwise, you can visit the empty bullring and its museum outside of bullfighting season.
Tribunal de las Aguas
Valencia is home to the world's oldest functioning court, the Tribunal de las Aguas. In fact, the court is so old that it is not a physical place, but rather a public event carried out completely orally. You read that right, there are no written records for this court.
The Tribunal de las Aguas is one of the city's UNESCO Heritage recognitions. Its purpose is to settle disputes regarding the use of irrigation water by farmers in the Valencian Huerta (the farmlands), which explains its name, whose meaning is Water Tribunal.
The Tribunal is held in public every Thursday at midday in Plaza de la Virgen.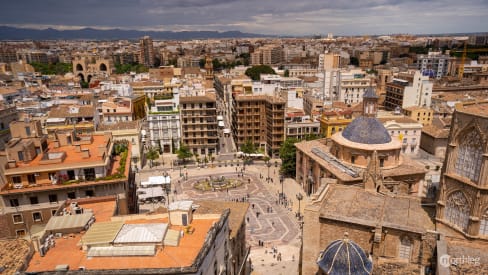 Neighbourhoods
Ciutat Vella
The Ciutat Vella (meaning Old Town), is Valencia's historical centre. Its northern part, in particular, El Carmen, is known for its ancient buildings sharing space with artful street graffiti.
Together with the neighbourhoods of La Seu and El Mercat, this part of the city offers the highest concentration of churches, museums, and historical attractions, especially Mediaeval or turn-of-the-century buildings and ancient remains.
Old houses with iron balconies and wooden terraces overlook crooked alleys and squares. The streets of the old quarters are always alive with bars, cafes, artisanal businesses, and live-music venues.
Ruzafa
Ruzafa is Valencia's hip area, favoured by the expat and artsy communities. Its staples are retro shops, quirky art galleries, American-style bakeries, and unique cocktail bars.
This is an eclectic, trendy barrio, known for its alternative scene and bustling nightlife. Whether you're looking for a craft beer pub, some outdoor-seating restaurants, or an unconventional bar, you'll find it here.
Colón
Colón is the commercial area of Valencia. This is where you go to find broad streets dotted with popular department stores, boutiques, luxury brands, and refined food venues. It is one of the most expensive residential areas of Valencia, and it's ideal if you're a shopping aficionado.
The architecture here is elegant and pastel-coloured, the streets are bright and give off a distinctive fancy vibe. At night, this is where the affluent Valencians are found.
Maritime area
Aside from the famous Valencian beaches, Valencia's maritime area has much more to offer. Going just a few streets inwards from the harbour and its luxurious seaside restaurants, you can find a quiet, colourful neighbourhood.
El Cabanyal, an old fishermen's barrio, is a memorable place, with picturesque and brightly decorated houses. Here, pedestrian streets are small and quaint. The two-storey house fronts all have whimsical tiles and doors, giving the place a dream-like atmosphere and charm.
Benimaclet
Benimaclet is where you should go if you want to experience authentic Valencia, untouched by touristy needs. The whole neighbourhood has an informal, small-town atmosphere, with lots of street markets, pedestrian streets, and low white houses.
The nightlife here is thriving, with inexpensive and unassuming bars or restaurants all around that are much appreciated by the student population.
Parks and beaches
Turia Park
This is the urban garden that snakes across Valencia, also known as Jardín del Turia. This 10-km-long park is one of the most beloved and popular green spaces in the city, and it pretty much hugs the city centre, so it's easily reachable at all times.
The Turia Park is below street level, and its size makes it extremely varied. You can find large lawns, wooded areas, open-air gyms, flower gardens, ponds, running tracks, playgrounds, bike paths and even beautiful monuments like the Palau de la Musica and art installations.
Jardines del Real
The Jardines del Real, also called Viveros are one of the largest and most beautifully maintained gardens in the city. The garden has different areas, some dedicated to more structured footpaths, tree promenades, aviaries, and small fountains. Others are more open, with informal lawns and large, shady trees.
Towards the centre of the Royal Gardens, you'll find also find a few cultural venues, including Valencia's Natural Science Museum (Museu de Ciències Naturals), the Meteorological Centre, a seasonal Book Fair, as well as several sitting areas and a café.
Jardí Botànic
Valencia has a lush and peaceful Botanical Garden, managed by Valencia's University. The Jardí Botànic is a living museum that preserves thousands of flora species, including medicinal and exotic ones.
You'll find yourself walking among ancient species of giant trees, flowering shrubs, desert cacti, carnivore plant greenhouses, as well as a lovely vegetable patch.
Beaches
Valencia can pride itself on 7 km (more than 4 miles) of continuous, broad, golden beaches just outside the city centre. That, coupled with the excellent weather, allows visitors to enjoy the maritime area almost year-round.
Unlike other major beach cities, in Valencia the beaches are not as close to the historical centre, so they don't feel cramped at all. There are four of them off the city's coast: Platja del Cabanyal, Playa de la Malvarrosa, Playa de Las Arenas and Playa Patacona. Here, you can practice water or beach sports, sunbathe, or relax at a beach-side cocktail bar.
Albufera Natural Park
The Parc Natural de l'Albufera is a protected area, a lagoon reserve that can be visited just south of Valencia. The Albufera Natural Park is surrounded by dense aquatic vegetation, with woods, reeds, and rice fields.
This is a favourite for the active types, as the Albufera can be hiked or biked around, offering suggestive views over the lagoon's marshes, ports, and fishing villages.
When to visit
First off, we have to say that Valencia enjoys great weather most of the time, with an average of 300 days per year. That said, there still are distinct seasons, which means there are colder months and rainier ones.
Valencia doesn't normally get much rainfall, but when at the times it does you can expect pretty heavy rains and strong winds. For this reason, we suggest avoiding late October/November and April - they are generally the rainiest times.
The winter and autumn months are not particularly cold, so you can visit without the temperature being a nuisance. You'll still be able to visit the sights and parks, just bring a warm jacket. Plus you get to try all the delicious local sweets that might be a bit heavy for the warmer months. That includes churros con chocolate and buñuelos de calabaza.
Spring is of course a lovely time, especially towards May when the weather is a bit more stable and warm but not unbearably hot yet. Summer, especially August, can be too warm for some. This is especially true if you come from a country where average temperatures rarely go above 25° C (77° F).
In our opinion, the best times to visit are late spring or early autumn, when the weather is pleasantly warm, the days long, and the city not too busy.
Of course, if you want to see Valencia's most famous and celebrated event, there's only one period of time to come by. The Fallas festival is celebrated every year between the beginning of March and the 19th of the same month, although the most intense days are between the 14th and the 19th of March.
If you'd like to know more about the festival in Valencia and its events, you can check out our Fallas calendar.
How long to visit
Valencia is not a very large city, and it is pretty easy to move around, so it makes for a perfect weekend holiday destination. Even if in three days you might not get to see everything the city has to offer, you'll still get a good look around.
In our opinion, the ideal stay in Valencia is 4-5 days long. If you time it well, you will experience the weekend buzz as well as the weekday activities, like a visit to the covered markets and the Albufera Natural Park.
Of course, if you can stay for longer, go for it and don't be afraid, you can easily spend a week or more in Valencia and find plenty to do both in the city and nearby: there are lovely villages and towns just a bus or train ride away.
Transport
Valencia has a fantastic public transport network, consisting of the metro and trams, public buses, regional trains, and bike sharing. This system covers the city and its surrounding towns thoroughly, making it easy and fast to move from one end of the city to the other.
If you need to move longer distances, like between the airport and the city, the metro and buses are your best options. When you're in the city's central areas (pubic transport Zone A), renting a bike or using the Valenbisi bike-sharing are also great alternatives. The city is easily (and safely) cyclable, plus you get to look around as you go.
If you want to know more about how to get around Valencia, you can read our article on it.
Using the transport is not expensive at all, especially if you get the right tickets. So here is a breakdown.
And if for whatever reason, there is no public transport available, you can still take a taxi. It won't be as cheap, but it won't break the bank either. There are no fixed fares established by the local administration, so the following costs are only an approximation.
Taxi within the city centre: € 5.00 - € 10.00
Cab between Valencia Airport and the centre €20.00 - €25.00
If you'd like to know more about how taxis work in the city and how their rates are calculated, you can check out our article on them.
Foods and drinks to try
Valencia, like the rest of Spain, has a strong food culture, and locals like to spend hours sitting around a table, drinking, eating, and chatting away. You'll find there are many dishes in the local cuisine that Valencians are particularly proud of.
These are generally based on the produce from the Valencian Huerta and coast, like vegetables, rice, and seafood. The most famous is probably paella, a rice dish born in Albufera, by the freshwater lagoon just outside Valencia city. The original recipe calls for chicken, rabbit, lima beans and sometimes snails.
Other local favourites are all i pebre (a stew-type made with garlic, peppers, and fish), arròs negre (squid ink rice and cuttlefish), and arroz caldoso (a brothy rice dish). Aside from these, you'll find various cured meats, popular all over Spain, plenty of sweets, oranges, and of course delicious wines.
A great way to try out Valencian cuisine is actually to go tapas tasting at a covered market (the Central Market in particular), so we recommend you go do that at least once at lunchtime.
In terms of areas and places where to eat, you can pretty much go anywhere, even in the city centre, the Ciutat Vella, and find good food. You can even get introduced to the cuisine by a local guide who will take you on a wine and tapas tour .
However, if you're after paella, we have to send you over to El Palmar and El Saler, just outside the city, where the dish was born. And if you want to take something home with you, you can learn how to make traditional paella with a local chef - all while sipping Sangria, it doesn't get much better than that .
You don't even have to try that hard if you have a budget to stick to. There are plenty of cheap options in Valencia: homey eateries, sandwich bars, and takeaway places. As long as you're not in the busiest streets of the city (around Plaza del Ayuntamiento and Calle Colón, for instance) you'll be fine.
Budget
Valencia is really much less expensive than a lot of other European cities, so it is an ideal destination if you're trying not to spend too much.
If you intend to do some museum visits and guided tours, along with other free activities like sightseeing and walks in the park, you should budget at least €40.00 a day per person. This will also cover transport and food.
In terms of accommodation, prices vary widely depending on how early on you book your stay. We strongly advise you to book now to get the best prices. This is particularly true if you want to visit during Fallas. Hostels, hotels, and apartments become unavailable several weeks ahead of the festival.
Prices for accommodation can go anywhere from €15.00 (bed in a hostel) to €150.00+ for a double bedroom in a 3-star hotel during Fallas (booking 4 months ahead).
If you're really on a tight budget, you'll also find our tips on saving money while in Valencia pretty useful.
More related activities...
You might also be interested in...