Definitive guide
Fallas calendar
A complete programme of every event in Fallas 2023, from February to the 19th of March
Definitive guide
Fallas calendar
A complete programme of every event in Fallas 2023, from February to the 19th of March
Fallas is really a feat that takes all year to prepare. Artists, committee members, falleras and falleros work tirelessly all year round to raise funds for the festival, organise events, plan and design the fallas. Finally, they pull it all together to deliver the most spectacular, colourful, and loudest festival they can muster.
However, most of these events throughout the year happen behind the scenes - at least for regular people and visitors. What instead is hard to miss, are the days leading up to the 19th of March.
Between the end of February and the first couple of weeks of the following month, the city quietly shakes off the last remnants of winter. As spring gently makes its way into Valencia, Fallas - not quiet, nor discreet - barges in, fervent and theatrical.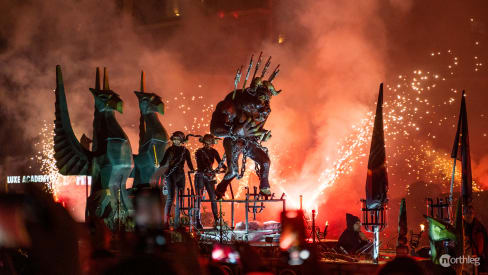 The rhythm of the festival grows in a crescendo of celebrations, colours, lights, firecrackers and music. The most eventful days, generally referred to as those of the Semana Fallera, are the final ones, between the 15th and the 19th of March.