Definitive guide
Bus services in Valencia
Between urban and suburban routes, bus services in Valencia enjoy a network of 196 public lines. You will likely use some of these buses to move around the city during your stay, especially within and around the ancient city walls.
Definitive guide
Bus services in Valencia
Between urban and suburban routes, bus services in Valencia enjoy a network of 196 public lines. You will likely use some of these buses to move around the city during your stay, especially within and around the ancient city walls.
Never leave accommodation to the last minute
Hotels and apartments in Valencia all get booked pretty fast. If you wait too long you're gonna miss out on the good ones. Book now to save yourself money and stress.
Public transport discounts - 1st September to 31st December 2022
The Valencian government has introduced a discount on multi-journey transport passes.
The discounts bring the price of a SUMA 10 pass (valid across metro, trams, buses, and railways) down to €5.60 (one zone), €8.40 (two zones), and €14.00 (three zones).
Bonobus tickets are brought down to €6.00.
Single tickets remain the same.
Free Transport Under 30 - 9th October - 31st December 2022
Free public transport (metro, trams, and buses) is available in Valencia for people under 30 years old.
To benefit from this initiative, users have to request their free transport card online. The only prerequisite is a Spanish DNI or NIE as proof of age.
As a visitor, you will most likely spend a lot of your time around the centre, meaning the area within and immediately around the old quarters of the city. Valencia's city buses, operated by EMT, cover this area much better than the urban railway network (trams and metro), as they can afford to move around with more ease.
Buses will allow you to get close to many points of interest that do not have their own metro stops. In this article, we will give you all the information about both urban and suburban bus lines in Valencia, how they work, tickets you can use, as well as useful tools to help you move around.
Obviously, as with any city, traffic congestion can sometimes slow down the service, but it is not as bad as other bigger cities in Spain. The service is in fact generally reliable and respects the run time.
We especially recommend taking the bus if you want to see Valencia as you go. This way, you can get acquainted with the city and get an idea of the different areas while you travel. You might even hop off in a neighbourhood you particularly like.
It's also important to remember that a great way to orient yourself before you start exploring on foot, is to get on a tourist bus, which will cover some of the main sights around Valencia. On one of these Hop On-Hop Off buses, you will enjoy an audio guide telling you all the most important and interesting facts about Valencia's main landmarks, all while you are being driven around the city.
Tourist bus services offer different duration options, as well as combined tickets (tourist bus services plus museum or amusement park tickets). If you want to know more about this, you can check out our article about Valencia'sHop On-Hop Offtourist buses.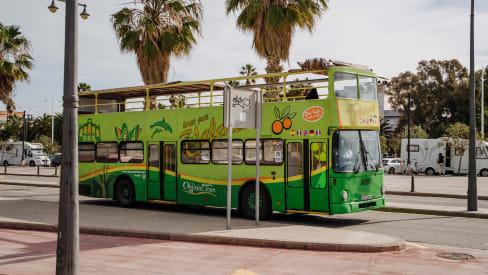 Other great alternatives to get acquainted with the city are also to book guided tours, on foot or on a bike. We have even created our own selection of Northleg walking tours to help you discover Valencia.
Public transport zones
For public transport use, the city is divided into three concentric areas (zonas in Spanish) and one overlap area. The majority of tickets and passes come in different zone-coverage options. Here you have an explanation of the different areas so that you can make the best choice with regards to your bus ticket.
Zone A is the biggest and most central one. It covers the city with its most important sightseeing spots, the old centre, the newer and trendy neighbourhoods, as well as the beach. The tram service runs mainly in this area. You will most likely be moving around zone A on your visit.
Zone A-B is the overlap area. Its function is to keep prices low for those that travel between bordering zones. People moving from these areas to the nearby zones A or B (and vice versa) will be able to get single-zone tickets. The municipalities belonging to this area are those of l'Horta - the larger urban area of Valencia.
Zone B is the area directly around A. It covers mostly small towns and municipalities belonging to the metropolitan areas of Camp de Turia (northeast of the city), Camp de Morvedre (north of the city), and Ribera (south of the city). You are not likely to visit this area, as it is of little tourist interest.
Zone C is equivalent to the airport. It serves the purpose of separating the airport from all other areas
---
You might also be interested in...