Popular neighbourhoods and areas in Valencia
Ciutat Vella
Popular neighbourhoods and areas in Valencia
Ciutat Vella
Never leave accommodation to the last minute
Hotels and apartments in Valencia all get booked pretty fast. If you wait too long you're gonna miss out on the good ones. Book now to save yourself money and stress.
Ciutat Vella (meaning Old Town), is the historical centre of Valencia. The district, now listed as Unesco World heritage, is about 2,000 years old and used to be delimited by the old city walls (lost to time and urban reforms).
---
---
This historical area of the city is mainly occupied by mediaeval or turn-of-the-century buildings, lanes, and charming alleys.
A great number of historical attractions, churches and museums make this district the destination for anyone interested in sightseeing. In the area, you can also find plenty of bars, restaurants and boutique hotels.
In Ciutat Vella it's much easier to walk or bike than to take public transport, due to its small size and pedestrian streets. As a matter of fact, crossing the Old Town at its widest point shouldn't take much longer than 20 minutes (less than 2 km, a little over 1 mile).
Nevertheless, you'll find that buses stop along the entire perimeter of the old city walls and in some of the squares (Plaza de Ayuntamiento and behind the Mercat Central).
Metro stops Àngel Guimerà, Xàtiva, Colón, Alameda can all be found just outside the Old Town's limits too.
If you'd like to find out more about this district, you can check out our article about Ciutat Vella.
Down below you can find out more about some of the most visited areas out of the six that make up the district.
El Carmen
Barrio del Carmen is the northwestern section of the Ciutat Vella and one of the most evidently mediaeval areas of the city.
Its narrow cobblestone streets are populated by old houses with iron balconies, small cafes, artisanal shops, tapas bars, and live-music venues. The neighbourhood is also home to colourful street art and graffiti, as well as many museums, both contemporary and historical.
Here are a few of the sights and attractions you can find in El Carmen:
Instituto Valenciano de Arte Moderno (IVAM)
If you'd like to know more about this neighbourhood, you can have a look at our article about El Carme.
La Seu
La Seu, the northeastern section of the Old Town, is home to beautiful religious buildings and mediaeval squares. The neighbourhood takes its name from the Cathedral of Valencia (also called Seu in Valencian), known for its architecture and the Holy Chalice it houses.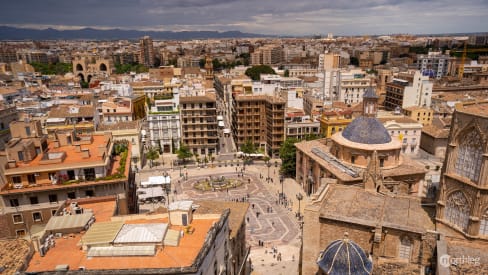 In this buzzing barrio you'll find casual restaurants, eateries, and ice cream shops tucked away in a maze of small alleys and streets.
Here are a few of the sights and attractions you can find in Barrio La Seu:
Plaça de la Mare de Déu
Basílica de la Mare de Déu dels Desemparats
Plaza de la Reina
Almudín de Valencia
El Mercat
El Mercat is in the very heart of Ciutat Vella and, as the name suggests, is where you'll find the Mercat Central. This market is a beautiful example of Valencian Modernism (a regional variation of Art-Nouveau) and one of the most beautiful fresh produce markets in Europe.
In this section of the Old Town, aside from beautiful historical buildings, you can also find late-night clubs, bars, and dance floors, especially around PIaça del Tossal.
Here are a few of the sights and attractions you can find in Barrio del Mercat:
Església de Sant Joan del Mercat
San Francesc
The southernmost section of the Old Town is the Sant Francesc neighbourhood. This barrio develops around Plaza del Ayuntamiento and its monuments.
It is the most modern part of the Ciutat Vella, with the majority of its buildings dating back to the late 19th-century or early 20th-century. This gives it a more monumental character and a bigger scale than other parts of the historical centre.
Here you'll find broader streets and food chains (both cafes and restaurants) for all tastes, along with brand shops.
The main square also hosts important events and celebrations every year during the Fallas Festival. At Christmas time, the area - especially the square - gets decorated with lights, markets, and an ice-skating rink.
Here are a few of the sights and attractions you can find in Barrio San Francesc:
Town Hall
Municipal History Museum
Palacio de Correos
Museu Valencià de laIl·lustraciói de la Modernitat
---
You might also be interested in...