Popular neighbourhoods and areas in Valencia
Turia Park
Popular neighbourhoods and areas in Valencia
Turia Park
The Turia Park (Jardín del Turia, in Spanish) is a serpentine urban garden that cuts through the city of Valencia.
This 10-km park (6 miles) is not officially classified as a Valencian district or neighbourhood. In fact, it touches almost all districts of the city but we included it as a stand-alone area because of its singularity.
Turia Park is an excellent example of an urban space used to create a liveable city. In it, you can find leisure areas, fountains, footpaths, bike lanes, open-air gyms, and sports pitches (including football and baseball). As such, it is ideal for those looking to relax and break away from the hustle and bustle of the city.
The garden is divided into 16 sections (tramos in Spanish), separated by various bridges that help pedestrians and vehicles alike cross to the other side.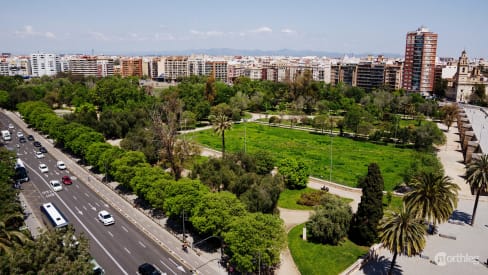 Along its course, you can find a couple of metro stations, as well as numerous bus stops. However, we absolutely recommend walking its grounds or cycling on its many bike paths.
If you'd like to find out more about this park, you can check out our article about the Jardín del Turia.
More related activities...
You might also be interested in...