Definitive guide
Is Valencia during Fallas worth a visit?
Every city has an ideal period in which you can visit. Is Fallas Valencia's prime time?
Definitive guide
Is Valencia during Fallas worth a visit?
Every city has an ideal period in which you can visit. Is Fallas Valencia's prime time?
Valencia is famous and appreciated by visitors for many aspects. Its architecture, its beaches, its art, its nightlife, and its folklore. And what's more representative of Valencian culture than Fallas?
The festival sees its most intense days between the 15th and the 19th of March, although the city is already abuzz by the end of February. Parades, music bands, historical reenactments, and firework displays, all take place around this time, while massive wooden monuments are set up all around Valencia. But is this a good time for your trip?
On the one hand, the city is completely transformed during this unique festival, and if you visit at this time you'll have an unforgettable experience. On the other, it's true that it can get pretty busy and chaotic around this time. Honestly, in our opinion, it's absolutely worth it. But we don't just want you to take our word for it, we want to see it for yourself.
In the following sections, we're going to go through the pros and cons of visiting Valencia during Fallas. We'll tell you all about the amazing things you can expect from the city around this time, but also the things you might feel discouraged by when planning your visit. And, crucially, we're gonna include our tips and recommendations to avoid those kinds of issues.
PRO: It's a unique event
We really cannot stress this enough, Fallas is unlike any other festival you've seen. The colours, music, and other artistic traditions you will see being honoured during your time here are exceptional. In fact, Fallas is so peculiar that it has been awarded the title of Intangible Cultural Heritage by UNESCO in 2016.
And, although many versions of this festival take place around the region, the one in Valencia city is surely the most spectacular.
CON: Not ideal for an impromptu visit
This is absolutely something you should consider. Fallas being a very popular festival, you shouldn't leave the planning for your visit as a last-minute thing. Thankfully, the solution is easy: plan ahead of time and book early. This way you'll find good options and prices, as well as avoid queues on-site.
Our recommendations
If you can book something early, do it
. It will make everything much easier when you get here. Luckily, you can book almost everything ahead of time. Your
plane tickets, your hotel, your
Valencia Tourist Card
, your guided tours, as well as entry tickets to the sights.
PRO: It's the happiest time of the year in Valencia
If you ask the average Valencian what time of the year they like best, chances are it's Fallas. During the Semana Fallera (15th-19th March) and the preceding days, you can really feel the trepidation and excitement pervade the city and its people.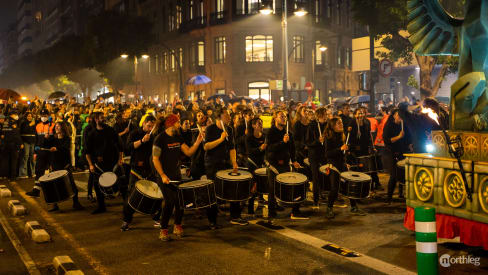 What's more, you can truly appreciate the camaraderie and mutual support that brings everyone together during these joyous weeks. At any time during the day (and sometimes night), you'll hear the laughter and see the commitment of the falleros and falleras working together to create something beautiful to celebrate.
CON: Accommodation is expensive/difficult to find
Accomodation in Valencia becomes notoriously difficult to find around Fallas. Millions of visitors come to the city on the occasion of the festival, so the hotels and even hostels fill up quickly and prices go up. That's why planning ahead of time is so crucial, especially when it comes to booking your hotel in advance. That way, you'll have a much ampler choice in terms of budget and facilities.
Our recommendations
If accommodation in the centre is too expensive,
search for something a little further out
. Valencia has excellent
public transport
. So, as long as you are
within walking distance from
a transport stop - preferably
the
metro
- you'll be fine.
.
PRO: There's always something to do
During Fallas, it's basically impossible to run out of things to do or see. The festival's calendar is extremely rich, and you'll find events for everyone's taste. There are firework displays at night (castillos de fuegos artificiales) and during the day (mascletàs), there are parades (Cabalgata del Foc, Cabalgata del Ninot), bonfires (the Cremà), flower offerings, sculptures being set up (la Plantà), outdoor parties, prize ceremonies, historical reenactments, and much more.
To get an idea of the variety of events, we recommend having a look at our Fallas calendar.
Our recommendations
Since there are so many events, you might do a lot of walking and not even realise it. So pack comfortable shoes.
CON: The city is busy
So you've booked your hotel in advance and that's not a worry anymore, but the city is still brimming with people. Is it too much to enjoy the experience? As you'll have gathered, we love how lively and colourful it all becomes, so we obviously think it's not too much. But we understand how that might worry a visitor, especially with regards to traffic and queues.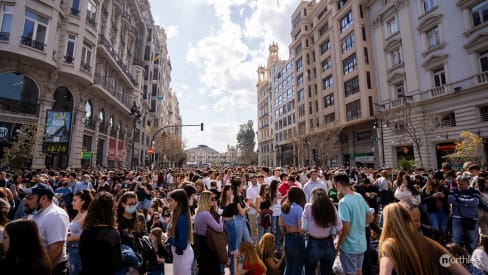 While some streets get closed off (that includes buses and taxis), the traffic diversions don't apply to the metro. Therefore, as an easy solution, we recommend relying on that network. You can also take a bike or just walk, which gives you plenty of other options to move around and enjoy what you're seeing.
In terms of queues, the best you can do is to, once again, buy tickets ahead of time whenever you can (for example with the Valencia Tourist Card). If the event is free, try to get there early to secure a good spot.
PRO: The local food
You surely already know that Valencia is the hometown of paella. But you might not know about other delicious local foods that can be found here during Fallas.
For example, in the mornings during the festival, it isn't uncommon to smell buñuelos de calabaza and chocolate caliente. They are the typical Fallas breakfast: pumpkin doughnuts and thick, creamy hot chocolate. Alternatively, you can also go for churros with the hot chocolate.
If sweets are not your thing, there are plenty of wine and tapas tours, as well as local gourmet options, which generally include excellent fish and delicious Valencian garden produce.
CON: It's noisy
Yes, Valencia is extremely noisy when Fallas comes around. There are daily pyrotechnic displays and people in the streets like to throw firecrackers just because they are feeling festive. Plus, there are lots of people. That means it's going to be noisier than usual.
If you're really sensitive to noises, this one could be a dealbreaker, otherwise, it's just a matter of finding the solutions that work for you, like earplugs or a good hotel location.
Our recommendations
If you want your hotel to be quiet, avoid the city centre (especially
Plaza del Ayuntamiento
) and the 9th section of the Turia Park. These are the two places where most firework displays are fired from.
PRO: The more you know, the more you like it
The more you know about the Fallas festival and its events, the more we can guarantee you'll appreciate it. Fallas has something for everyone's taste, that's why we recommend having a look at our Fallas overview article and checking what the festival is all about.
For example, did you know that if you come to Valencia in time for the Exposició del Ninot, you can vote for your favourite sculpture and save it from the Fallas bonfire? The piece you choose might end up in the Museu Faller. We promise, once you've seen everything that awaits you, you'll surely not want to miss it.
PRO: The city
Given, this might be obvious, but Valencia on its own is already a great place. Even under Fallas, you can still visit all the mediaeval and turn-of-the-century monuments and buildings in the city. And if you want to take a break from it all, the good thing about Valencia is that it has lots of green spaces and long beaches where you can wind down, away from the chaos of the city centre.
If you want to learn more about what the city has to offer, you can check our sights section.
Our recommendations
If you want a bit of both - Valencia during Fallas and regular Valencia - we have a suggestion for you. Plan your trip so that it includes the last (and most spectacular) days of Fallas (the 17th, 18th, and 19th, for example) as well as the following days (the 20th onwards). You'll get to enjoy the festival craze and the city back to normality.
Conclusion
So, to sum it all up. If the noise of the celebrations is not too big of a problem for you, you should absolutely come to Valencia during Fallas. We can guarantee it will be an unforgettable experience, unlike anything you've seen before. You'll get to be here for firework displays during the day and night, parades, bonfires, flower offerings, outdoor discoes, and historical reenactments.
Just remember our biggest tip: book everything you can ahead of time. The earlier you book, the more options and best prices you'll have. Also remember to have a look at the Fallas calendar so you won't miss out on the many exciting events this festival has to offer.
.
More related activities...
You might also be interested in...