Definitive guide
London Pass
The London Pass, a multi-day digital pass lets you explore dozens of monuments, museums, and attractions, as well as book organised activities and tours around the city, all for free.
Definitive guide
London Pass
The London Pass, a multi-day digital pass lets you explore dozens of monuments, museums, and attractions, as well as book organised activities and tours around the city, all for free.
The London Pass, sometimes called the Go City London Pass, is a multi-day digital tourist pass that gives you free access to more than 90 attractions, museums, and tours in London. Along with the pass itself, you also get a 1-day hop-on hop-off bus tour. The London Pass comes in eight different duration options: 1, 2, 3, 4, 5, 6, 7 and 10 days.
Even though for some of the most highly popular sites you might have to reserve your entry, you can generally just show up at the site. With the London Pass app ready on your phone, you will skip the queue, scan your London Pass QR code at the entrance gate and enter. Other benefits included are audio guides and gift shop discounts at the various venues.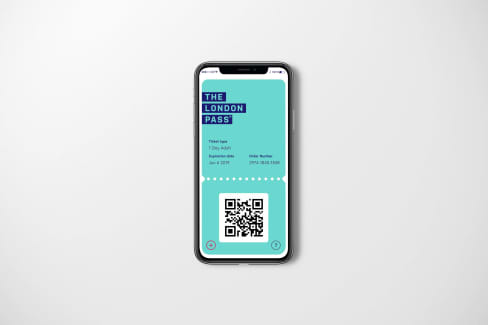 Aside from the river tours and the 1-day hop-on hop-off bus tour, the London Pass does not include any urban transport. However, if you want, you can add an Oyster card to your pass, which will be pre-loaded with enough credit to cover the duration of your pass.
To do so, before paying at the checkout phase, you should choose the London Pass + Travel option. Keep in mind that the Oyster card will be delivered to you at the address of your choice, so you need to allocate time for the delivery.
Our recommendations
We
don't recommend getting the Oyster card together with your London Pass
since the delivery takes between 3 and 4 weeks. Instead, we suggest you get a transport pass once you're in London. This could be an
Oyster card
or a
Travelcard
. In London, you can also just
use your bank card
for transport.
Is the London Pass worth it?
In our opinion, the London Pass is a great card to have if you are a sightseeing and museum aficionado. The main advantage of the London Pass is that it includes a hop-on hop-off bus tour, as well as attraction entries and organised activities. This will make for a well-rounded experience during your stay in the city.
However, to really make the best of it, the London Pass requires a bit of planning. For starters, London has plenty of museums that are free to visit at all times, for everyone. Since the London Pass' expiration is time-based, you should avoid wasting time visiting all these free-entry museums while your Pass is active. Therefore, we suggest you have a look at the attractions and activities included in the Pass and plan your itinerary accordingly.
You should definitely use the hop-on hop-off bus tour to have a good look around the city, and then proceed to visit as many sights as you want and book all your preferred activities. This way, the London Pass will really be worth its money.
Depending on how long you are staying in the city, we recommend you get a London Pass for the first few days here, and then allocate at least another 3 days to visit all the other sites that are not included in the Pass or that are already free.
Another great thing about the London Pass, is that no matter the duration, it stays valid for 24 months from the date of purchase. This means you can buy it well in advance, even if you don't know when exactly you'll be visiting the city. A Pass is only activated on first use, meaning the first time you scan it to get a free entry, tour, activity, or to redeem a discount.
Duration options
The London Pass comes in eight different duration options. It is available for 1, 2, 3, 4, 5, 6, 7, and 10 days. Regardless of how many days your London Pass is valid for, the attractions, tours, and activities included are always the same, you'll just have more time to visit more of them.
The days are always consecutive, and they are not calculated as 24-hour increments, but rather as calendar days. This means that if you have a 1-day London Pass and you activate it on Friday morning at 11:30 am, you will only be able to use it until the end of the day, and not until Saturday morning at 11:29 am.
Prices
Of course, the average price per day diminishes with longer durations, and you'll have more time to visit the attractions. You can find the prices for every London Pass available in the following table.
Duration
Adults
Young (5-15)
| Duration | 1 day | 2 days | 3 days | 4 days | 5 days | 6 days | 7 days | 10 days |
| --- | --- | --- | --- | --- | --- | --- | --- | --- |
| Adults | £89.00 | £116.00 | £136.00 | £156.00 | £169.00 | £180.00 | £186.00 | £200.00 |
| Young (5-15) | £56.00 | £76.00 | £90.00 | £100.00 | £110.00 | £116.00 | £121.00 | £111.00 |
Where can I get a London Pass?
Since the London Pass is a digital pass, the purchase can be completed online. There is no physical office where you can buy the London Pass.
The process is quite simple. First, you have to pick and buy a pass on the Go City London Pass page . Then, you can download the app on your mobile device to have your QR code on you when you need to scan it at an attraction's entrance gate.
You can also print your pass at home if you prefer, but we recommend having the app. This is because the app has the added advantage of letting you make reservations and check included activities or sights any time you want.
Download the London Pass app for iOS here
Things to keep in mind
For the majority of the attractions included on the pass, you won't need to reserve anything. However, some sites might be in high demand and with limited capacity so they might require advance booking. The same goes for the organised activities and tours. You can find all details on how to contact each venue on City Go's reservations page .
Itinerary Ideas for a London Pass holder
There are countless ways in which you can use your London Pass. To help you out in choosing what to see, here we have prepared a possible itinerary for a 10-day London Pass.
Each day's itinerary is organised so that you can visit sites that are all quite close to each other or easily reachable.
Of course, we encourage you to adapt the route to your personal taste and needs, adding tours and activities that you think you might like.
Day 1
On the first day, you can stay in central London, by the River Thames, and visit some of the most iconic landmarks in the city.
Day 2
For your second day, you could start off with a tour around the city. You could even do this on your first day, as a way to get acquainted with London and its boroughs.
Full hop-on hop-off bus tour.
When you reach the Kensington area, you should get off and visit the following.
Kensington Palace
Royal Albert Hall
After visiting these two buildings, you can get on the bus again, and head to Covent Garden, where you'll see the following
Benjamin Franklin House Museum
Day 3
You can dedicate your third day with a London Pass to the royal palaces and historical government buildings, which are all located quite close to one another.
Day 4
On day four, you can finish exploring the Westminster area by visiting the iconic abbey in the morning.
After that, we suggest you take the Thames Uber Boat cruise heading all the way east to Greenwich. There, you can visit the following.
Once you are through with your visits, you can take the cruise back to the city centre.
Day 5
On your fifth day, you can start off close to the Thames River, then make your way across St James's Park, towards the area between Hyde Park and Green Park. There, you can visit some of the historical monuments. You can finish off your day with a show at the local cinema.
Household Cavalry Museum
Apsley House
Wellington Arch
Curzon Mayfair Cinema
Day 6
For your sixth day, we suggest you start off in the City of London district and then make your way to the other side of the river to continue with the exploration of some historical sights.
Day 7
On your 7th day, you can leave the city centre and explore some sites just outside of it that are definitely worth the journey.
Royal Botanical Kew Gardens
Windsor Castle
Day 8
Back in the city, you can start your 8th day by going to the northern part of the city, near King's Cross and then towards Camden Town. There, you'll find the following.
London Canal Museum
London Zoo
Regent's Canal Cruise
Museum of Brands, Packaging and Advertising
Day 9
For your 9th day, we suggest something a little lighter, like a tour of the city on a bike, followed by some smaller museums. If you'd rather explore a specific area on your own, the London Pass also includes a bike rental.
Bike tour of London
Garden Museum
Florence Nightingale museum
Day 10
You can start your day north of the city centre, visiting this masterpiece of architecture
BAPS Shri Swaminarayan Mandir
After visiting this beautiful temple, we suggest you dedicate the rest of the day to other sights that might interest you. The following, for example, are all in or not far from the Chelsea area.
Chelsea Physic Garden
National Army Museum
Chelsea FC stadium
What attractions and activities are included in the London Pass?
Down below you can find a list of all the attractions, monuments, museums, and sports venues included in the London Pass.
Tower of London (+ food and shop discount)
London Bridge Experience (+20% at the Bermondsey Bierkeller bar)
The Shard panoramic terrace
Tower Bridge (+ shop discount)
London Zoo
St Paul's Cathedral (+ shop discount)
Old Royal Naval College
Royal Mews at Buckingham Palace
The Queen's Gallery at Buckingham Palace
Hampton Court Palace (+ 10% food discount)
Royal Botanic Gardens
Golden Hinde
Household Cavalry Museum
Royal Albert Hall Tour
Estorick Collection of Modern Italian Art
BAPS Shri Swaminarayan Mandir
Eltham Palace
Wernher Collection at Ranger's House
The Guards Museum
Cartoon Museum
The Foundling Museum
London Canal Museum
London Museum of Water and Steam
Keats House
ArcelorMittal Orbit
Kensington Palace
Windsor Castle
Chiswick House and Kitchen Garden
Apsley House
Wellington Arch
Jewel Tower
Benjamin Franklin House Tour
Palaces and Parliament Tour
The Garden Museum
Florence Nightngale Museum
Charles Dickens Museum
The Postal Museum
Freud Museum London
Jewish Museum London
Fan Museum
Chelsea Physic Garden
Museum of Brands, Packaging and Advertising
RHS Garden Wisley
Fuller's Brewery Tour
Bow Street Police Museum
Chelsea FC Stadium Tour
Wembley Tour
Tottenham Hotspur Stadium tour
Emirates Stadium Tour - Arsenal FC
London Stadium Tour
Twickenham Stadium Tour and World Rugby Museum
The Kia Oval Tour
If you have London Pass, you can also enjoy the following tours around the city.
1-day hop-on hop-off bus tour
1-day river cruise on the Uber Boat by Thames Clippers
Jason's Original Canal Boat Trip in Regent's Canal
Top London Sights Tour
Brit Movie Tours
Brit Music Tours
Brit Icon Tours
London Bicycle Tour
Additionally, the London Pass includes a number of organised activities, games, and cinema entries.
QUEENS Skate Dine Bowl
All Star Lanes bowling
Swingers City mini-golf
Swingers West End mini-golf
Solve a Mystery: the Murder at Trafalgar Square
Solve a Mystery: the Murder at Westminster
Free drink at the Chocolate Cocktail Club
Science Museum - IMAX
Curzon Cinema Soho
Mayfair Cinema
Curzon Bloomsbury
Sherlock Live Game
And finally, with the pass, you can also redeem a series of guidebooks. To get them, you'll have to go to their respective museums or venues - all of which are free to enter. Then, presenting your London Pass, you'll be given the guidebook.
More related activities...
You might also be interested in...