Definitive guide
Westminster Abbey
An iconic religious landmark in central London, Westminster Abbey is famous for hosting royal coronation ceremonies and for being the resting place of countless British monarchs and notable figures
Definitive guide
Westminster Abbey
An iconic religious landmark in central London, Westminster Abbey is famous for hosting royal coronation ceremonies and for being the resting place of countless British monarchs and notable figures
Westminster Abbey, whose formal name is the Collegiate Church of Saint Peter at Westminster, is an Anglican church located in the City of Westminster, London. It is most famous for being the location of royal British ceremonies for more than a thousand years, the most notable among them being coronations and funerals.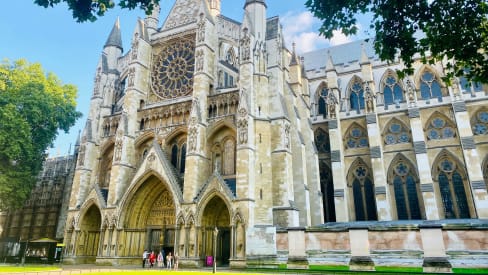 On such events, Westminster Abbey can welcome up to 2,200 people, and often does. Keep in mind that on those occasions and the days surrounding them, the church is closed to the public, so make sure nothing is going on before getting there.
The best way to visit Westminster Abbey is to go early in the morning right after the church opens. At this time, the building is usually empty and this will give you the time to visit it undisturbed. To visit the entirety of Westminster Abbey you will need about 90 minutes, although if you want to spend more time, there's plenty of detail to enjoy.
Here are some of the most important parts of the abbey.
Lady Chapel: This is a stupendous late medieval chapel with a stunning fan-vaulted ceiling. It is the burial place of 15 kings and queens.
Poet's Corner: This is the church's south transept, so named because of the number of burials and memorials dedicated to poets and writers.
King Edward's Throne: the original 14th-century throne used for every royal coronation.
College Garden: A 1000-year-old garden, thought to be the oldest park in England.
Westminster Abbey history
The precise origins of the church building are unknown, but historians agree in saying that before the 11th century, the site was occupied by a monastery dedicated to St. Peter. The building was then rebuilt in Romanesque style during the first half of the 11th century and inaugurated as abbey in 1065.
In the 13th century, it was partly rebuilt and expanded in early Gothic style. The expansions continued for centuries, including the building of the Lady Chapel in Perpendicular style (in the 13th century). With the English Reformation forefronted by Henry VIII in the 16th century, the abbey risked destruction but it was spared by being granted status as a cathedral.
The two western towers were added in the 18th century in Gothic Revival style and further restoration happened in the 19th century, especially on the facade and north transept. All major building works were finished in the same period of time, meaning Westminster Abbey took about seven centuries to be built.
The abbey was finally designated a UNESCO World Heritage Site in 1987.
Interesting facts about Westminster Abbey
Since 1100, Westminster Abbey has hosted at least 16 royal weddings.
Since 1066, Westminster Abbey has been the site for more than 40 English and British monarchic coronations.
Over 3,000 bodies are buried in the church, making Westminster Abbey a massive mausoleum of sorts. Among the buried are monarchs, their consorts, statesmen and notable British figures.
Numerous English, Scottish, and British royals rest in Westminster Abbey. Some of the most famous among them are Edward the Confessor, Mary Queen of Scots (commonly known as Mary Stuart), and Elizabeth I.
Among the countless notable British figures also buried in Westminster Abbey's nave, transepts, aisles, chapels, and cloisters you'll find Charles Darwin, Stephen Hawking, David Livingstone, Charles Dickens, and Alfred Tennyson.
Aside from all the burials, Westminster Abbey is also the location of several memorial sites. Inside you'll find sculptures and monuments dedicated to Jane Austen, Diana Princess of Wales, William Shakespeare, Dylan Thomas, Martin Luther King Jr, Oscar Wilde, and John Milton among many others.
Location
20 Deans Yard, London SW1P 3PA, Westminster area.
Westminster Abbey is located in the heart of the Westminster area, just behind Westminster Palace and the Big Ben. Not far from it are numerous iconic landmarks of the city, like the London Eye, just on the other side of the River Thames, east of the Abbey, and Buckingham Palace, at the other end of St James's Park, west of the Abbey. No. 10 Downing Street, where the British Prime Minister lives, is also not far from Westminster Abbey.
Tickets
To visit Westminster Abbey, you do not need to book your entry in advance, although you can book tickets on Westminster Abbey's own website . If you prefer, you can just turn up at Westminster Abbey and pay for your entry on the spot, which costs £27.00 for full-priced adult tickets.
If you have a London Pass, you can enter Westminster Abbey for free, as the church is included in the pass. Similarly, Westminster Abbey is also often included in the 2FOR1 offers, which allow you to get two entries for the price of one.
| Adult | Students & over 65 | Children 6-17 | Children 0-5, disabled, & carers | Family (1 adult 1 child) |
| --- | --- | --- | --- | --- |
| £27.00 | £24.00 | £12.00 | free | £27.00 |
Schedule
You can visit Westminster Abbey from Monday to Friday between 9:30 am and 3:30 pm. On Saturday, the schedule is taken back half an hour, so opening times are between 9:00 am and 3:00 pm.
On Sundays, the Abbey is open for religious services.
| Day | Opening time | Closing time |
| --- | --- | --- |
| Mon-Fri | 9:30 am | 3:30 pm |
| Sat | 9:00 am | 3:00 pm |
Transport
Westminster Abbey is rather central, so there are quite a few public transport options to reach it. The one we recommend the most is to use the Underground and get off at Westminster. You can use the Circle, District, or Jubilee lines to get there. The stop is just on the northern side of the nearby Westminster Palace.
If you prefer the bus, there are quite a few lines you can use. The closest stops are along routes 3, 11, 12, 24, 87, 88, 148, 159, 211, and 453.
You can find a summary of the public transport options in the table below.
| Method | Underground | Bus |
| --- | --- | --- |
| Lines | Circle, District, Jubilee | 3, 11, 12, 24, 87, 88, 148, 159, 211, 453 |
| Stops | Westminster | - |
Of course, you could also go by taxi, but this is likely to be unnecessarily expensive and time-consuming, considering the traffic in central London.
Nearby sights
Westminster Palace - right behind Westminster Abbey, just east of it.
Big Ben - right next to Westminster Palace, just northeast of Westminster Abbey.
St James's Park - 400 m (0.3 miles) northwest, 5-minute walk.
London Eye - 1 km (0.6 miles) northeast, 13-min walk just across the river.
Trafalgar Square - 1.2 km (0.7 miles) north, 15-minute walk.
Buckingham Palace - 1.2 km (0.7 miles) west, 15-minute walk, just past St. James's Park.
Green Park - 1.3 km (0.8 miles) northwest, 17-minute walk.
National Gallery - 1.3 km (0.8 miles) north, 16-minute walk.
More related activities...
You might also be interested in...