Definitive guide
London buses
Get on one of the world-famous, iconic red double-deckers and explore the city on a London bus.
Definitive guide
London buses
Get on one of the world-famous, iconic red double-deckers and explore the city on a London bus.
Urban buses in London are the cheapest form of transport in the city. With over 19,000 stops and 700 lines, the 8,000 daily buses connect all parts of the city to one another, giving an area coverage that is even better than that of the Tube.
Even though London buses don't abide by the same 9-zone system as the Underground in terms of pricing, they do span roughly the same area. This means you can find a bus line to take you almost anywhere in London. It's also important to note that, if you're far away from an Underground stop, you'll probably be much closer to a bus stop.
But city buses are not just great to move between less serviced neighbourhoods, they also have the advantage of being above ground. On the top deck of a classic red London bus, you'll get a great view of the city, and for an extremely cheap price at that.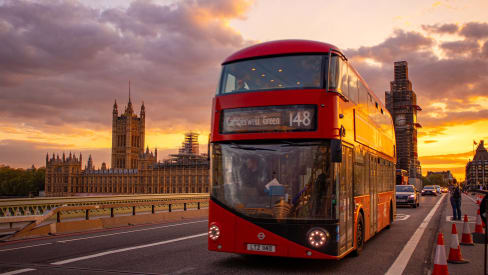 Buses in London work pretty much like in any other city. You get on the bus from the front door, pay the fare, call the stop by pressing the red stop button, and get off from any of the rear doors. There are four ways to pay for a bus journey in London: with a Travelcard, a Bus and Tram Pass, an Oyster, or a contactless payment method. You cannot pay for London buses in cash.
London bus routes
As mentioned, there are around 700 different bus routes in London, so it can seem overwhelming to find the route you need. To make it easier, we can sort London bus routes into three types: 24/7 lines (which usually travel the city centre), daytime lines (you won't use many of them, since they serve the city's periphery), and nighttime lines (indicated by an N before the number).
Since you'll probably be spending the majority of your time in the city centre, the most useful bus lines are routes 8, 9, 11, 14, 15, 23, 24, 25, 38, 43, 59, 73, 74, 139, 148, 159, 188, 205, 274, 390, and 453. These routes do not always start nor end in the city centre, but they do stop by the main sights and attractions, so they are the most useful ones.
You can see and download the map for the key bus routes in London's city centre here .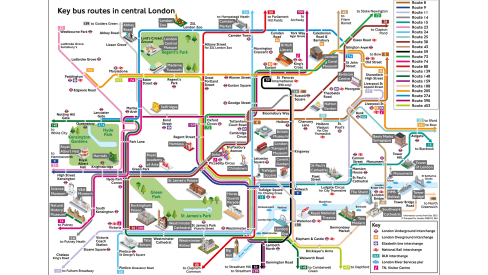 Among these lines, the most famous for sightseeing are bus routes 9, 11, 24, and 35. Route 9 (Aldwych to Hammersmith) passes by some of the most well-known museums and palaces in the city centre, as well as Trafalgar Square, Piccadilly, Green Park, Knightsbridge, and Kensington.
Route 11 (Fulham to Liverpool Street) crosses the city from northeast to southwest. Among the London landmarks and neighbourhoods you will see along this line are Shoreditch, St. Paul's Cathedral, Westminster Palace (with the Big Ben), Westminster Abbey, and the upscale Chelsea neighbourhood.
Travelling south to north, route 24 (Pimlico to Hampstead Heath) passes by many more iconic sights, like Buckingham Palace, St. James's Park, Leicester Square, and Camden Town.
If you're looking to explore the city's markets, line 35 is perfect for you. On its route, you'll see Brixton Market, the Borough Market, Leadenhall Market, Spitalfields Market, Brick Lane Market, and the Columbia Road Flower Market.
Tickets & passes
First of all, it's important to know that buses in London don't share the same zone-fare system as the Underground or trains. All single bus journeys cost the same, no matter how far you travel. This makes buses the cheapest transport method in London.
London buses are card only, meaning you cannot buy a bus ticket with cash. Instead, you'll have to use a Travelcard, a Bus and Tram Pass, an Oyster, or a contactless payment method to cover your journey.
You won't actually get a physical bus ticket, so to validate your bus journey, just remember to tap your transport or bank card on the reader as soon as you get on. The reader is usually by the driver's cabin.
The price of a single bus journey with an Oyster card or a contactless payment method (simply your credit or debit card) is always £1.75.
| Zone | Adult | Children (under 11)* |
| --- | --- | --- |
| All zones | £1.75 | free |
Thanks to the Hopper Fare system, when using an Oyster or contactless payment method, you can also enjoy an unlimited amount of transfers (or journeys) between different bus and tram lines within one hour of paying your fare. When getting on your second bus (or tram), just tap your card upon entry as you normally would - don't worry, you won't be charged anything.
If you need more information about Oyster cards and contactless payment methods for London's transport, you can have a look at our in-depth article.
Alternatively, a Travelcard gives you unlimited journeys for a determined period of time for a flat fee. Normally, the price of a Travelcard is determined by the zones of validity, but since city buses in London don't respond to the zone system, a Zone 1-2 Travelcard is sufficient to cover any bus journey anywhere around London. With a Travelcard you'll also be able to travel on all London Undeground trains (Tube, DLR, Overground) in the zones where your Travelcard is valid.
A 7-day zone 1-2 Travelcard will cost you £40.70. Keep in mind that there is no proper zone 1-2 daily Travelcard. Instead, you would have to get a zone 1-4 daily Travelcard for £15.20. We don't particularly recommend the daily option, considering the cost of the single bus journeys.
| Zone | 1 day | 7-day | 1 month | 1 year |
| --- | --- | --- | --- | --- |
| 1-2 | £15.20 | £40.70 | £156.30 | £1,628.00 |
For the purposes of ticket validity, each day is considered to start at 4:30 am and end at 4:29 am the following day. This means that if you purchase a 7-day Travelcard on Friday morning at 9:00 am, the card will be valid until the following Friday at 4:29 am (the night that goes from Thursday to Friday).
If you want to know more about Travelcards, how they work, and how to get them, you can read our dedicated article.
The last kind of pass you can get is the Bus and Tram Pass, which costs £5.90 for a day and £24.70 for a week. You can see all bus pass prices in the following table.
| Duration | 1-day Pass | 7-day Pass | 1-month Pass | 1-year Pass |
| --- | --- | --- | --- | --- |
| Price | £5.90 | £24.70 | £94.90 | £988.00 |
Our recommendations
We don't recommend getting a 1-day Bus Pass, considering that the TfL (Trasport for London) has established a daily cap of £5.25 for bus usage on contactless payment methods and Oyster cards. This means that no matter how many bus journeys you make throughout the day, you won't be charged more than £5.25.
Furthermore, Oyster cards, contactless payment methods, and Travelcards are also valid on the London Underground, while the Bus and Tram Pass is not. In case you use other transport on top of buses and trams, the daily cap is £8.10.
Bus Schedule & Timetables
The main bus lines in London run 24/7, which gives buses greater time coverage than the Undergroud. Additionally, between midnight and 5:00 am, when the majority of the London Underground is inactive, extra night buses enter service.
You will recognise these exclusively-nighttime lines by the letter N before the number. In any case, throughout the day and night, you'll only have to wait a few minutes to find a bus at your stop.
At busy times and around the city centre, bus frequency is around 7-15 minutes. These are called high-frequency routes. For low-frequency routes (generally in more peripheral areas and at off-peak hours), you can expect buses every 15-40 minutes, depending on the line.
You can check official timetables for all London city buses on the Transport for London website .
Apps for buses in London
The TfL Go is the official travel app designed by Transport for London to help users plan their journeys around London.
With this app, you can plan your route and get live information about the buses, trams, Tube, London Overground, and DLR. Additionally, you'll also be able to check walking and cycling routes, as well as plan accessible journeys (thanks to the info on platform access, lift status, and toilet location).
Alternatively, you can also use the TfL's online Journey Planner to calculate and plan your journeys based on real-time info.
More related activities...
You might also be interested in...