Definitive guide
Piccadilly Circus
The most famous junction in London, Piccadilly Circus is a major meeting point and tourist attraction, thanks to its architecture, shops, and entertainment options.
Definitive guide
Piccadilly Circus
The most famous junction in London, Piccadilly Circus is a major meeting point and tourist attraction, thanks to its architecture, shops, and entertainment options.
Piccadilly Circus is a major road junction in central London. Thanks to its excellent position, as well as the many notable buildings that surround it, Piccadilly Circus has become an important public space, a particularly lively square that acts as a tourist attraction in its own right.
This is today one of the most visited areas for shopping, leisure, and entertainment. Suffice it to say that the junction is so central and so heavily trafficked that its name is commonly used in the UK to describe a place that is extremely busy.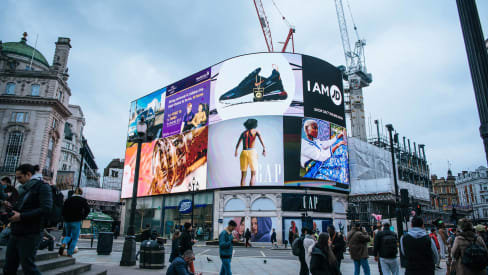 During the evening and at night in particular, Piccadilly Circus is a major meeting point for those looking to go partying in nearby clubs, pubs, and bars. The brightly lit buildings, advertisement boards, and fluorescent lights give it its signature iconic look.
Piccadilly Circus is in fact famous for its modern architecture, with large, sleek buildings, neon signs, and the video display mounted on the corner building. The adjacent streets and corners offer shops, cinemas, theatres, as well as food and drink venues of all kinds. The most notable buildings are the London Pavilion and the Criterion Theatre.
However, the most popular sight in Piccadilly Circus is the Shaftesbury Memorial Fountain. This landmark and its steps, found in the middle of the junction, often become a resting spot for visitors and locals. The fountain, commonly referred to as the Eros fountain, is actually surmounted by a statue of Anteros, the Greek god of requited love (as opposed to Eros, the god of love and sex). The fountain is supposed to celebrate the selfless and philanthropic love of the Earl of Shaftesbury for the poor.
Piccadilly Circus shops
Some of the most visited shops in London are located in and around Piccadilly Circus. First of them is the Trocadero shopping centre, just a couple of minutes away from Piccadilly Circus. Directly facing the square is Lilywhites, a sports department store. Not far from it is Fortnum & Mason, an upscale department store known for its gourmet food options.
All around the area, you will also find all kinds of souvenir shops and stores of all kinds, including the largest bookstore in Europe in the form of a massive Waterstones. Also not far from the square, you will find Liberty London, a luxurious department store famous for its fabrics and designs.
Piccadilly Circus restaurants
The area is known for varied dining options. In Piccadilly Circus you can find anything from Michelin-star fine dining to street food and traditional pubs, however, thanks to the central location, there is a high concentration of upscale venues, especially when compared to other parts of the city.
Among some of the most well-known restaurants are Gaucho and Cicchetti. You can expect lavish decor and indulgent meat and wine pairings from the former and sleek marble interiors and seasonal Italian dishes from the latter.
If you are looking for something slightly less posh, Hidlao Hot Pot is still a great, modern-looking option. Here you will be able to select your preferred fresh ingredients and make your own Chinese hot pot. If you are looking for unusual and filling food pairings, Burger & Lobster is the place for you. Their menu features freshly caught lobster and gourmet burger combos.
Location
Piccadilly Circus, West End, London.
Piccadilly Circus is found at the junction between Shaftesbury Avenue, Regent Street, Coventry Street, and Regent Street Saint James's. This locates the square between some of London's most visited neighbourhoods: Mayfair (northwest of Piccadilly), Soho (north), Covent Garden (east), and St James's (south).
Just by walking a few minutes from Piccadilly Circus, you'll find by famous attractions, like Leicester Square and Trafalgar Square, and museums, like the National Gallery and the National Portrait Gallery.
Piccadilly Circus transport and directions
Piccadilly Circus is extremely central, so there are quite a few ways to get there. Your first option should be the Tube (Piccadilly Circus stop). Both the Piccadilly and the Bakerloo lines will take you there. Not far from it, you will also find Leicester Square (Northern and Piccadilly lines).
As for buses, there are quite a few lines stopping just around the square. You can see a summary of the transport options available below.
| Method | Underground | Bus |
| --- | --- | --- |
| Lines | Piccadilly, Bakerloo | 6, 9, 12, 14, 19, 38, 88, 94, 139, 159, 453 |
| Stops | Piccadilly Circus | - |
You can always take a cab, but we don't recommend it, since the square is one of the most central in London and traffic can be slow in these areas. Taking a taxi would be costly and not very time-effective.
More related activities...
You might also be interested in...