Definitive guide
Covent Garden
A beautiful neo-classical covered market, theatres, museums, and pubs, all within a few minutes walking of one another in Covent Garden.
Definitive guide
Covent Garden
A beautiful neo-classical covered market, theatres, museums, and pubs, all within a few minutes walking of one another in Covent Garden.
Covent Garden is one of the most visited and central districts in London. It is located in the heart of the city's West End, wedged between Soho, Holborn, and the Thames river.
Covent Garden is known for its buzzing atmosphere (aided by the lively presence of the Covent Garden Market), its colourful character, and its theatre scene. Here you'll also find plenty of dining and drinking options, so the neighbourhood is the perfect place to be as a visitor in the city.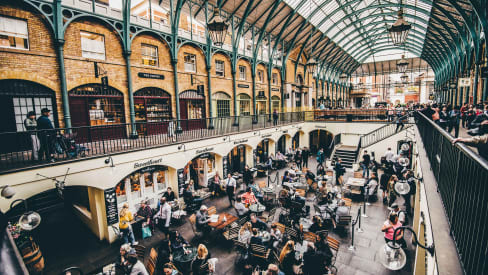 Covent Garden history
Even though the area occupied by the Covent Garden district was settled as early as the 7th century, the name actually comes from its use as arable land in the 13th century.
At the time, the plot of land was owned by Westminster Abbey, so people started referring to it as "the garden of the Abbey and Convent", which later became "the Convent Garden", and finally "Covent Garden".
In the 17th century, by 1654, a thriving open-air fresh fruit and vegetable market had developed in the central square. In the early 19th century, the neo-classical building that we see today in the Covent Garden Piazza was erected to house the merchants' stands and booths.
Even though the original market had to eventually relocate due to expansion, the building and its additional halls were kept and re-purposed as a shopping centre that you can still visit.
Things to do in Covent Garden
Covent Garden is perhaps most famous for its covered market - a popular tourist site - and for its many theatres. But aside from those, you'll also find several museums, restaurants, and pubs in the area. All in all, the neighbourhood is an active centre of activity, so we absolutely recommend you visit during your stay.
Even though people generally refer to it as the Covent Garden Market, the venue is a conglomerate of different halls and buildings. In the central Piazza, you will find the Market Building, inside which are the Apple Market and the East Colonnade Market. On the side of the Market Building is the Jubilee Hall, where the Jubilee Market is.
Inside these markets, you won't find any of the fresh produce Covent Garden originally became known for. Instead, you will see a wide range of handmade goods, jewellery, prints, watercolours, antiques, collectables, garden equipment, and souvenirs.
Aside from the covered markets, Covent Garden is also synonymous with theatre. This small area is home to more than twenty theatres, so you'll find anything from ballet and opera to comedy and drama. The most important theatre houses here are the Royal Opera House and the Lyceum Theatre, but you'll find many others all around the neighbourhood.
Because of its centrality, the area is surrounded by many important monuments and sights. Still, the most important museum in Covent Garden is the London Transport Museum, entirely dedicated to the city's urban transport, its history and its evolution.
Covent Garden is also a hub for restaurants and food venues of all kinds. Fine dining, Vegan restaurants, Brunch bars, bakeries, traditional British food, international cuisine, and even dog-friendly dining are all options in Covent Garden. A few honourable mentions go to names like Balthazar, The Barbary, Barrafina, Cinnamon Bazaar, and Dishroom.
Location
Covent Garden, West End, London.
The Covent Garden area is located in London's West End district, just North of the River Thames. The area is one of the most lively in Central London, with a high concentration of entertainment venues, businesses, monuments, and public buildings. In fact, Covent Garden borders with other well-known districts, such as Holborn to the east, Fitzrovia and Bloomsbury to the north, and Soho, to the west.
It is in this direction that you'll find some of the closest and most well popular sights and buildings. First among them are Chinatown and Leicester Square, where you'll find the National Gallery and the National Portrait Gallery.
Schedule and Entry
The Covent Garden neighbourhood obviously doesn't have any opening or closing time, but the Covent Garden Market does. During the week, you will find it open from 8:00 am to 6:00 pm, while on Sundays, it will only be open from 11:00 am to 4:00 pm.
| Day | Opening time | Closing time |
| --- | --- | --- |
| Mon-Sat | 8:00 am | 6:00 pm |
| Sun | 11:00 am | 4:00 pm |
Naturally, there is no fee or ticket to enter the Covent Garden Market or the neighbourhood itself.
Transport
There are a couple of different ways you get to Covent Garden. The first and most popular is by Tube. There are two stops, one in the middle of the neighbourhood, aptly name Covent Garden, and the other one at its western edge (Leicester Square). If you take the Picadilly line, you can stop at either, but if you're on the Northern, you'll have to get off at Leicester Square.
As for buses, you'll have quite a few options. As several streets and squares in Covent Garden are fully pedestrian, the bus stops are located all around the edges of the neighbourhood. Here you can see a summary of the transport options available.
| Method | Underground | Bus |
| --- | --- | --- |
| Lines | Piccadilly, Northern | 6, 9, 11, 13, 15, 23, 24, 29, 87, 91, 139, 153, 176 |
| Stops | Covent Garden, Leicester Square | - |
If you wanted, you could take a cab, but we don't particularly recommend it. The area is extremely central, and traffic can be slow, so it would be costly and not time-effective to take a taxi.
Nearby sights
Even though Covent Garden is a small neighbourhood, it does have quite a few interesting sights. Among them, the most important are the following.
Covent Garden Market
London Transport Museum
Royal Opera House
And just outside the limits of the district, you'll also find many other landmarks and sights.
National Portrait Gallery - 400 m (0.2 miles) west, 5-minute walk.
National Gallery - 450 m (0.3 miles) west, 5-minute walk.
Chinatown - 400 m (0.2 miles) north, 5-minute walk.
Trafalgar Square - 250 m (0.2 miles) southwest, 5-minute walk.
More related activities...
You might also be interested in...