Definitive guide
Westminster Palace
The UK Houses of Parliament, formally known as Westminster Palace, is one of the most iconic landmarks of London. A building with a rich history that is still in use today.
Definitive guide
Westminster Palace
The UK Houses of Parliament, formally known as Westminster Palace, is one of the most iconic landmarks of London. A building with a rich history that is still in use today.
The Palace of Westminster is a historical and political building in central London. It has been the home of the British Government for more than 300 years, and it housed England's government for five centuries before that. Being the meeting place for the UK's House of Commons and House of Lords, Westminster Palace is often referred to as the Houses of Parliament.
The Palace extends horizontally for almost 300 m (around 980 feet) over the River Thames. Nonetheless, the structure still appears elegant and slender. This is thanks to the vertical elevation given by the many windows, sleek lines, and the three main towers. They are the Victoria Tower (the tallest), the Central Tower (the shortest), and the Elizabeth Tower (the most famous, commonly referred to as Big Ben).
Westminster Palace history
The building you see today is sometimes called the New Palace, as it was almost completely rebuilt after being destroyed in a fire in 1834. The Old Palace that stood in its place was a mediaeval complex, whose earliest parts had been built in the 11th century.
Up until the late mediaeval period, the Old Westminster Palace served as a residence for English Monarchs. In 1295, the first official Parliament of England met here, and a few hundred years later, starting in 1707, all British Parliaments have met at Westminster.
Today, the only remaining parts of the Old Palace are the Westminster Hall, the Jewel Tower, the Undercroft Chapel, and the Cloisters and Chapter House of St Stephen's. All other parts were rebuilt after 1835.
The New Westminster Palace was designed in Perpendicular Gothic style - a popular type of Late Gothic architecture - by architects Charles Barry and Augustus Pugin. Construction works were carried out for almost 35 years until 1870, when the building was finally completed.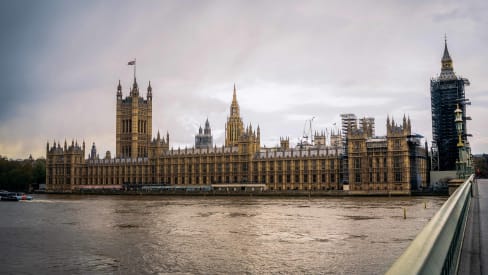 How can you go inside Westminster Palace?
Due to the Parliament's strict security measures and the presence of high-profile figures, it is not possible to just wander inside Westminster Palace freely. There are a couple of different ways to visit the inside of the building. Some of them are free, others require tickets.
One is by taking part in a guided tour or talk, for which you'll have to pay. Alternatively, if you prefer to be on your own, you can also watch a parliamentary debate or a committee meeting, or attend the Prime Minister's Questions. You can also book a visit to the Archives, which does not require a guide. In the following sections, you can find all the info needed for your visit, including prices and exact instructions.
Our recommendations
If you are interested in the building's history and architecture, you should book a guided tour. We particularly recommend combined tours of the Westminster Palace and Abbey, which are next to one another.
Without a guide you won't learn much about the building and you will be confined to staying in the public galleries or the Archive.
Location
London SW1A 0AA, Westminster area.
Westminster Palace is located in the heart of the Westminster area, along the River Thames' northern bank. At the Palace's eastern end is the famous clocktower Big Ben and just a few yards behind them is Westminster Abbey.
The Westminster area is known for its concentration of landmarks, so just a few minutes away from the Houses of Parliament, you'll find the London Eye (southern bank), and No. 10 Downing Street, where the British Prime Minister lives (just north of the Palace). Going west, past the Abbey, you'll find St James's Park and at its end Buckingham Palace.
Entries and price
The first way to visit the Palace of Westminster is to do so on a guided tour or on a talk/event. Bookings are required for both. We suggest you book your guided tour or your talk/event ticket as early as you can, as time slots are limited and tend to sell out quickly.
The price of an adult ticket for a guided tour is £29.00, but there are discounts available for young visitors, students, children, and visitors over the age of 60. Tickets for the Talks and Events go anywhere from £5.00 to £10.00, depending on the event. You can see all prices in the following table.
Type
Guided tour
Talks & Events
| Type | Adult | Young (16-18), students & over 60 | Child 5-15 | Under 5 & essential companions* |
| --- | --- | --- | --- | --- |
| Guided tour | £29.00 | £24.50 | £13.00 | free |
| Talks & Events | £5.00 - £10.00 | £5.00 - £10.00 | £5.00 - £10.00 | £5.00 - £10.00 |
A second visit option that you might prefer is a combined tour. Normally, these tours include the Houses of Parliament (Westminster Palace) and Westminster Abbey. Here you can find a pick-your-route tour , and here is an all-inclusive tour .
There are also ways to enter Westminster Palace that you don't have to pay for. The first of these is to book a visit to the Parliamentary Archives. Entry to the Archives is free of charge but still requires an appointment .
Additionally, visitors are also welcome to watch Parliament debates, PM's questions, and committees. Debates and committee meetings are always free and do not require prior booking. To enter the public gallery from which you'll be watching the debates and meetings, you should enter from the Cromwell Green gate.
The Prime Minister's questions, on the other hand, require booking. To book a ticket for the Prime Minister's questions, you can go here . Remember that this last event is free but only available to UK residents.
Schedule
During the week, the Palace of Westminster is open from 9:00 am to 5:00 pm, but on Wednesdays, the schedule is reduced to 1:00 pm - 4:00 pm. The palace is closed on Saturdays and Sundays. You can see the opening times summary below.
| Day | Opening time | Closing time |
| --- | --- | --- |
| Mon- Fri | 9:00 am | 5:00 pm |
| Wed | 1:00 pm | 4:00 pm |
| Sat-Sun | Closed | |
The Parliamentary Archives, found inside the Palace, are open during weekdays from 10:00 am to 4:00 pm.
Day
Mon- Fri
Sat-Sun, bank holidays
| Day | Opening time | Closing time |
| --- | --- | --- |
| Mon- Fri | 10:00 am | 4:00 pm |
| Sat-Sun, bank holidays | Closed | |
The public galleries, from which you can watch parliamentary debates, are usually open Monday to Thursday.
Committee meetings usually take place on Monday afternoons, all day on Tuesday and Wednesday, and on Thursday mornings.
The Prime Minister's questions are scheduled for a set time, just like the talks.
You can check out Parliamentary calendars for debates, committee meetings, and PM questions on the Parliament's website .
Transport
Westminster Palace being as central as it is, there are quite a few options to reach it. The one we recommend the most is to use the Underground and get off at Westminster. You can use Circle, District, or Jubilee lines to get here. You'll find the stop just across the northern side of the building.
If you prefer to go by bus, there are quite a few lines you can use, the closest ones being 3, 11, 12, 87, 88, 148, 159, 211, and 453. They stop all around the Palace, except for the eastern side, since that is facing the Thames River.
You can find a summary of the public transport options in the table below.
| Method | Underground | Bus |
| --- | --- | --- |
| Lines | Circle, District, Jubilee | 3, 11, 12, 87, 88, 148, 159, 211, 453 |
| Stops | Westminster | - |
Of course, you can also decide to get dropped off at Westminster Palace by a cab, but we don't recommend that option, since taxis tend to be very expensive in London. The area is so central that you'll have no problem reaching it with other means of transport anyway.
Nearby sights
Big Ben - right next to Westminster Palace, just north of it.
Westminster Abbey - right behind Westminster Palace, just west of it.
St James's Park - 500 m (0.3 miles) west, 7-minute walk.
London Eye - 900 m (0.5 miles) northeast, 11-min walk just across the river.
Trafalgar Square - 1 km (0.6 miles) north, 13-minute walk.
Buckingham Palace - 1.3 km (0.8 miles) west, 17-minute walk, just past St. James's Park.
More related activities...
You might also be interested in...