Definitive guide
Hyde Park
One of the most famous and appreciated parks in London, Hyde Park is a historical and cultural landmark in the city, as well as a local favourite for picnics and relaxing afternoon strolls
Definitive guide
Hyde Park
One of the most famous and appreciated parks in London, Hyde Park is a historical and cultural landmark in the city, as well as a local favourite for picnics and relaxing afternoon strolls
Hyde Park is one of the eight Royal Parks in London. While it isn't the biggest park in the UK or even in the Greater London Area (that title goes to Richmond Park), Hyde Park, with its 350 acres (140 ha), is still the biggest park in central London.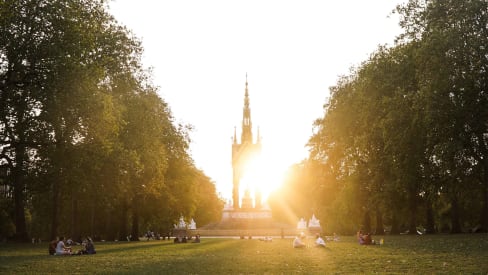 Hyde Park is in fact located in the heart of London, just west of Mayfair and Green Park. It is attached to another Royal Park, Kensington Gardens, which actually used to be considered part of Hyde Park itself.
The park's landscape is cured but overall left quite open and naturalistic, with wide green lawns, meadows, and wooded patches. Here and there, you will find greenhouses and flowerbeds, as well as a lovely rose garden.
In the park, you'll find many corners and features greatly appreciated by locals and visitors of the city. Among them are the famous Serpentine Lido, the Diana Princess of Wales Memorial Fountain, several sports courts, lawns, and pitches.
You might be surprised to find out that you can not only hire a boat on the Serpentine , but you can also swim in the Lido. As for sports, in Hyde Park , you'll find tennis and padel courts, football and multi-sport pitches, bowling lawns, table tennis areas, outdoor gyms, and even horse riding arenas (manèges). Of course, dispersed throughout the park are also cafés, playgrounds, bicycle parking racks and cycling paths, as well as toilets with showers.
However, Hyde Park is not only famous for its size, facilities, and beautiful landscape, but also for its historical and cultural significance. The park has a much-appreciated legacy as a site of protest, especially thanks to its Speakers' Corner. The Corner, located at the northeastern edge of the park, has served as a stage for public speeches for many centuries.
It was here that those sentenced to death at the Tyburn Gallows would address the public for the last time, often criticising the authorities. Even after the executions were moved to a different site, the tradition of protest at the Speakers' Corner continued.
In the 19th century, the Corner was officially set aside for public speaking by the British Parliament after being the fulcrum of demonstrations and riots in the city. To this day, rallies, marches, public speeches, and debates congregate in this part of Hyde Park.
Location
Hyde Park, Central London, between Mayfair, Belgravia, and Kensington Gardens.
Hyde Park occupies a rather large portion of Central London. It is lodged between Mayfair (east of Hyde Park), Belgravia (south), Kensington Gardens (west), and the Paddington area (north).
Not far from the park, just to its south, are three important museums, the Natural History Museum, the Science Museum and the Victoria and Albert Museum. The Royal Albert Hall, a prominent concert venue, is located just across the street from Kensington Gardens, which is attached to Hyde Park. And of course Kensington Palace is at the western edge of the Gardens.
Entries
Entry to Hyde Park and its gardens is always free.
As for the boat rides on the Serpentine, the adult ticket prices are £9.25 for half an hour and £11.25 for a full hour. Reduced prices are available for children aged 4 to 15, families, students, young visitors, and visitors over the age of 65. You can see all prices in the following table.
Duration
30 min ride
60 min ride
| Duration | Adult | Child | Family (2 adults, 3 children max) | Students, Young visitors (16-17), visitors +65 |
| --- | --- | --- | --- | --- |
| 30 min ride | £9.25 | £4.25 | £25.00 | £7.50 |
| 60 min ride | £11.25 | £5.50 | £30.00 | £9.00 |
Schedule
Hyde Park is open to the public on any day of the week between 5:00 am and midnight.
| Day | Opening time | Closing time |
| --- | --- | --- |
| Mon-Sun | 5:00 am | 12:00 am |
Remember that if you want to see a public speech at the Speakers' Corner, they usually take place on Sunday mornings.
As for the boat hire on the Serpentine Lido, the operational hours usually go from 10:00 am until dusk. Of course, this means that the boat hire closes earlier in the winter months. You can find the full details in the table below.
Days
Mon-Sun
Mon-Sun
Mon-Sun
Wed-Sun
| Days | Months | Opening time | Closing time |
| --- | --- | --- | --- |
| Mon-Sun | Apr-May | 10:00 am | 6:00 pm |
| Mon-Sun | Jun-Aug | 10:00 am | 8:00 pm |
| Mon-Sun | Sept | 10:00 am | 7:00 pm |
| Wed-Sun | Oct-Mar | 10:00 am | sunset |
Transport
Hyde Park occupies a rather extensive area, so you will need to take different lines depending on where in the park you intend to go. At the northwestern edge, you'll find Tube stop Lancaster Gate, while at the northeastern edge, you'll have Marble Arch. Both stops are along the Central line.
At the southern end of the park, the stops are, east to west, Hyde Park Corner and Knightsbridge, both along the Picadilly Line.
In terms of buses, you also have a wide choice. Buses 6, 7, 16, 23, 36, 94, 98, 148, and 274 all stop along the northern side of the park. If you need to get off on the eastern side, you can use lines 2, 6, 13, 16, 23, 36, 74, 137, 148, 390, and 414. And if you need to stop along the southern side, lines 9, 14, 23, 52, 74, 414, and 452 are all good to use.
You can find a summary of the public transport options in the table below.
| Method | Underground | Bus |
| --- | --- | --- |
| Lines | Piccadilly, Central | 2, 6, 7, 9, 13, 14, 16, 23, 36, 52, 74, 94, 98, 137, 148, 274, 390, 414, 452 |
| Stops | Knightsbridge, Hyde Park Corner, Lancaster Gate, Marble Arch | - |
Nearby sights
Kensington Gardens and Kensington Palace - right next to Hyde Park, on its western side.
Harrods - 500 m (0.3 miles) south, 6-minute walk.
Science Museum - 850 m (0.5 miles) south, 10-minute walk.
Victoria and Albert Museum - 950 m (0.6 miles) south, 11-minute walk.
Apsley House - 260 m (0.2 miles) southeast, 3-minute walk.
Wellington Arch - 450 m (0.3 miles) southeast, 6-minute walk.
Buckingham Palace - 1.2 km (0.8 miles) southeast, 16-minute walk.
Natural History Museum - 950 m (0.6 miles) south, 11-minute walk.
More related activities...
You might also be interested in...