Definitive guide
Kensington Gardens
Green gardens, a royal palace, memorial monuments, and two art galleries make Kensington Gardens the perfect place for a sunny afternoon
Definitive guide
Kensington Gardens
Green gardens, a royal palace, memorial monuments, and two art galleries make Kensington Gardens the perfect place for a sunny afternoon
Kensington Gardens is one of the eight Royal Parks of London, and although it was once considered part of Hyde Park, it now stands as its own green space, covering an area of 265 acres. The park is perhaps most famous for housing Kensington Palace - the birthplace of Queen Victoria and former home of Charles III and Princess Diana -, located at its western end.
Aside from the Palace - where Prince William and Princess Kate now live - the park is known for its well-curated lawns and wooded areas. It also features a lake (known as The Long Water, which connects to the Serpentine in Hyde Park) and several monuments and memorials, as well as the aforementioned royal residence.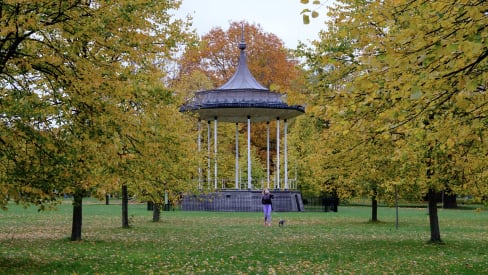 Among the monuments and memorials the most popular are certainly the Diana Memorial Playground, the Albert Memorial (a large and ornate marble monument), and the Peter Pan statue. At the eastern edge of the park, bordering Hyde Park, are the two Serpentine Galleries, dedicated to contemporary art and architecture exhibitions.
Behind the Serpentine North Gallery, you can also find the Kensington Gardens Allotment, a vegetable garden run by a local group of volunteers.
Like all other London Royal Parks, Kensington Gardens is very well-kept and safe, making it a local favourite for picnics, open-air sports, and social gatherings at all times of the day and up until closing time.
Location
Kensington Gardens, Central London, between Kensington and Hyde Park.
Kensington Gardens takes up a large portion of Central London. It is lodged between the Kensington area (west and south) and Hyde Park (east).
Just south of the park are several prominent London cultural institutions. Right in front of the park is the Royal Albert Hall and further down are the Science Museum, the Natural History Museum, and the Victoria and Albert Museum.
Entries
Entry to Kensington Garden is always free for everyone.
Entrance to the Serpentine Galleries is also free and doesn't require prior booking, although a £1.00 donation is suggested. If you want to book your entry anyway, you can do so on the Serpentine Gallery's website .
The only attraction in Kensington Gardens to have an entry fee is Kensington Palace. It is possible to just turn up at the palace and buy your tickets on the spot but the administration recommends pre-booking your tickets on their website . Full-priced tickets for Kensington Palace are £25.40, with discounts available to visitors with disabilities, students, and seniors (£20.30).
| Adult | Child (5-15) | Student (16-17), visitor +65 or w/ disabilities | Child (0-4), carers, Members |
| --- | --- | --- | --- |
| £25.40 | £12.70 | £20.30 | free |
Schedule
Kensington Gardens' opening times change seasonally. While the opening time is always at 6:00 am, the closing times follow the natural sunset, so they change progressively with the different months.
During the winter you can expect closing times to be between 4:15 pm and 6:00 pm, during the spring they will be between 6:30 pm and 9:30 pm, in the summer between 8:30 pm and 9:45 pm, and in the autumn between 4:30 pm and 8:15 pm.
For week-by-week closing times, you can check on the Kensington Gardens' web page .
Season
Spring
Summer
Autumn
Winter
| Season | Opening time | Closing time |
| --- | --- | --- |
| Spring | 6:00 am | 6:30 pm - 9:30 pm |
| Summer | 6:00 am | 8:30 pm - 9:45 pm |
| Autumn | 6:00 am | 4:30 pm - 8:15 pm |
| Winter | 6:00 am | 4:15 pm - 6:00 pm |
If you wish to visit the Serpentine Galleries, their opening times during exhibitions go from 10:00 am to 6:00 pm from Tuesday to Sunday. The Serpentine Galleries are closed on Mondays.
| Day | Opening time | Closing time |
| --- | --- | --- |
| Tue-Sun | 10:00 am | 6:00 pm |
Kensington Palace is only open from Wednesday to Sunday, from 10:00 am to 6:00 pm. The palace remains closed on Mondays and Tuesdays.
| Day | Opening time | Last entry | Closing time |
| --- | --- | --- | --- |
| Wed-Sun | 10:00 am | 5:00 pm | 6:00 pm |
Transport
Kensington Gardens is quite easy to reach thanks to its location in the city. If you are taking the Tube, the northern edge of the park is where you'll find all the closest stops. Lancaster Gate (northeastern corner) and Queensway (a little more westward) are located right along the side of the park and are both serviced by the Central line.
Bayswater station, serviced by the Circle and District line, is just one street over from the park, so it'll only take you a couple of minutes to reach Kensington Gardens.
In terms of buses, you'll have a wide choice to get to Kensington Gardens. Bus lines 9, 23, 49, 52, 70, 94, 148, 360, and 452 stopp all around the park.
You can find a summary of the public transport options in the table below.
| Method | Underground | Bus |
| --- | --- | --- |
| Lines | Central, Circle, District | 9, 23, 49, 52, 70, 94, 148, 360, 452 |
| Stops | Queensway, Lancaster Gate, Bayswater | - |
Nearby sights
Kensington Palace - on the western side of Kensington Gardens.
Hyde Park - to the east, right next to Kensington Gardens.
Royal Albert Hall - right in front of the southern edge of Kensington Gardens.
Science Museum - 600 m (0.5 miles) south, 10-minute walk.
Natural History Museum - 700 m (0.4 miles) south, 8-minute walk.
Victoria and Albert Museum - 700 m (0.4 miles) southeast, 9-minute walk.
Harrods - 1.6 km (1 mile) southeast, 19-minute walk.
Design Museum - 1.1 km (0.7 miles) southwest, 14-minute walk.
More related activities...
You might also be interested in...