How to get around in Valencia
Taxi
How to get around in Valencia
Taxi
Taking a taxi is surely an option if you want to prioritise comfort and relaxation over budget. With a taxi, you won't have to worry about public services timetables, frequency, or stops. Instead, you will be able to do things at your own pace and move quickly if needed.
You can take a taxi at a taxi stand, hail a taxi along the road, book one via an app, or call a taxi company to order one. Keep in mind that the taxis that you can stop along the road in Valencia are white, with a green light on the top indicating their availability.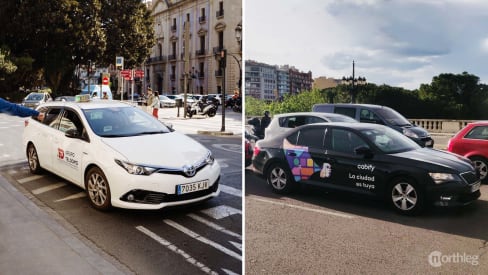 Meanwhile, Cabify cars don't look the same, as they have a VTC licence (Vehículos de Turismo con Conductor, private hire vehicles).
The difference between the two is that normally you can only book a VTC through the app, while you can also hail a taxi in the street. Remember that Cabify allows you to book either a VTC or a normal taxi through their app.
For visitors with reduced mobility, Valencia has more than one wheelchair-accessible taxi company. However, it is always highly suggested to reserve whenever possible, either through an app or phone call. Accessible taxi companies include Tele Taxi and Su Taxi .
If you want to find out more, read our article about the taxis in Valencia.
Apps you can use
Apart from waiting for a taxi to show up, you can use several apps. This is the best option if you need to be somewhere by a certain time or just if you want to avoid waiting.
The advantages offered by the apps are knowing exactly your wait time, the route you will take, and the taxi driver info. Thanks to these you can make sure you are not being overcharged and even reach out to the same taxi you took, in case you forget something inside the vehicle.
Two of the most popular taxi apps are Free Now and Cabify. Both are user-friendly and will allow you to pay either in cash or through the app.
If you want to know more about them and other taxi apps, read our article about useful apps and tools to move around in Valencia.
Getting around by taxi is the best option if…
You value comfort above all and don't mind spending a little more.
You don't want to be restricted by timetables and available services.
You want to reach your destinations quickly.
More related activities...
You might also be interested in...