How to get around in Valencia
Public buses
How to get around in Valencia
Public buses
Public city buses in Valencia are excellent, they cover all areas of the city and the service is frequent. These buses, also known as EMT buses (the red ones), are running at all times, with 46 day-time lines and 10 night lines.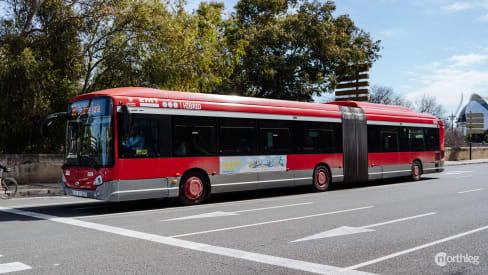 There are also buses dedicated to the surrounding suburban and peripheral areas. These other buses (the yellow ones) are operated by another entity, MetroBus, and include lines 102 to 320.
During your stay, you will probably stay in the city centre, so you are unlikely to take non-EMT buses, except perhaps for your trip to and from the airport (MetroBus line 150).
One of the advantages that buses have in Valencia is the number of lines and areas covered. Especially in the historical centre, where you will most likely spend a lot of your time, there are many more bus stops than metro stops.
Taking the bus also allows you to see the city as you go, hopping on and off to your liking. Traffic congestion can sometimes slow down the service, but it is not as bad as other bigger cities in Spain.
As for accessibility, buses in Valencia have two wheelchair spaces, and automatic or manual ramps to get on and off. Reduced fares might apply.
If you want more in-depth information about the bus service, have a look at our article about the public buses in Valencia.
Tickets
Public transport discounts - 1st September to 31st December 2022
The Valencian government has introduced a 30% discount on public transport passes.
The price of a SUMA 10 pass (valid for metro, tram, buses, and railways) down to €5.60 (one zone), €8.40 (two zones), and €14.00 (three zones).
Bonobus tickets are brought down to €6.00.
Single tickets remain the same as always.
Free Transport Under 30 - 9th October - 31st December 2022
Free public transport (metro, trams, and buses) is available in Valencia for people under 30.
To benefit from this initiative, users have to request their free transport card online. The only prerequisite is a Spanish DNI or NIE as proof of age.
You will have a few different options for a bus ticket: single tickets, 10-journey tickets, transportation passes for several days (and passengers).
You can get single tickets (valid only for the bus) directly from the bus driver. Remember that most buses will not have card readers, so always have some cash on you if you plan on getting your tickets this way.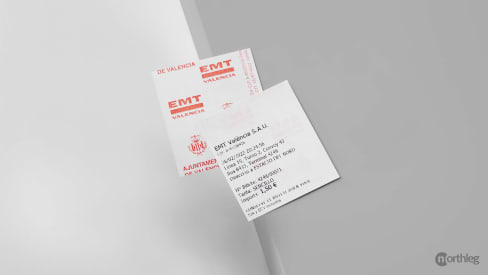 In terms of multiple-journey passes, you have a bus-only option or combination options. The combination tickets SUMA are valid across all bus services, metro, and short-distance trains, within a selected area.
There are 10-journey or unlimited passes for multiple days. To get a SUMA pass, you can go to an EMT Customer Service stand, metro station, kiosk, tobacco shop, or Renfe Cercanias selling point.
If you have a Spanish phone number, you will also be able to recharge your pass on the app RecargaSUMA, previously known as RecargaMobilis.
Meanwhile, a 10-journey bus pass (Bonobus) is also available. It is valid only for EMT buses (red buses in the city centre), and it allows unlimited transfers between buses for one hour. Bonobus can be bought at tobacco shops, kiosks, and EMT Customer Service Offices.
Another great option is the Valencia Tourist Card (VTC). This is a discount card with one, two, or three days validity.
The card gives you free public transportation (bus, metro, tram) in all zones, free entry to museums and monuments, and up to 50% discount on tourist services, shops, and restaurants.
Lines
While many stops are shared, all lines make up a network of routes that covers and connects the Valencia area nicely.
Most EMT lines connect the historic centre of the city with some peripheral neighbourhoods around it. However, there are a few exceptions and interesting lines to keep in mind.
| Lines | C1, 28 | 24, 25 | 19, 31, 32, 92, 93 | 16, 26 | 30 | C2, C3, 99 |
| --- | --- | --- | --- | --- | --- | --- |
| Details | These lines dwell almost exclusively in the old historical centre, covering short stretches of high tourist interest. | They connect the city with towns like Albufera, south of Valencia, towards the famous rice fields of the region. | These lines link various areas of the city centre with the maritime neighbourhoods. | Their routes connect the city with towns outside of it, to the north of Valencia. | Moves exclusively in the eastern part of the city, towards the beach and harbour areas. | They avoid the most central areas, going around them. |
EMT bus line C1 is a circular line that dwells only in the city centre.

EMT bus line C2 goes all around Valencia's city centre.

Pictured you can see the route taken by EMT bus line 28, which circles around the whole city centre.

In this image, you can see the itinerary for bus line 24, across zones A and AB.

Here you can see the itinerary for bus line 25, across zones A and AB.

In the picture, the route for EMT bus line 19, connecting Valencia to its beaches.

Route for EMT bus line 31, which connects Valencia to its beaches.

EMT bus line 32 connects Valencia's central areas to the beaches.

EMT bus line 92 also connects Valencia to the maritime areas and beaches.

EMT bus line 93 crosses all of transport zone A, connecting the city to the maritime areas.

EMT bus line 16 connects Valencia with the northern neighbourhoods.

EMT bus line 26 also connects Valencia with some northern neighbourhoods.

EMT bus line 30 moves exclusively in the eastern areas of Valencia.

EMT bus line C3 goes all around Valencia's city centre.

EMT bus line 99 hugs Valencia in a U-shape
Getting around by bus is the best option if…
You want to reach areas not covered by the metro service.
You want to enjoy the view while you're on the bus.
You like the possibility of hopping off in a neighbourhood you like.