Plaza del Ayuntamiento
Services and experiences of interest
Plaza del Ayuntamiento
Services and experiences of interest
In Plaza del Ayuntamiento you'll also find a few spots that, while not historical bTourist ofuildings or sights of interest like the Post Office or the City Hall and its Historical Museum, might still be of interest to tourists. This is because they either offer a service or an interesting experience to visitors.
Tourist Office
Tourist offices offer support and information to all visitors coming to Valencia. At these offices, you'll find all the regular services tourist offices generally offer, like information on transport, sights, museums, and accommodation. Additionally, you'll be able to purchase tickets for many venues or Valencia Tourist Cards.
The Valencia Tourist Card gives you free transport and access to Municipal museums, as well as discounts on other tickets and venues. If you'd like to know more about this card, you can check out our article about the VTC.
The full address for this office is Plaza del Ayuntamiento, 1 bajo, 46002, which is right next to the Town Hall itself (view map).
If you need more information about these offices, you can check out our article about Tourist Offices in Valencia.
Ateneo Sky Bar Restaurant
The Ateneo Sky Bar is a rooftop bar and restaurant that acts for many as a viewpoint to admire Plaza del Ayuntamiento. It's up to you to decide whether you want to go up just for the view or for a few drinks as well.
The fee for the rooftop is €3.00, but part of the fee is deducted from your bill if you decide to consume something at the bar. If you get a cocktail €2.00 will be deducted from your bill, if you get any other item on the menu (except for water or hot tea) €1.00 will be deducted from your bill.
Fallas
The Fallas festival takes place every 1st-19th March in Valencia. At this time, sculptures made of wood and papier-mâché are built and placed all over the city and fireworks are set off every day and night. If you'd like to learn more about this event, you can check out our article about Fallas.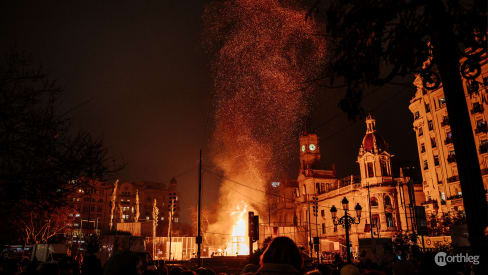 Normally, the biggest and most impressive sculptural group is located in the middle of the Town Hall Square. You can normally see the sculptures between 16th and 19th March. On top of this, some of the most important events of the festival take place in Plaza del Ayuntamiento.
For example, from March 1st onwards, the Mascletà (firework display) is fired daily in the City Hall Square, usually at 2:00 pm. On the night of the Cremá (the last night of the festival), the sculptures are burnt. The last ones to be burnt, thus concluding the festival, are always the ones in Plaza del Ayuntamiento.
Christmas Town
In the winter months, especially during the Christmas period, Plaza del Ayuntamiento gets dressed up for the occasion, with decorations and events.
If you pass by here between the last week of November and the first week of January, you'll see an ice skating rink, Christmas lights all around the square, an artisanal crafts market, and a large Christmas tree.
To enjoy these winter events, we suggest you pass by the square after dark, when the lights and the markets are most enjoyable. Keep in mind that in Spain sunset is much later than in a lot of other European countries. In Valencia, in December, you can expect it to be dark at about 6:00 pm.
Cine Rialto
The Cine Teatro Rialto, or for short Cine Rialto is an historic cinema and theatre. It currently hosts a small room for theatrical performances, a music hall, the Rialto Theatre, and a screening room dedicated to the Filmoteca.
The Filmoteca is a Valencian institution dedicated to cinematographic heritage and culture. If you are a cinephile, you'll enjoy going to their screenings, most often showing recovered, restored, and conserved audiovisual material (both feature-length and short films).
The projections are usually in Spanish, so we recommend you check before going if your Spanish isn't great.
More related activities...
You might also be interested in...