Plaza del Ayuntamiento
Curiosities about the Plaza del Ayuntamiento
Plaza del Ayuntamiento
Curiosities about the Plaza del Ayuntamiento
In this section, you can find out about events that take place in the square and curiosities about its past appearance and how it has changed through the years.
Events
While Fallas is surely the most renowned event to take place at the Town Hall Square, there are many other events that take place here, either partly or in their entirety.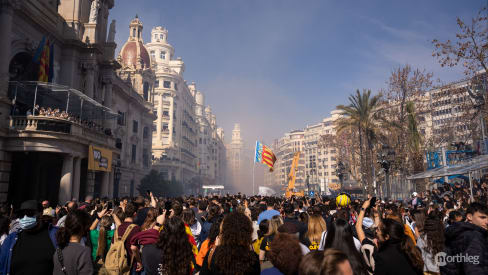 On the occasion of the Día de la Comunidad de Valencia (Valencian Region Day), every 9th of October processions, music, dances, and fireworks take place in the square.
In December, during the Christmas festivities, Plaza del Ayuntamiento is adorned with lights, a massive Christmas tree, an ice skating rink and a Christmas market.
Mushroom stands and underground flowers
As mentioned in the previous section of this article, the Flower Market is an old tradition in Plaza del Ayuntamiento. However, as much as the presence of the market has been a constant in the square, its appearance has changed greatly over the years.
On 6th June 1924, several stalls with mushroom-shaped roofs were inaugurated in the square. The stands, dedicated to flower sellers, were beautifully decorated with colourful ceramics from Manises (a nearby town, where Valencia's Airport is now located).
In the 1930s, the whole square was remodelled, and with this came a new design for the flower stalls. The centre of the square was raised by a few metres, creating an underground space for the flower stalls. A large central skylight surrounded by a balustrade provided ventilation and light to the market. Fountains were also strategically placed to provide water for the plants.
However, the traders objected to their customers having to go down a basement to purchase the flowers, and the underground Flower Market was dismantled in 1944.
The platform in the square itself was much criticised and was eventually taken down in 1961. In the meantime, it had managed to earn itself the nickname tortada, aimed at making fun of its shape and thickness, which resembled that of a cake.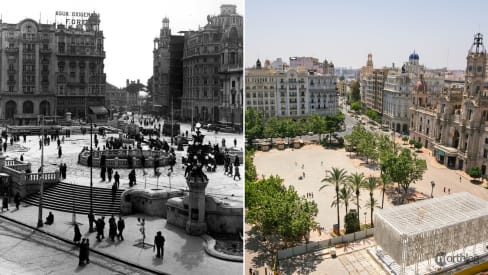 The Flower Market is today on the surface of the square, not in mushroom-like stalls, but rather in ones that resemble newsagent kiosks.
More related activities...
You might also be interested in...