Definitive guide
Must-see museums in Valencia
Art, science, history, crafts, ideas, and anthropology: Valencia has a museum for everything you might think of and a little more.
Definitive guide
Must-see museums in Valencia
Art, science, history, crafts, ideas, and anthropology: Valencia has a museum for everything you might think of and a little more.
Maybe you're a museum lover. Or maybe when you think of museums you think of walking down spacious marble-floored halls that follow one another like an exasperating, echoing maze. You think of wandering around so slowly that your feet start to hurt already at the third infuriatingly long room you walk into. You think of gazing at big European paintings of semi-naked ladies and self-serious-looking men.
You think that as well-intentioned as you might be, every time you get into one of those museums, you end up walking as fast as you possibly can without looking too much like you're trying to find your way out. Lest you disrespect the judgemental art-lovers that are surely all looking at your quick stride in disdain. In the end, you conclude that maybe you're just not the museum type.
But Valencia will prove you wrong, it's just a matter of finding the museum that's right for you. Here there's a bit of everything, those big classic museums, contemporary and colourful museums, interactive science museums, even museums of ideas and values.
Instituto Valenciano de Arte Moderno
The Instituto Valenciano de Arte Moderno (IVAM) is a modern and contemporary art museum in Valencia's Carme neighbourhood. It has a permanent collection of about 12,000 works by both Spanish and international artists, but the majority of the rooms host temporary exhibitions, conferences and artistic events.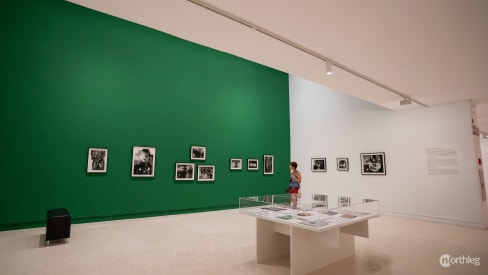 In a sense, when you visit, you're seeing something that is never going to be the same again. Here, you can learn and reflect on the ideas that have shaped and continue to shape artistic discourses.
The museum is always presenting unexpected and challenging ideas in a fascinating way. Museum personnel are present in every room, are always happy to clarify the concepts and contexts behind the exhibitions in an understandable and - most importantly - compelling way (and this we can tell you from personal experience).
Museu de Belles Arts
The Museu de Belles Arts (Museum of Fine Arts), which houses about 2,000 works, is the second largest art gallery in all of Spain. It mainly comprises works from the 14th to the 17th century.
Both Valencian and Spanish artists - such as Vicente López, Juan de Joanes, Goya, Los Ribalta, Velázquez, Pinazo, Joaquín Sorolla, Murillo, and Benlliure - and international ones - El Greco, Van Dyck, Pinturicchio, Piranesi and del Sarto - are featured.
Aside from this plethora of Renaissance, Baroque, Neoclassical, Romantic, and Impressionist paintings, the Museum's collection also includes older pieces, among which archaeological remains, a Palaeo-Christian tomb, and a number of Gothic panels. Displayed you'll also find drawings, etchings, sculptures, architectonic fragments, portable art, and even contemporary pieces.
Museo de las Ciencias Príncipe Felipe
Museo de las Ciencias Príncipe Felipe (Prince Philip Science Museum) is a dynamic, interactive museum dedicated to science, technology and the environment. From its terraces, you can enjoy spectacular views over the entire city and the Turia park.
Most of the space distributed over five floors is devoted to hands-on exhibitions, both permanent and temporary. The Museum also hosts major cultural and scientific events.
This monumental building resembles the skeleton of a colossal pre-historic whale. The exoskeleton of the structure is made up of pillars and arches, pure, defined lines, hypnotic in their repetition and symmetry.
Silk Museum
While not huge, the Museo de la Seda is representative of Valencia's history. It is located in the building that once housed the Silkmakers Guild (Colegio del Arte Mayor de la Seda). Here, you can learn about how this art took hold in Valencia and remained one of the city's main industries for more than three centuries.
As you walk through exquisite ceramic tiled halls, you will see recreations of a silk merchant's life and original silk garments. Gowns and waistcoats are shown in the museum, as well as the looms used to make them and the andanas used to keep the silkworms. The historical archive also contains numerous documents that witness the history of the silk trade in Valencia.
Centre del Carme Cultura Contemporània
Centre del Carme (also known as CCCC) is a contemporary culture centre that hosts a wide range of intersectional artistic practices representative of current culture.
Among these, you will find visual arts, experimental and performing arts, sound art and design, as well as other branches of thought such as sociology, architecture, urban planning, and medicine.
The centre occupies part of what used to be a 13th-century monastery, the Real Monasterio de Nuestra Señora del Carmen, in the Carme neighbourhood.
Museu Faller
In March the city of Valencia hosts the Fallas festival, in which each neighbourhood produces a wood and papier-mache figure known as falla. Almost all fallas are burned at the end of the festival on 19th March, for the Cremà.
Every year, selected figures (the ninots) are pardoned from the bonfire that will burn all the fallas at the end of the festival. All these ninots are then kept in the Museu Faller. Inside, you will find a huge collection of ninots built by artists with the intent to satirise or comment on current socio-cultural or political events. The oldest of them date back to 1934.
The museum is, by the way, the only one in the world where pieces are incorporated by popular vote. However, if you're lucky enough to be in Valencia between the end of February and the 14th of March, you can go see the Exposició del Ninot itself. That way you'll get to vote for the pardoned ninots yourself.
Ethnology Museum
The Museu Valencià d'Etnologia is an ethnology and anthropology museum. Founded after the fall of Franco's dictatorship, it is devoted to collecting and researching Valencian traditional and popular heritage.
This cultural institution aims to question and investigate the different aspects of Valencian culture and the dynamics that built and developed it, including its interaction with other Mediterranean cultures.
The Museum is located in the Beneficència Cultural Centre, in the western part of the Carmen neighbourhood (view map above).
Museo Valenciano de la Ilustración y de la Modernidad
The Valencian Museum of Enlightenment and Modernity, or MuVIM as it is often called, is an unusual museum. It is not dedicated to physical artefacts but rather to ideas and the promotion of their intangible heritage. The mission of the institution is to preserve the changing history of thought, values, and ideals, beginning with the Age of Enlightenment.
The MuVIM's permanent exhibition The Adventure of Thought is devoted to explaining those ideas that changed the social, economic, and political world in which we live, as well as our way of seeing and perceiving our own lives.
The Museum also provides a complementary programme that includes lectures, seminars, musical performances, cinema series, workshops, and more.
Museu de Prehistòria
The Prehistory Museum, particularly appreciated by children, displays and researches archaeological materials spanning from the Paleolithic to the Visigoths periods. The Museum features permanent exhibitions, temporary exhibitions, restoration workshops, a library, and a teaching department.
The Museum, just like the Ethnology Museum, is also located in the Beneficència Cultural Centre, in the western area of the Carmen neighbourhood (view map).
Ceramics Museum
Behind one of the most striking building façades in Valencia - that of the Marqués de Dos Aguas Palace - is Valencia's Ceramics Museum. The institution is dedicated to ceramics, porcelain and other decorative arts, including furniture, clothing, and painting. The collection comprises pieces from the 18th century to the contemporary period.
The main focus is on the works of Valencian artists, nonetheless, you will find pieces by Picasso and other famous artists. The palace front, a Rococo masterpiece made in alabaster, represents the two largest rivers in the Valencian region: the Turia and Júcar.
More related activities...
You might also be interested in...