Definitive guide
Electric Scooters in Paris
Faster than walking, more effortless than a bike, greener than a car: electric kick-scooters are one of the best ways to move around Paris. All the information you need as a tourist to start exploring the city on an electric scooter.
Definitive guide
Electric Scooters in Paris
Faster than walking, more effortless than a bike, greener than a car: electric kick-scooters are one of the best ways to move around Paris. All the information you need as a tourist to start exploring the city on an electric scooter.
Greener transport solutions are becoming more and more popular all around the world, and in Paris, all kinds of electric vehicles are much appreciated and used. Not only are they less polluting than cars and regular motorbikes, but they are also extremely agile, which is great to move through the city's heavy traffic and quickly get to your destination.
Another advantage is the independence they offer. Even though Parisian public transport is reliable and frequent, there might be times when you don't want to be limited by timetables and route availability. In those cases, electric vehicles will allow you to get wherever you need to go quickly and independently.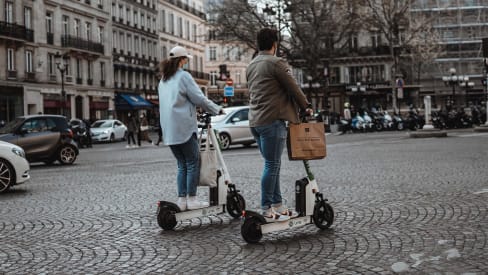 In Paris, there are different kinds of two-wheeler electric vehicles.
Electric mopeds: small electric motorcycles or mopeds that you can sit down on.
Stand-up e-scooters: the ones that look like kick-scooters.
E-bikes: just like regular bikes, with added electric help.
The vehicles we are focusing on in this article are electric stand-up scooters, for which there are three main companies in Paris: Lime, Tier, and Dott. If you want to know about electric mopeds instead, we have an article dedicated to those too.
The cost of the rides varies with each company, but it is normally made up of two components. One is the unlocking cost, which is a flat fee you pay the moment you take the e-scooter. The other one is the cost per minute.
Each company also offers their own pre-paid packages, which are generally more convenient than just paying as you go. Here is a summary table of the pay-as-you-go prices you can expect from each company.
App
Unlocking cost
Cost per minute*
| App | Lime | Tier | Dott |
| --- | --- | --- | --- |
| Unlocking cost | €1.00 | €1.00 | €1.00 |
| Cost per minute* | €0.23 | €0.22 | €0.25 |
How e-scooter sharing works
The process is fairly similar for all companies, with only minor differences between each of them.
To start off, all scooters are 100% electric. This means you don't need to worry about re-fuelling and carrying keys. Just make sure that the e-scooter you're picking up has enough battery to last for your entire journey. You'll be able to see how charged the scooter is by clicking on its icon on the app's map.
Your account, bookings, rides, and payments are all completely managed through the app, so you will need a working portable device with geolocation. Another feature you need to take into consideration is the designated area - the part of Paris where you're allowed to circulate, park, and pick up your e-scooter.
The designated area includes all of Paris' main urban zone (arrondissements 1 to 20), however, there are some restricted areas. These enclosures are off-limits due to traffic regulation laws, and you cannot park or drive your scooter within their limits. They are always clearly marked on the app's map.
Aside from the pay-as-you-go option, the companies also offer passes, subscriptions, and packages. They guarantee a fixed amount of rides, unlocks, minutes, or days of use for a set price. In the long run, these passes are more convenient than paying as you go.
All payments are managed through the app, so you never have to worry about having cash with you. You'll just need to register your debit or credit card on the platform or connect it to your digital wallet. The payments will go through automatically.
Although wearing a helmet is strongly recommended for your safety, it is not mandatory. The companies don't normally provide helmets along with their e-scooters, so if you want to wear a helmet, you'll have to get one yourself. At night and in conditions of poor visibility, you should be wearing a reflective vest (gilet réfléchissant in French). These are also not provided by any company.
Sign-up process
The first thing you'll need to do is to download the app on your phone and sign up. There is no subscription cost, you'll always pay for the usage of the vehicles alone.
The sign-up process usually involves inputting your information (name, surname, email, phone number). You'll be then asked to choose a payment method (bank card or digital wallet, if applicable). After the verification process is done (through a text, email, or both), you'll be able to start riding your e-scooter.
A driving licence is not required, since electric kick-scooters cannot reach the same speed as mopeds or other vehicles.
Rental process
On the app you will see a map of Paris showing you where all available vehicles are. By clicking on the icons, you'll see how much battery each scooter has left, as well as the cost per minute and unlocking cost. These two won't apply to you if you are using a pass, subscription, or package plan.
Some apps allow you to reserve a scooter for a period of time, while others don't. Once you reach your vehicle, you can unlock it by scanning the QR code on the handle with your phone.
At this point, you just have to get on and drive however long you want. At the end of the ride, you can park anywhere in the designated area (while respecting local parking regulations), pull the scooter stand out, and end your ride through the app. The payment will go through automatically.
Lime
Lime is the oldest of the companies operating in Paris, so the company has great coverage of the entire city, with lots of e-scooters in every arrondissement. The vehicles are quite large, which makes for a comfortable and stable ride.
With Lime, you're able to reserve a scooter for up to 10 minutes. You can do this by clicking on the scooter's icon on your app's map. If you don't get to the vehicle by the end of the 10 minutes, your reservation will expire and others will be able to take it.
Payment methods accepted on lime are credit, debit, or pre-paid cards. You can also pay via Google Pay, Apple Pay, and Paypal, as well as deposit any credit on Lime's own digital wallet, Lime Cash.
Below you will find the offers available for Lime in Paris.
| Offer | Basic | 24-h pass | 3-day pass | 8 rides | 25 rides | 50 rides | 300 min |
| --- | --- | --- | --- | --- | --- | --- | --- |
| Price | €1.00 unlocking + €0.23 p/min. | €12.99 | €28.99 | €19.99 | €44.99 | €79.99 | €39.99 |
| Description | Pay-as-you-go | Unlimited 30 min rides for 24 hours | Unlimited 30 min rides for 3 days | 30 min rides | 30 min rides | 30 min rides | 300 mins to be used within 30 days |
Additionally, for €5.99 a month, you can also remove all unlocking costs and be able to reserve e-scooters 30 minutes in advance. You will still be paying €0.23 per minute of use.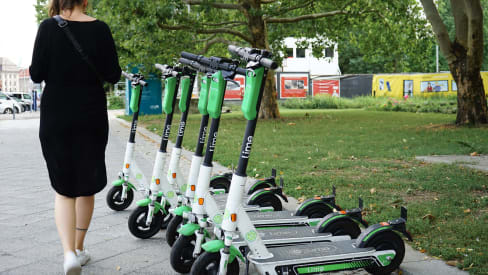 Tier
Tier is the second of the three scooter-sharing apps in Paris. Their e-scooters are a bit heavier than the ones offered by the other two companies, but they are comfortable and easy to use nonetheless.
Aside from allowing its customers to reserve the vehicles for up to 10 minutes, much like Lime, Tier is also the only company to include helmets along with its scooters. This is a great advantage, considering that helmets are highly recommendable for safety, but usually not provided.
Tier accepts debit or credit cards (Visa, Mastercard, American Express) as payment methods, along with Google Pay, Apple Pay, and PayPal. You can find Tier's offers detailed below.
| Offer | Basic | Pass Mensuel | Pass Aller-Retour | Pass Journée | Pass Premium |
| --- | --- | --- | --- | --- | --- |
| Price | €1.00 unlocking + €0.22 p/min. | €3.99 p/month | €3.99 | €9.99 | €32.99 p/month |
| Description | Pay-as-you-go | Unlimited unlocks for 30 days.Cost per min of use: €0.22 | 2 unlocks + 30 mins valid for 1 day | Unlimited unlocks + 80 min valid for 1 day | Unlimited unlocks + 300 mins |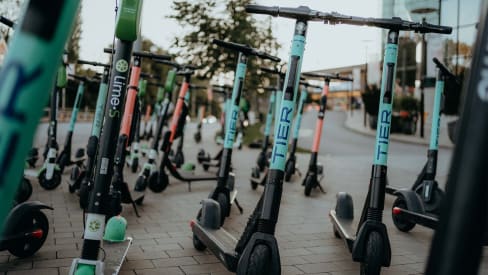 Dott
Lastly, Dott is the other scooter company available in Paris. Their scooters are the most agile and light, while still allowing a large footrest and quality vehicles. A significant difference between Dott and the other companies is that it does not allow scooter reservations.
As payment methods, Dott accepts PayPal, Apple Pay, Google Pay, and credit or debit cards (Visa, Mastercard, Maestro, American Express, Carte Bancaire, Diners, Discover). You can also charge your Dott wallet with whatever amount you want and have the cost of your rides detracted from that directly.
Following you can find Dott's offers, including the pay-as-you-go option and the pre-paid plans.
| Offer | Basic | 2 Rides Pass | Explore 24h Pass | 30 Rides Month Pass | 3-month Unlock |
| --- | --- | --- | --- | --- | --- |
| Price | €1.00 unlocking + €0.25 p/min. | €3.49 | €9.99 | €29.99 | €1.99 |
| Description | Pay-as-you-go | Two 30-min rides to be used in 24 h | Ten 30-minute journeys valid for 24 hours | Thirty 30-min journeys valid for 30 days | Free unlocks for 90 days |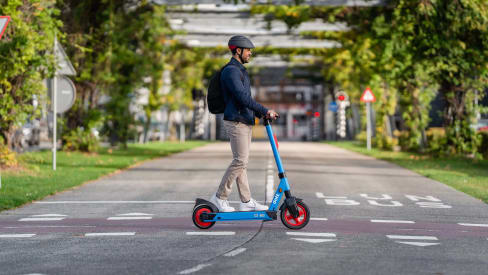 Laws, norms, and regulations
While electric kick-scooters are not considered like normal street-dwelling vehicles (like electric mopeds are), they still have to respect local norms and regulations. Remember that, in most cases, if you receive a fine while your booking is active (or as a consequence of bad parking), the companies will hold you responsible for them, and you'll have to pay in full.
Listed you can find laws, norms, and regulations applicable to e-scooter usage in Paris.
Helmets are recommended but not mandatory.
High-visibility vests are mandatory at night and in poor visibility conditions.
E-scooters can be ridden on cycling paths anywhere.
E-scooters can also be ridden on normal roads and streets in the urban area, as long as the maximum authorised speed does not exceed 50 km/h (about 31 mph).
It is strictly forbidden to park (or drive) electric scooters on sidewalks. Doing so will result in the confiscation of the vehicle (for which you will be held financially responsible by the company) and an additional fine of anywhere between €135.00 to €1,500.00.
It is prohibited to carry passengers along with you on an e-scooter.
You cannot wear headphones or earphones while driving an electric scooter.
Children under 12 years of age cannot drive any electric scooter.
E-scooters may be parked in scooter parking areas.
The maximum speed allowed for an electric scooter in Paris is 25 km/h (about 15 mph). In certain areas, the maximum speed is brought down to 10 km/h or 20 km/h (6 mph and 12 mph, respectively). In most of these cases, the scooter company will automatically limit the vehicle's speed capacity based on your geolocation.
More related activities...
You might also be interested in...