Useful apps and tools to move around in Valencia
Scooter apps
Useful apps and tools to move around in Valencia
Scooter apps
Never leave accommodation to the last minute
Hotels and apartments in Valencia all get booked pretty fast. If you wait too long you're gonna miss out on the good ones. Book now to save yourself money and stress.
Electric Scooters are a good option if you would like to move around the city independently, but without being slowed down by traffic conditions, as you would with a taxi.
Luckily there are quite a few companies that offer this service in Valencia, and using one of their scooters will allow you to get around quickly and comfortably, stopping any time you want.
Before getting a scooter, you need to be sure that you are a confident driver, as these vehicles are more dangerous than bikes when moving in city traffic.
One of the things all scooter sharing services have in common in Valencia is the presence of a designated area. This area, which covers the city's main urban zone, is determined by the individual companies and by public traffic regulations. Within its limits, you will be free to drive and park with your rental vehicle.
There might be other municipal traffic regulations, and therefore off-limit enclosures within the permitted area, but the apps will warn you about them.
The ones we have gathered here are the most popular scooter apps in Valencia. For more detailed info about these e-mobility solutions, you can check our article about scooter rentals.
Yego
Yego lets you book any one of their 500 scooters in Valencia and move within their designated area. The app will show you the closest vehicle to you, and you will be able to take and park anywhere within the area.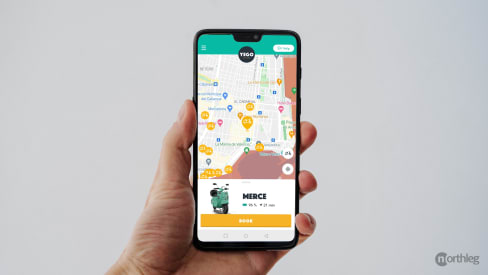 You won't have to worry about charging the scooter, as the Yego team takes care of that. You have the option to pay-as-you-go, with a set cost per minute of use, or load credit on your account, which implies some discount on the cost per minute of use. Two helmets and insurance are included in the price.
Download Yego through our affiliate link to get a €5.00 credit
If you would like to have more detailed information about this service, you can check out our article about Yego's scooter rentals.
Acciona
Acciona is a very similar service, with more than 150 scooters available in Valencia. On a map, you will check the vehicles closest to you, and once you choose one, it will be reserved for you for 15 minutes.
You can use the scooter however long you like and park it anywhere in the designated area. There are both pay-as-you-go and pre-paid credit options. With these, you pay ahead for a certain amount of minutes (with a set price per minute).
If you would like to know more about this service, you can check out our article about Acciona's scooter rentals.
Cooltra
Cooltra offers two services. One is a very similar offer to that of Yego and Acciona, with scooters available for use all over the city and payment options being either as-you-go or pre-paid credit packs.
In Valencia, as well as in other Spanish cities, you can now book Cooltra scooters through the Free Now app. For more details, you can read our article about electric scooter rentals, as well as Free Now's info page .
Additionally, the company also offers a daily or monthly rental, where you can make your reservation online and keep your scooter for a selected amount of time. You can either go pick up the vehicle at the shop or have it delivered to you. Very similarly, you can arrange a pick-up or go return your scooter at the shop.
Download Cooltra from our affiliate link and get a €15.00 credit
If you would like to know more about this service, you can check out our article about Cooltra's scooter rental.
---
You might also be interested in...