How to get to Rome from Ciampino airport
SIT bus
How to get to Rome from Ciampino airport
SIT bus
The SIT (Società Italiana Trasporti) buses are ideal if your destination is near the Vatican. As with Terravision, the final stop is Termini Station but there are also some intermediate stops.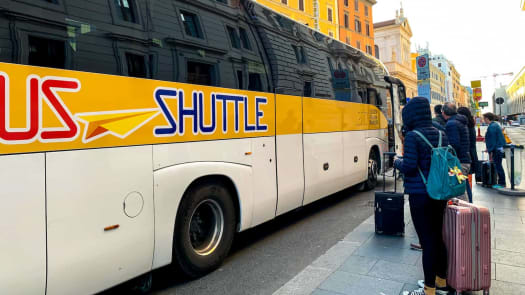 Stops
The stops of the SIT bus line are as follows:
| Stop | Termini | Vaticano | Circonvallazione Aurelia |
| --- | --- | --- | --- |
| Travel time | 35 min. | 60 min. | 75 min. |
| Details | The stop is on Via Marsala 5, next to the NH Hotel and a few steps north of the main entrance to Termini station. | The stop is at Via Crescenzio 28, north of Castel Sant'Angelo and a stone's throw away from Piazza Cavour. | The stop is located to the west of Rome. It's a primarily residential area and of little touristic interest. |
Tickets
The price of a one-way ticket from Ciampino to Rome by SIT bus costs €6.00 per person. There's also the possibility of buying a round-trip ticket for €11.00 (saving you €1.00).
| Type of ticket | One-way | Round-trip |
| --- | --- | --- |
| Price | €6.00 | €11.00 |
You can buy SIT bus tickets in three ways: online , from the bus driver, or from authorized vendors at stops along the route (you can recognize them by their orange vests).
The price is the same everywhere. However, to avoid problems with seat availability, we recommend making your purchase online.
As with Terravision, if your flight is delayed you can still use your ticket upon later departures.
Schedule
Due to health measures to fight COVID-19, the SIT bus schedule has been temporarily changed.
The first bus leaves at 9:20 am and the last at 11:00 pm. In total there are nine departures per day and only the 11:05 bus stops at the Vatican and Circonvallazione Aurelia.
Previously, there were departures from 7:45 am to midnight, with waiting times of 30-60 minutes.
Departure times can change at any time. You can check the updated schedule for the day of your arrival on the SIT shuttle bus website .
Luggage restrictions
There are no restrictions on the amount of luggage you can take on SIT buses, as long as there's room in the luggage compartment.
Location of the bus stop
The SIT bus stop is number 2, just outside the terminal. The airport is small and when you exit, the first thing you see is the bus stops, so you shouldn't have any problem finding it.
SIT buses suit you if…
Terravision buses are not available for some reason.
Your final destination is near the Vatican or Circonvallazione Aurelia and the departure times match your arrival time.
You prefer not to use public transportation in Rome.
More related activities...
You might also be interested in...