How to get to Rome from Ciampino airport
Car sharing apps
How to get to Rome from Ciampino airport
Car sharing apps
These applications are an attractive alternative for those who like to drive and want more mobility. A car-sharing service allows you to rent a car for a short period, paying only for the time you use it (from a few minutes to a few days) and the kilometers you drive.
At Ciampino Airport, two companies called Share Now and Enjoy offer this service. Both have reserved parking spots for their cars in the P5 parking lot, which is located a few meters to the right as you exit the terminal.
If you register in advance and activate your account, you can book a car in advance and pick it up at the parking lot. We recommend you register 1-2 days before arrival because verifying your driver's license can often take a while.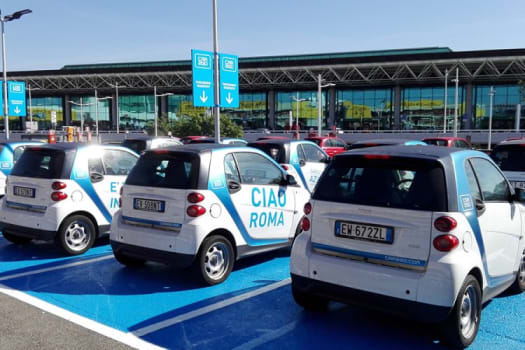 How it works
Picking up a car goes the same way with both companies. Check the app to see if a vehicle is available in the parking lot and book it (if you hadn't already) to unlock the car doors.
The exact instructions may vary by the rental company but the app will clearly guide you through all the steps.
You don't need a ticket to leave the P5 parking lot. As soon as you approach the exit, the barrier will raise automatically thanks to the license plate reader.
When you no longer need the car, you can park it in any free spot within the designated area in the app or use one of the special car-sharing parking spots in the streets of Rome. Please, note that it's forbidden to leave the car in a private parking lot. If you do this by mistake, you may face problems with the rental company.
Terms of service
The basic requirements to use car-sharing services in Rome are a valid driver's license, a credit card, and a smartphone to use the app. In some cases, rental companies may also ask for a European health card or information about your health insurance.
However, all requirements are clearly listed during the registration process of both apps.
Rental prices with Enjoy
Enjoy has similar rates, but offers only one type of car, the Fiat 500.
The price per minute for renting with Enjoy is €0.25. It's also possible to rent a car for a whole day for €50,00. Longer rentals are allowed, up to 15 days, with a rate of €40,00 per day.
In addition, there is a one-time fee of €4.50 for renting a car from Ciampino Airport. If you need to create a new account and don't register with an Italian driver's license, you pay a one-time fee of €10.00 for the validation of your documents. Half of it (€5.00), will be returned as a credit to be used on your first booking.
There are also some limits on the number of kilometers. If these are exceeded, you'll have to pay more. The total calculation of the costs will be shown in the Enjoy app at the end of the rental period.
In the table below, you can see an estimate of the cost to get to Termini, Trastevere, or the Vatican with this service:
Destination
Approximate cost*
| Destination | Termini | Vaticano or Trastevere |
| --- | --- | --- |
| Approximate cost* | €12.00 | €14.50 |
Check out Enjoy's website for more information (available in English).
Location of the parking lot
The cars of both companies have their reserved spots in the P5 parking lot, located on the right side of the Ciampino Airport exit.
Luggage restrictions
Apart from the space available, there's no specific limitation on the amount of luggage that can be transported in short-term rental vehicles.
Car-sharing apps suit you if…
You like to drive.
You have a valid driver's license and a credit card.
You like to support sustainable mobility projects.
You travel in a group of up to four people.
You don't mind dealing with the traffic in Rome.
More related activities...
You might also be interested in...