Definitive guide
Place Vendôme
A grand Neoclassical square with a rich history, right in the centre of Paris
Definitive guide
Place Vendôme
A grand Neoclassical square with a rich history, right in the centre of Paris
Place Vendôme is a Neoclassical square in central Paris. It is famous for its Vendôme Column (both the square and the monument owe their name to the Hôtel de Vendôme) and for being surrounded by some of the city's most luxurious and high-end stores.
Place Vendôme is located in the very centre of Paris. With such a position, the square is a popular stop along the routes taken by Paris hop-on hop-off buses. You can get Tootbus tour tickets here and Big Bus tickets here - they are the most reliable companies.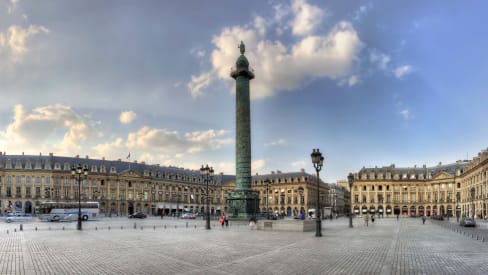 The square was started in 1698 and only completed in 1720, although many of its most famous monuments and surrounding buildings, like the Vendôme Column and the Hôtel Ritz were added years later.
In fact, the square has had somewhat of a tempestuous history, having its name changed several times. Initially, it was known as Place des Conquêtes, then Place Louis-le-Grand, later Place des Piques (during the French Revolution) and Place Internationale. It was only renamed Place Vendôme relatively recently.
The now-famous column in the square is actually a replacement for the earlier monument, a horse statue of Louis XIV, who had commissioned the Place. The statue had been taken down during the French Revolution, but Napoleon saw the absence of a grand monument in the square as a chance to indulge in a hearty portion of self-congratulation.
He thus commissioned the Vendôme Column, inspired by Rome's Trajan Column to celebrate the victory of Austerlitz . A rather ostentatious and grandiose portrayal of Napoleon himself in Roman attire was placed at the top.
Place Vendôme has today become an emblem of luxury. Luxury hotels and expensive jewellery and haute couture stores occupy the many Hôtels particuliers that surround the square.
BOOK BUS TOUR →
More related activities...
You might also be interested in...