Yego has a fleet of 500 chic, vintage-style scooters in Valencia. Each of them has a different name, so you can find yourself riding a Sofía or a Ramiro, if you like.
Like all other services cited, Yego is pretty easy to use and understand. Their Vespa-looking vehicles can be driven by anyone over the age of 18 with a valid ID and driver's licence.
Types of licences accepted are AM, A1, A2, or B. Provisional licences are accepted only if Spanish. B licences can be used starting from their first day of validity.
You will only need an international driver's licence if the agreement between your country of origin and Spain requires such a permit.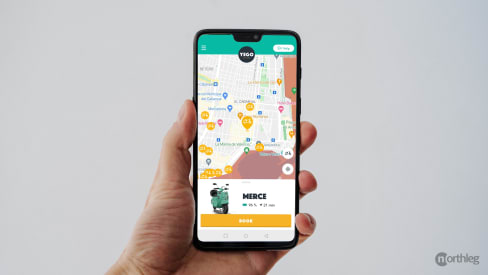 Prices
This scooter rental service has one pay-as-you-go option and four credit packs you can choose from. The option with the highest cost per minute is of course the pay-as-you-go service.
The cost per minute decreases as the pre-paid credit packs get bigger. All options include insurance, which covers the driver and vehicle.
Payment methods accepted are any type of debit or credit card accepted in Europe, as long as it is 16 digits long and with a CVC. Other payment methods are not accepted at the time.
Here is a breakdown of the price options.
Option
Description
Price*
| Option | Standard | Seed | Bonzaï | Palm Tree | Baobab |
| --- | --- | --- | --- | --- | --- |
| Description | Pay-as-you-go | Prepaid 41 minutes | Prepaid 134 minutes | Prepaid 232 minutes | Prepaid 464 minutes |
| Price* | €0.28/min. | €0.24/min.€9.90 total | €0.22/min.€29.90 total | €0.22/min.€49.90 total | €0.19/min.€89.90 total |
Sign up process
The sign-up process does not differ much from one app to the other, and it is always free.
How to sign up for Yego
Download Yego through our link to get €5.00 in free credit.
Open the app and tap on "create an account".
Accept the data protection agreement.
Enter your email address and password.
On the next page, choose the city where you intend to use Yego and accept the terms and conditions.
Insert your personal information (full name, phone number, date of birth, address).
Enter your payment method details. No charge will be made at this time, it is just to check the validity of your card.
Upload your documents (your passport or national ID and your driver's licence, front and back for both) and a selfie.
Agree to respect Yego's code of conduct by tapping on "I commit".
Wait for Yego to verify your documents (this can take up to 2 hours). In the meantime, you can choose your avatar.
Getting a scooter with Yego
Once you have signed up, getting and using a scooter is quite easy.
How to rent a scooter with Yego
Open up Yego's app.
The closest available scooter is already preselected on the map. Confirm the selection or select a different vehicle.
Once you reach the vehicle, on the app tap on the button labelled "desbloquear y arrancar" to unlock it.
Press the red button on the top case to open the case.
Grab a helmet and wear it. You have 20 free seconds to do this.
Slide the scooter off its stand.
You can start your ride. There's no need to press any button to start the vehicle.
At the end of your ride, find a suitable parking spot and slide the scooter back on its stand.
Put the helmet back into the case, making sure to close it properly.
Click on the button labelled "Terminar" to end the trip.
The camera will automatically open for you to take a picture. Make sure the licence plate of the scooter and its surroundings are visible.
Now your journey is properly concluded and you'll have a summary of the cost.
Yego's extra features
Here is some more useful information about the functionalities of the app and other features that you might want to use before or during the rental process.
If you want to book a different scooter from the pre-selected one just tap on another scooter's icon.

Once you select a scooter, the vehicle will stay reserved for you for 15 minutes, at no charge. If you need more than 15 minutes to reach the selected scooter's location, you may extend your booking for €0.14 per minute.

You can take a passenger with you, that's why there are two helmets in the case.

Drive however much you like within the permitted area but remember that you cannot drive outside the authorised area.

The battery autonomy of a fully charged scooter is approximately 60 km (37 miles).

During your trip, you can set the scooter on pause to run a quick errand. To do so, you just have to open the app and click on the "pause" button (this will cost you €0.14 per minute).

At the end of your ride, you may park your scooter anywhere within the permitted area, while respecting all local norms. You can check all rules and norms in the relevant section of the article.

Remember that the licence plate and the surroundings must be visible in the picture you will take at the end of your ride. This is so that Yego can verify that you have parked the scooter correctly.
Advantages and disadvantages
Yego's advantage over other scooter rentals is surely the number of vehicles they have in the city. This means that you are likely to find a scooter close to you, no matter where you are in the city.
Another good thing about the app is its simplicity and sensible option selection. Only having one pay-as-you-go option and four credit packs makes it much easier to make a choice, instead of having to sort through several (only marginally) different offers.
For how fashionably retro the vehicles look, they only reach a speed of 50 km/h (31 mph) and don't have great acceleration. This can be a drawback for some, especially when you are just starting up after a red light.
In this regard, Acciona's scooters are much better. However, consider that the speed limits within the city make it so that it is rarely legal to go above 50 km/h (31 mph).
In our opinion, the real disadvantage of the app is its lack of phone assistance for its customers. In fact, Yego only offers a chat, available 24/7 (and generally very quick in responding), but no fast-reachable phone customer service.
More related activities...
You might also be interested in...